After stumbling upon this photo on Instagram, I knew I had to make a day trip to Lake Blausee, literally means "blue lake," a priority when I visited Switzerland. And how lucky was I when I learned it was less than an hour's drive from the gorgeous Lauterbrunnen where I was staying for a few days working with Hotel Staubbach!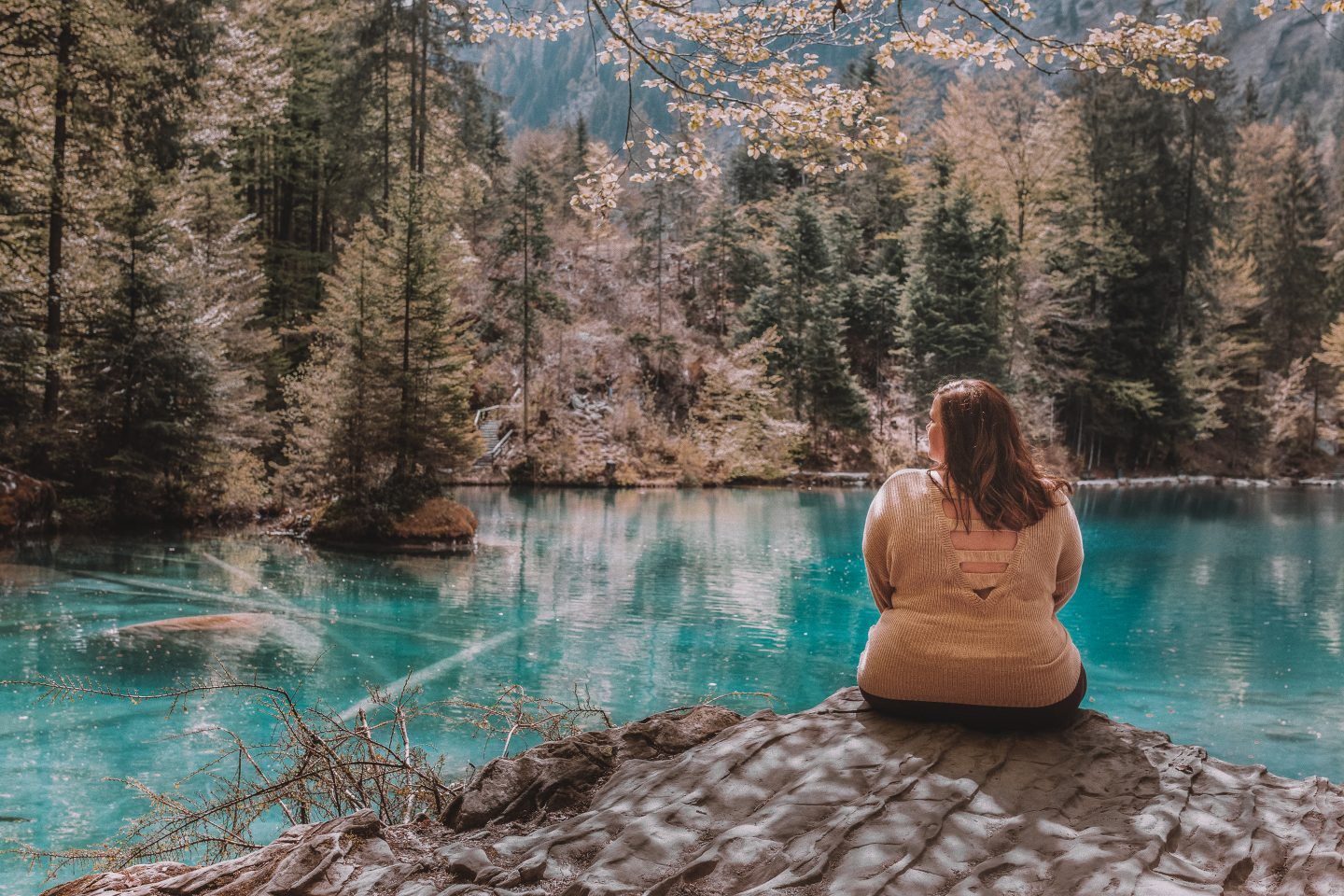 Kismet, for sure!
Situated in the heart of Bernese Oberland between Kandergrund and Kandersteg in Switzerland is the small, crystal blue Lake Blausee Lake and nature park that is what Swiss dreams are made of. This 50 acre nature park has almost a fairytale-esque quality to it that you truly cannot capture on camera – it needs to be experienced in person. The rustling sounds of the waterfall nearby, the stunning snow-capped mountains in the distance, and the families all hanging around enjoying picnics is just a small part of the charm.
But before you reach the clear blue water, finding Lake Blausee can be a little tricky! I set the GPS in my car to the address and when I arrived at the destination, I was surprised to see a parking lot and a visitor's center. I wasn't really sure what to expect (you can really tell I researched this well before I went), but I guess I imagined that you would just see the lake!
After parking my rental car, grabbing my picnic lunch I purchased from the Coop grocery store in Lauterbrunnen, and my backpack full of my tripod and camera gear, I headed into the visitor's center. There were the usual knick-knacks for purchase as well as gorgeous little dirndls I almost paid lots of cash money to bring one back for my niece. But Switzerland ain't cheap and they cost a pretty penny!
The nature park is open year-round from 9 a.m. until 9 p.m. The restaurant and hotel are open from 9 a.m. to 11 p.m. The Blausee nature park is a jewel of rare beauty – maintenance and care are financed through the gained revenue of the entry fees. Dogs on a leash are welcome inside the park…The boat trip (until 5 p.m.), visit of the organic trout farm, use of kids playground and the fireplaces with firewood are included in the entry fee.

Lake Blausee's website
After a quick look around, I spoke with the kind lady behind the counter. She was a fount of information and she gave me some guidance in the correct direction.
After a quick entrance fee payment (8 CHF in summer, 5 CHF in winter), I began my trek through the gorgeous Swiss forest! I will be honest, I thought I was going the wrong direction and turns out I did end up going the long way around. But I am not complaining because this lovely forest was peaceful and such a stunner. The perks of it being mostly isolated made tripod self-portrait photos not awkward! I was able to set-up my gear and take a good many photos without the usual audience. It was nice to not feel rushed!
---
Traveling solo and want to still get incredible photos of yourself so you can remember the places you visit? Check out my tried and true options! I have personally done ALL of these options and I have gotten amazing results! Trust me, I am a photographer. ?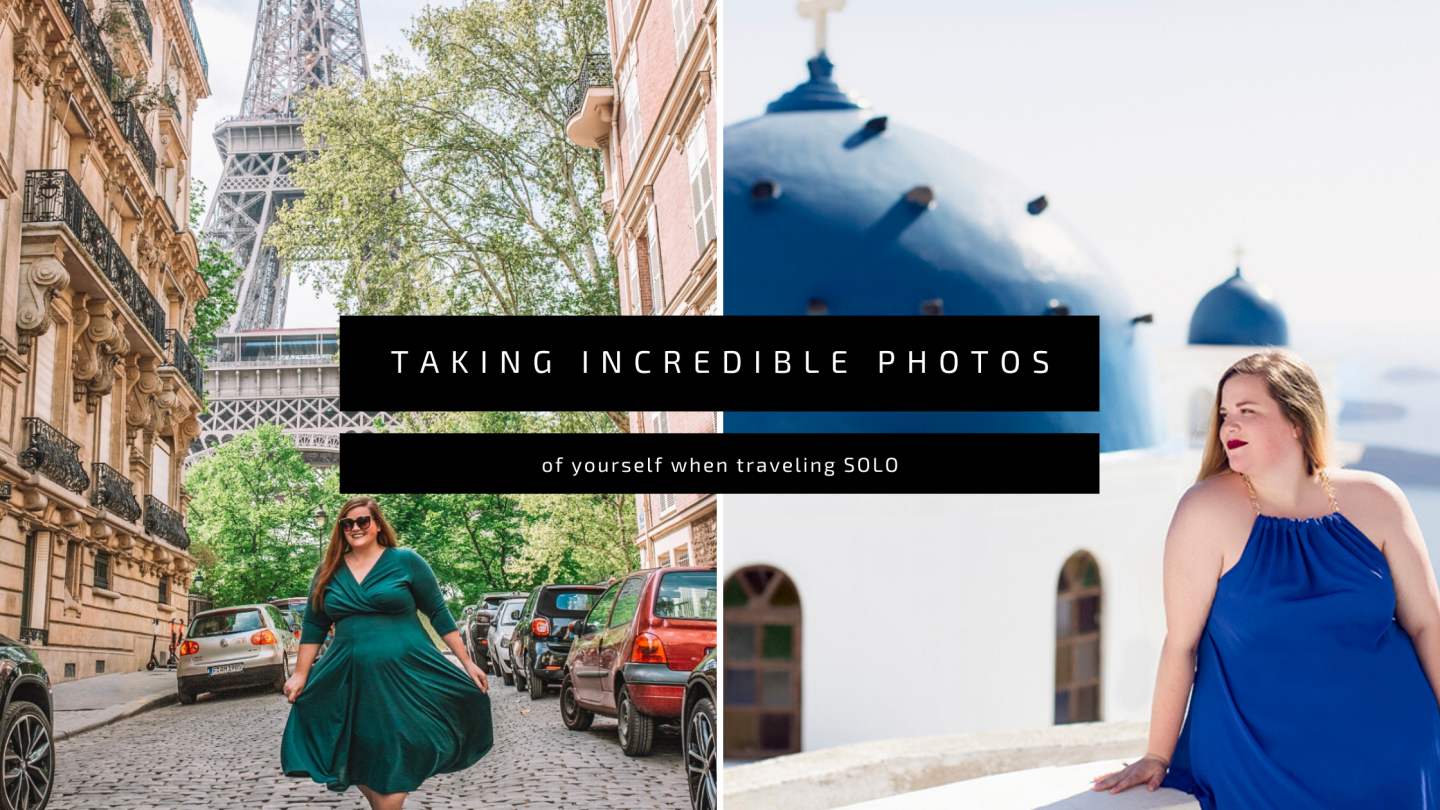 ---
I definitely recommend you get lost for a little bit just walking the pathways here and there. I found it to be accessible even for the challenged walker like me! I saw one couple even pushing a stroller. The only thing to note is that there are gravel pathways which could make a bumpy ride for your stroller occupants.
After emerging from my self-portrait session and the long walk around the pathways, seeing the first glance of that crystal blue water was just spectacular!
I honestly cannot express to you the sheer beauty and sereneness of the whole nature park but particularly that of Lake Blausee. Despite the depth of the lake is up to 33 feet, one can see every detail within due to its clarity.
The pathway around it can get quite intense due to some areas having uneven, homemade rock steps and root hopping. I was able to manage it with my ACL-lacking right knee and I am super cautious! It is not accessible to everyone, but it is a lovely leisurely walk if you are able. It only takes about 15-20 minutes to do a walk around if you don't get distracted by another photo session (or two) like I did.
---
If you are looking to edit your photos without blowing out the color saturation, become a best friend of the blog and get my FREE Lightroom preset!
It's my GO-TO one-click trick!
---
The view is just KILLER! The mountains and the blue lake and the trees, I was in Swiss heaven and didn't want to leave. So I didn't! I stayed for a few hours soaking it ALL up. I can safely say that my day trip to Lake Blausee was worth it.
---
Loved this post? Share it or pin it for later!