As if 2020 & 2021 has not been tough enough with a pandemic and our country divide widening more than the Grand Canyon, I turned 30 and TikTok Gen-Z has decided that everything about me (side hair part, skinny jeans, and my use of the emoji ?) has designated me as an "old person." OLD, y'all.
But as much as it pains me to accept my geriatric status as a 30-year-old, I refuse to age gracefully when it comes to my skincare. I decided that rather than impending wrinkles and inevitable age spots, I needed to be more responsible and start taking care of my skin. I applaud those who have 10-step routines and who retain the youthful radiance of a 20-year-old but honestly, I didn't want to invest $$ and more time when I knew I needed something quick and easy if I was going to actually do it. So after much intense research (reading beauty blogs, watching dermatologist TikTok videos, and a lot of trial and error), I have a quick and easy skincare routine for you to try out if you want to make your skin happy and soft and as beautiful as your 20s when you took it for granted.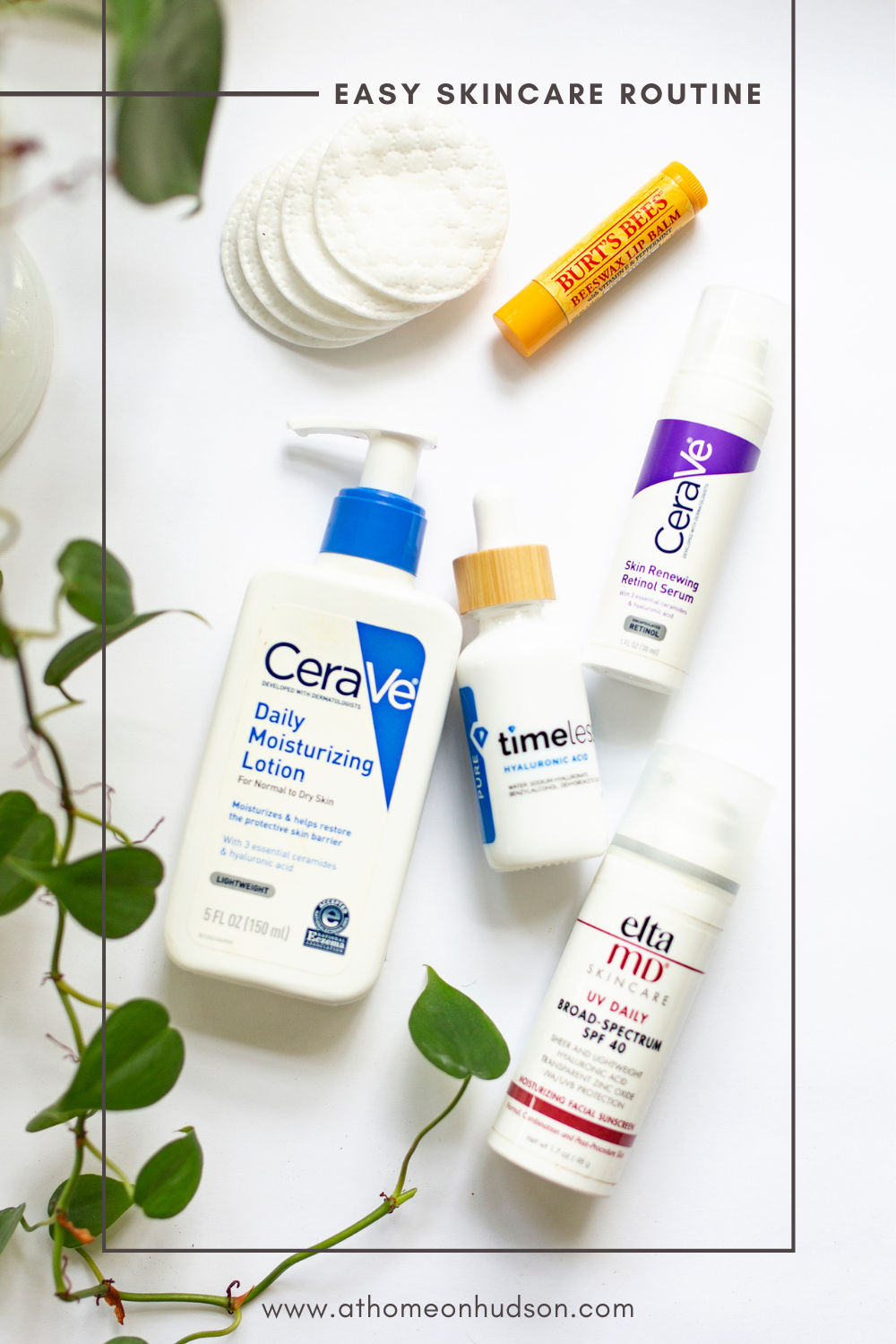 I am not a doctor. Everyone has such different textures and skin needs so please try new products on your skin with CAUTION. Always, always do test areas.
---
Easy Skincare Routine for the Morning
Step 1: Hey, wash your face. Seriously. This is super important for dirt reasons but also, it's just really great way to create a blank canvas so your next steps can be maximized and really soak into your skin. I personally wash my face in the shower in the morning because it's easier and I LOVE the CeraVe Hydrating Cream-to-Foam cleanser. It just feels amazing going on and does the work. I should also note, it is very important to choose a fragrance-free cleanser.
Step 2: After cleaning your skin, the very next thing to use is a hydrating serum that will help your skin retain moisture- a hyaluronic acid! I don't understand the science but it literally makes your face feel hydrated and not oily. It's also supposed to provide magical anti-aging properties and isn't that what we all want?? I use the Timeless Hyaluronic Acid Serum and it's thick and only takes two drops!
Step 3: Another serum I recommend is a vitamin-C serum. This helps fight wrinkles, provides collagen, and help brightens the overall appearance of your skin. Hey, it also protects again dark spots and sun damage. Talk about a jack of all trades. I saw the recommendation for Timeless Vitamin-C serum and I have been so impressed! I love the airless pump.
One thing to note that some vitamin-c serums have hyaluronic acids in them. You may need to remove step 2 if that is the case.
One more note: I am a huge CeraVe fan. That's obvious the number of products I use by them. However, I do not recommend their vitamin-c product. The packaging is less than desirable and it leaks. I have seen this is a common complaint and I had the same issue.
Step 4: After putting on all your serums, a moisturizing lotion is a perfect finish. There are 100s of moisturizers out there and each is tailored to specific skin types whether you are oily, dry, acne-prone, or sensitive. I recommend searching and finding the best match for your skin. The preferred moisturizer I use is the CeraVe Daily Moisturizing Lotion. I love to use it as a lotion for my hands when I have the leftover product after applying it to my face.
Step 5: The most important step of all in your morning skincare routine is sunscreen. I cannot emphasize this enough for you. The sun causes up to 90% of aging on your face so even if it's a cloudy day or you are inside mostly, wear sunscreen, wear sunscreen, wear sunscreen! I got recommended the holy grail of facial sunscreens – EltaMD 40 SPF moisturizing sunscreen and I also concur, it is as great as everyone raves about. It does not make my skin feel greasy, goes on sheer, and is fragrance-free! It only takes a little pump to cover my face, my neck, and the back of my hands.
---
---
Easy Skincare Routine for the Evening
Step 1: Hey, wash your face, again! Like in your morning routine, we need to start off with a clean base for dirt reasons. I am sure you have a lot of build-up on your face (i.e. sweat, from mask-wearing, and makeup), but you also really want your other steps to soak in well. For some reason, I use a different cleanser – Clinique Liquid Facial Soap Oily Skin formula. Don't ask me why, but I have my routine and I cannot change it. ? Find one that suits your purpose whether it's just for general cleansing or for makeup removal.
Consider adding micellar water for gentle make-up removal before cleansing your face.
Step 2: In our next step to keeping that 20-year-old glow for as long as possible, quite possibly the best thing you can add to your skincare routine is retinol! If you want a product that fights it all – discoloration, uneven texture, and woeful wrinkles – retinol is the main character. There are tons of over-the-counter options to start out your retinol journey. It is a long, slow process but building up to a more concentrated % retinol is the goal! When you are ready, consult your dermatologist to get those more powerful prescription retinoids.
I should also note, retinol can be incredibly irritating if you have sensitive skin. Also, it is IMPERATIVE you use a daily morning sunscreen the following day after applying retinol because it makes your skin more susceptible to the sun so it needs to be protected.
I use the CeraVe Retinol Serum. I love the little pump and the smoothness of the application.
Step 3: Night cream moisturizers tackle different tasks than your normal daily morning moisturizer like providing hydration lost during the day, helping to retain moisture, and reduce morning puffiness. They also have other helpful ingredients for anti-aging, acne-fighting, and so much more! For my night time moisturizer, especially in the winter, I want a thicker coverage. If you want to skip everything else in your routine after washing your face, this is the step you don't want to skip. Hands down, my favorite night cream moisturizer is the CeraVe Skin Renewing Night Cream. It's thick and has great coverage, but also very non-greasy.
---
Extra Skincare Add-Ons
These are not requirements but are things I have used sporadically that you may want to introduce when needed into your routine. They range from spot treatments to weekly luxuries. None of these are required but are nice little extras for you!
Eye Cream: Listen, everyone's under-eyes are different as can be so you need to find a cream that is best suited for you whether you need to produce more collagen or more brightness in the skin. I can only recommend those I have heard great things about in all budgets!
Pimple Patches: Listen, no one is perfect and we all suffer from pimples. It's like death and taxes, they plague us all. But I highly recommend if you feel a pimple coming on, wearing a pimple patch can turn it around real quick. I wear these usually at night because they typically require more wear time. I have been known to wear them during the day but only around friends and family.
Face Masks: If you are looking for something that rejuvenates the skin by forcing the good stuff into it over a period of time, consider a facemask done maybe once weekly. They can range in form of creams, to drying serums that need to be washed off, or sheet masks. Not only are the beneficial for skin purposes, they have the ability to scare unsuspecting friends and family while wearing them.
---
Disclosure: Some of the links are affiliate links. If you do decide to use these links, thank you so much for the support! These links mean that I will earn a commission when you click through and make a purchase but know this does not have an additional cost to you.
Loved this post? Share it or pin it for later!