Back when everyone started finding out about the Hudson House, I cannot tell you how many people asked to come see the house. I was kind of shocked at the interest but I get it- I am an über nosy person too. I am ALL up on Zillow looking at pictures of local houses for sale.
But I am a hardcore introvert and a huge weirdo about my home space- I rarely, and I mean rarely, have visitors. You can ask my friends for verification. I know that seems so weird because I share so much on my instagram and my blog but honestly, I control what I share. But with the purchase of my new house, I kind of made a conscious decision that I would try to open my home up more to family and friends. But at like my own pace.
Back in mid-December, I hosted an open house for local friends and families (and really anyone) to come by and tour the Hudson House. It was my way of controlling the time when people came to my house instead of just getting drop-ins, which if you don't know is one of a millennial's worst fears.
The day dawned and it was a miserable, miserable day in terms of weather. I think it rained pretty much all night and most of the day. My driveway was a muddy disaster. I honestly thought maybe a handful of people were going to show up despite my preparations for 50 because the weather was just that gross. Imagine my shock when I had a crazy influx of people nonstop- at least 75-80 people.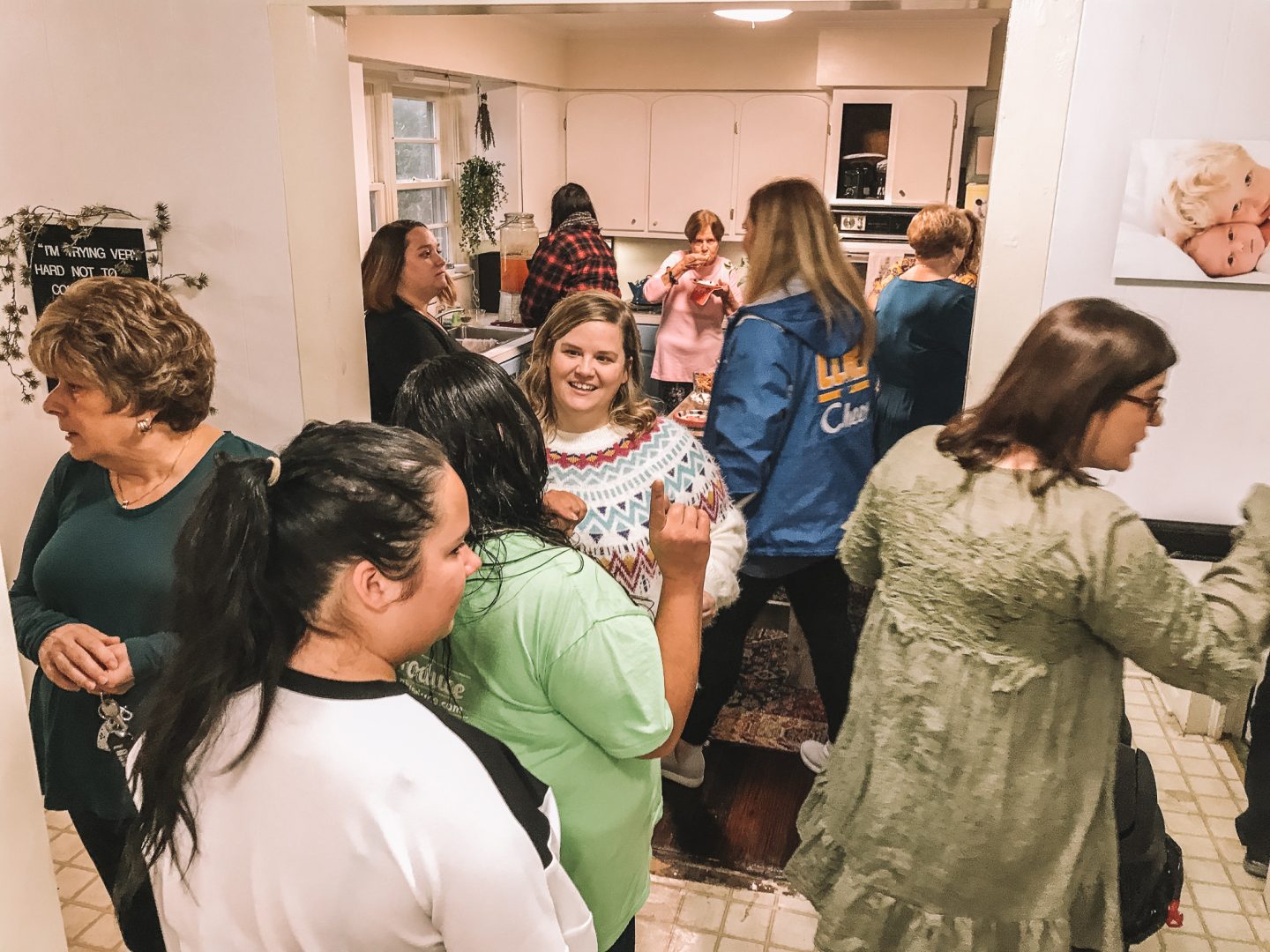 But as I mentioned, the weather was less than desirable and despite the crowds that came, I still had a ton of people say they wanted to see the house. I decided to do a virtual house tour for y'all that shows all of the updates on the many projects! I will try to link different products if they are still available but as always, if you have a specific question, just comment and I will tell you where I got it!
at Home on Hudson virtual house tour
---
Living Room
If you remember the OG green carpet from the first tour, talk about an huge difference in space after I got the hardwood floors redone. And then I bought a drool-worthy Moroccan rug and the rest kind of fell into place. My living room is probably my absolute favorite. It almost feels like I am in some home decorator instagrammer's home but it's mine. I lounge on that yellow couch. I have even went horizontal on the soft rug for a bit after a particularly hot kitchen revamp workday.
Before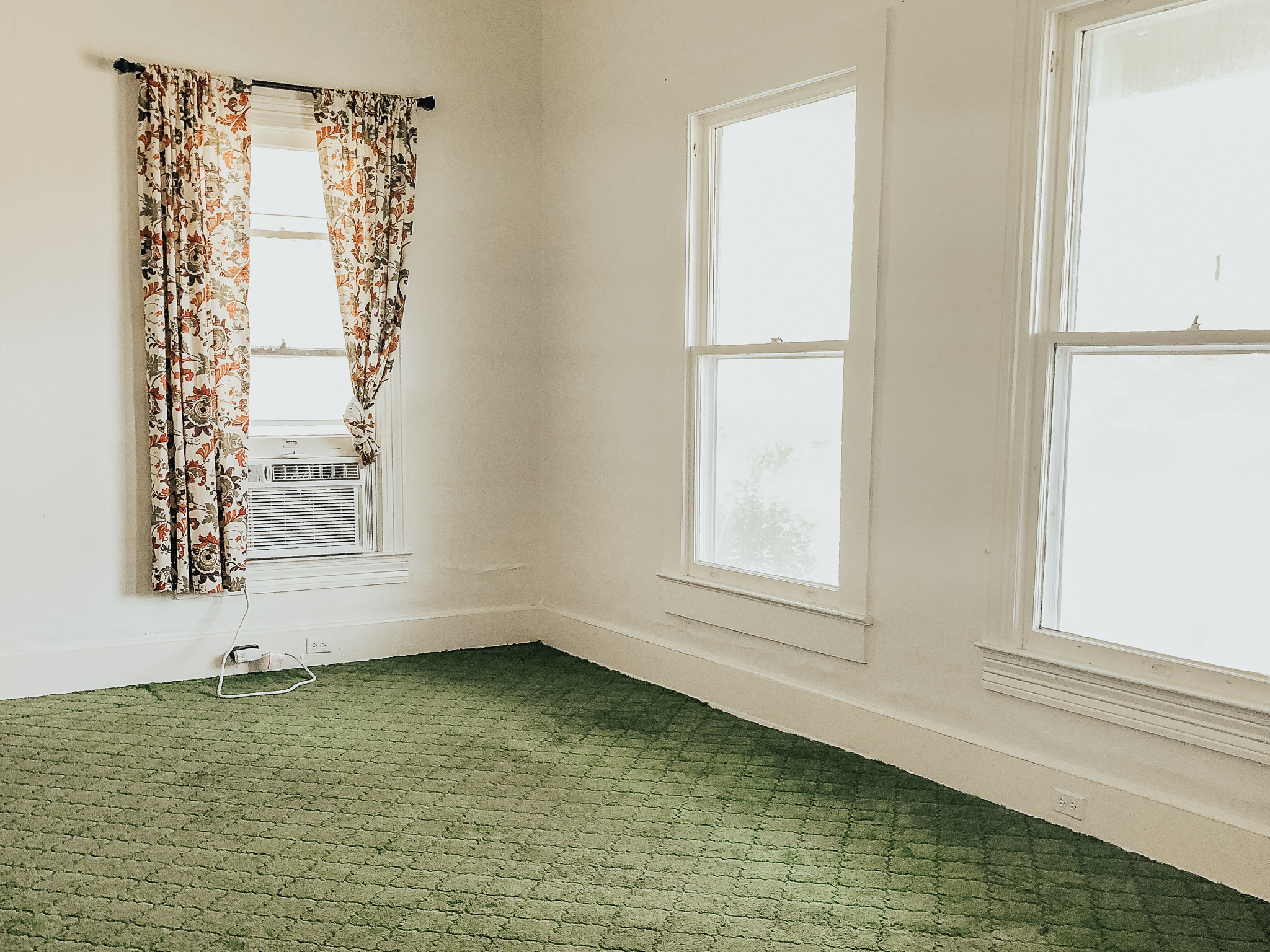 After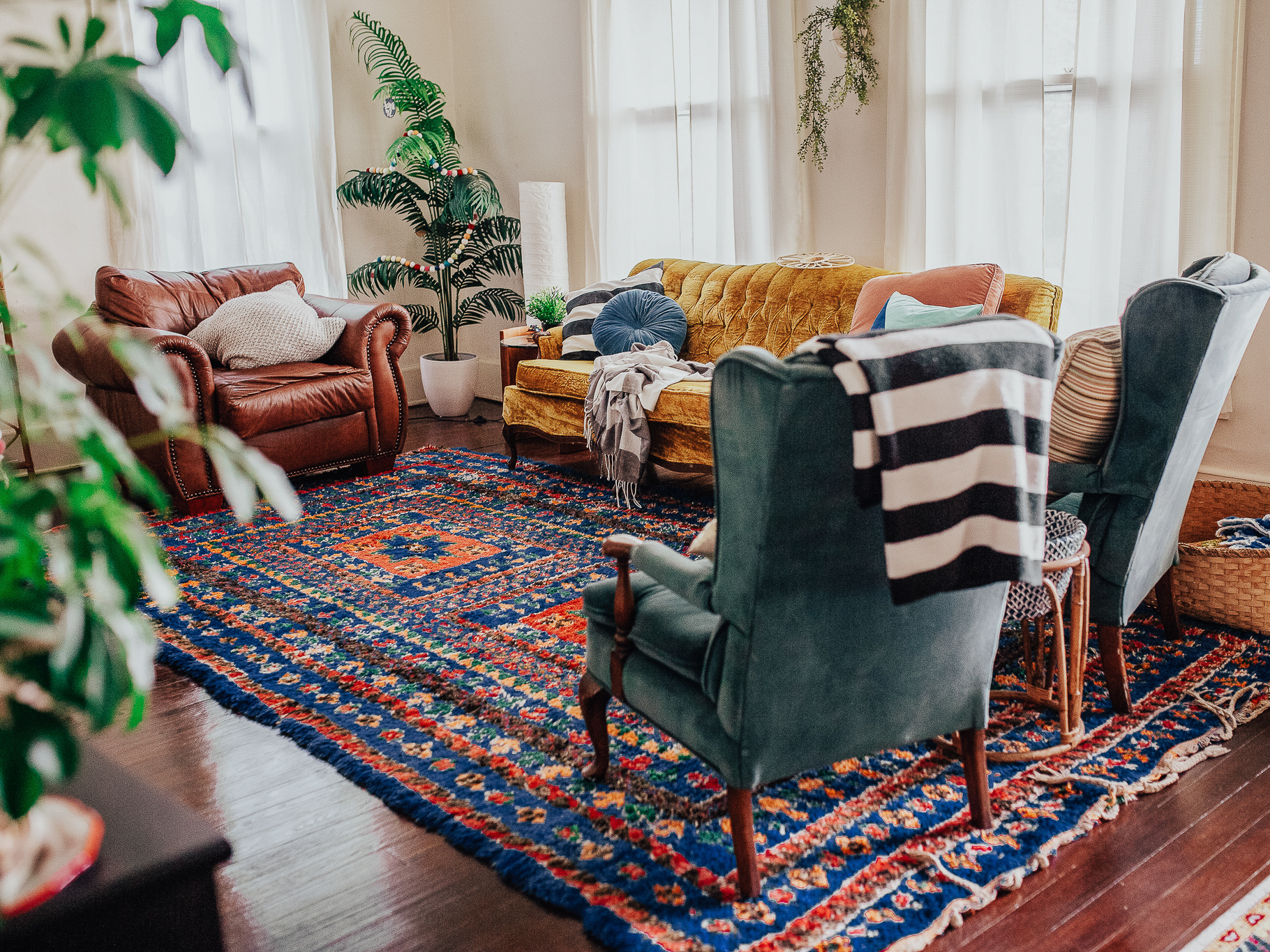 Sources: Textured Solid Curtain Panels in Cream (link); Yellow Velvet Couch (Facebook Marketplace, similar); 2 Green Velvet Wingback Chairs (local antique store, similar); Blue Moroccan Rug (similar to shop, rug is one-of-a-kind); Leather Big Chair (Facebook Marketplace); 72″ LED Espresso Fan (link); Mid-century-esque side tables with glass tops (purchased in-person from Cash Liquidations, Inc.); Pink Square pillow (link); Round Storm Blue Velvet Throw Pillow (link); Black and White striped throw (old IKEA); Black and White Striped Pillow (old IKEA); a lot of the artwork is either my travel photos or Goodwill finds.
Master Bedroom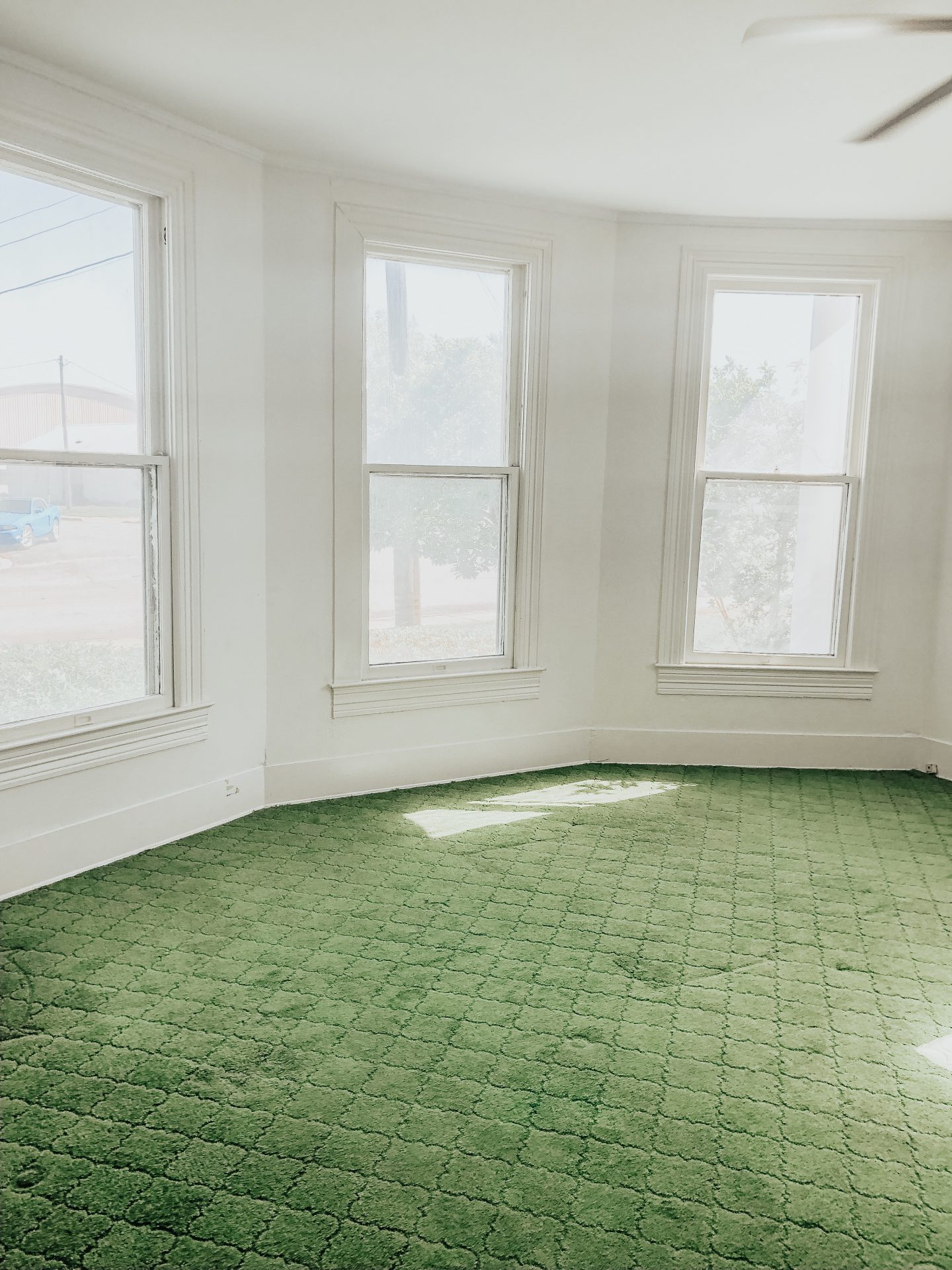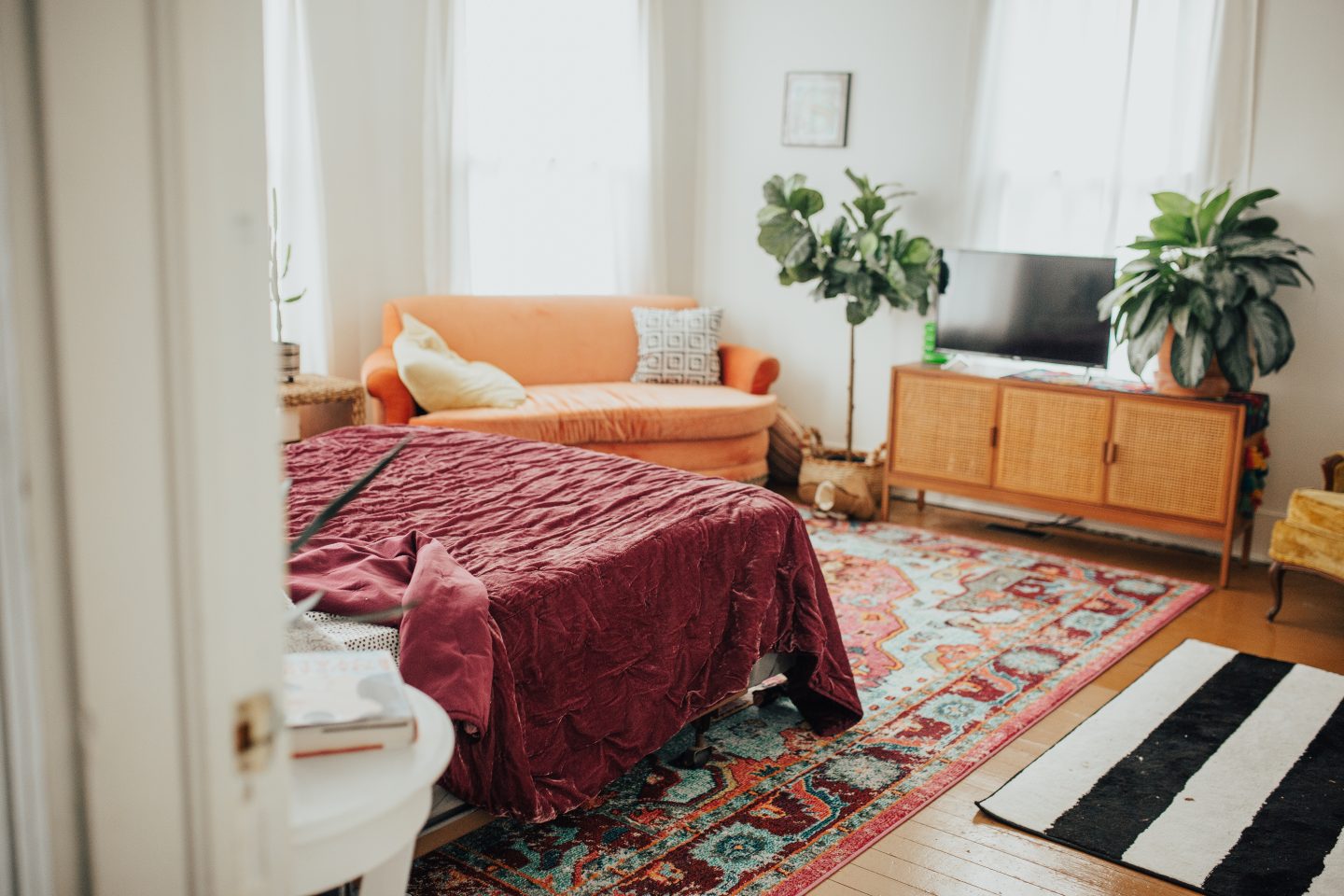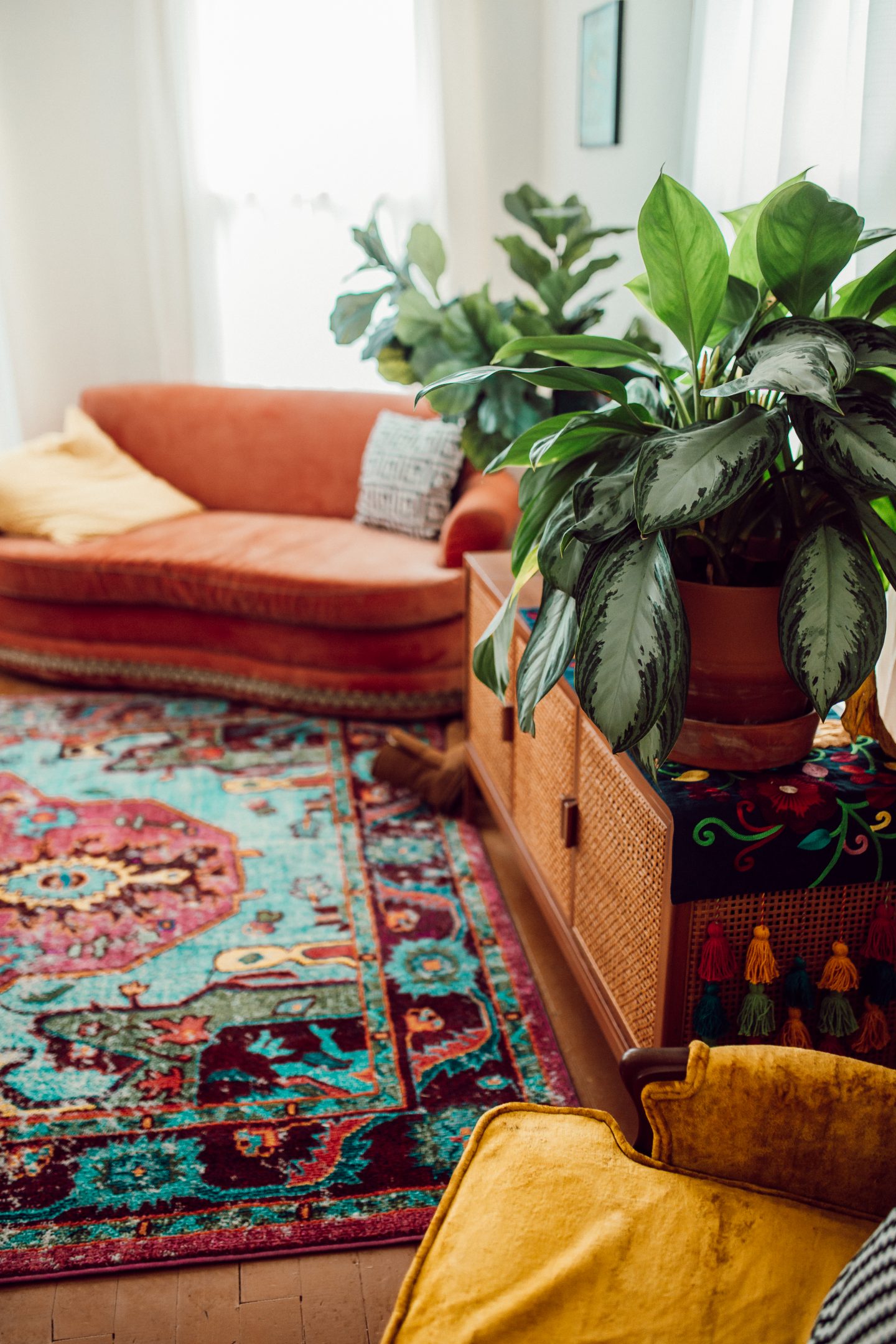 Sources: Textured Solid Curtain Panels in Cream (link); Pink Area Rug (link); Orange Velvet Couch (purchased in-person from Cash Liquidations, Inc.); Caned TV stand (link); Yellow Velvet Chair (purchased with Living Room couch from Facebook Marketplace); Velvet Bedspread (similar); Faux Fiddle-Leaf Fig Tree (link)
Brown Bathroom
I will be honest, I am not here for this bathroom. It's tiny and the doors are so awkward and the brown tile is just… too 💩 colored. I have big dreams of one day doing a full renovation and removing all of the tile, getting rid of the tub (since I have another tub in my mint bathroom), putting in a glass walled walk-in shower, and maybe pocket doors. But until the cash starts flowing better, I am living with this 💩 bathroom. All I really have done replaced the toilet and hung a fun shower curtain. The fixtures needs to be replaced but I don't use the bathroom so it hasn't been a priority.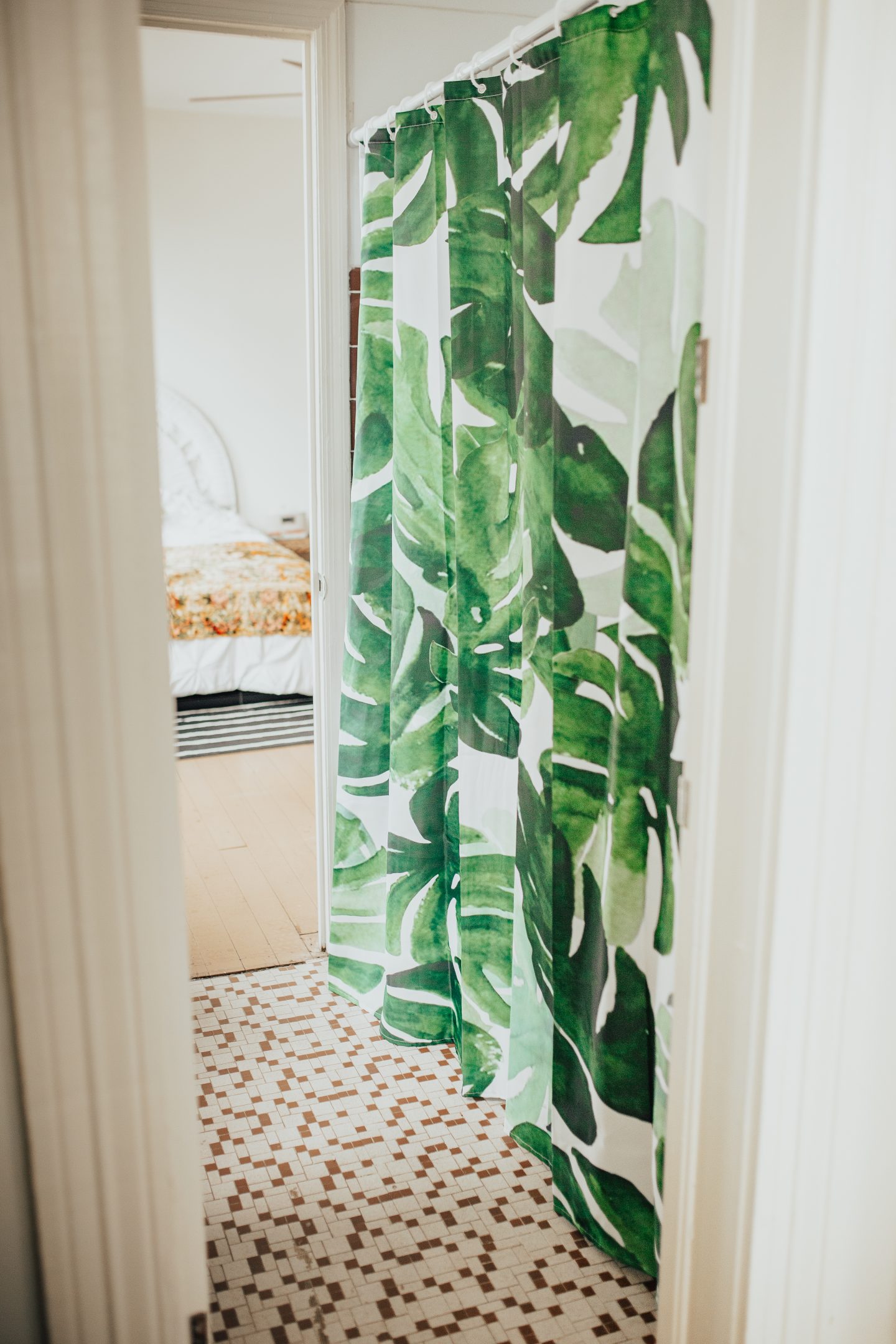 Sources: Leafy printed shower curtain (link)
Guest Room/Home Office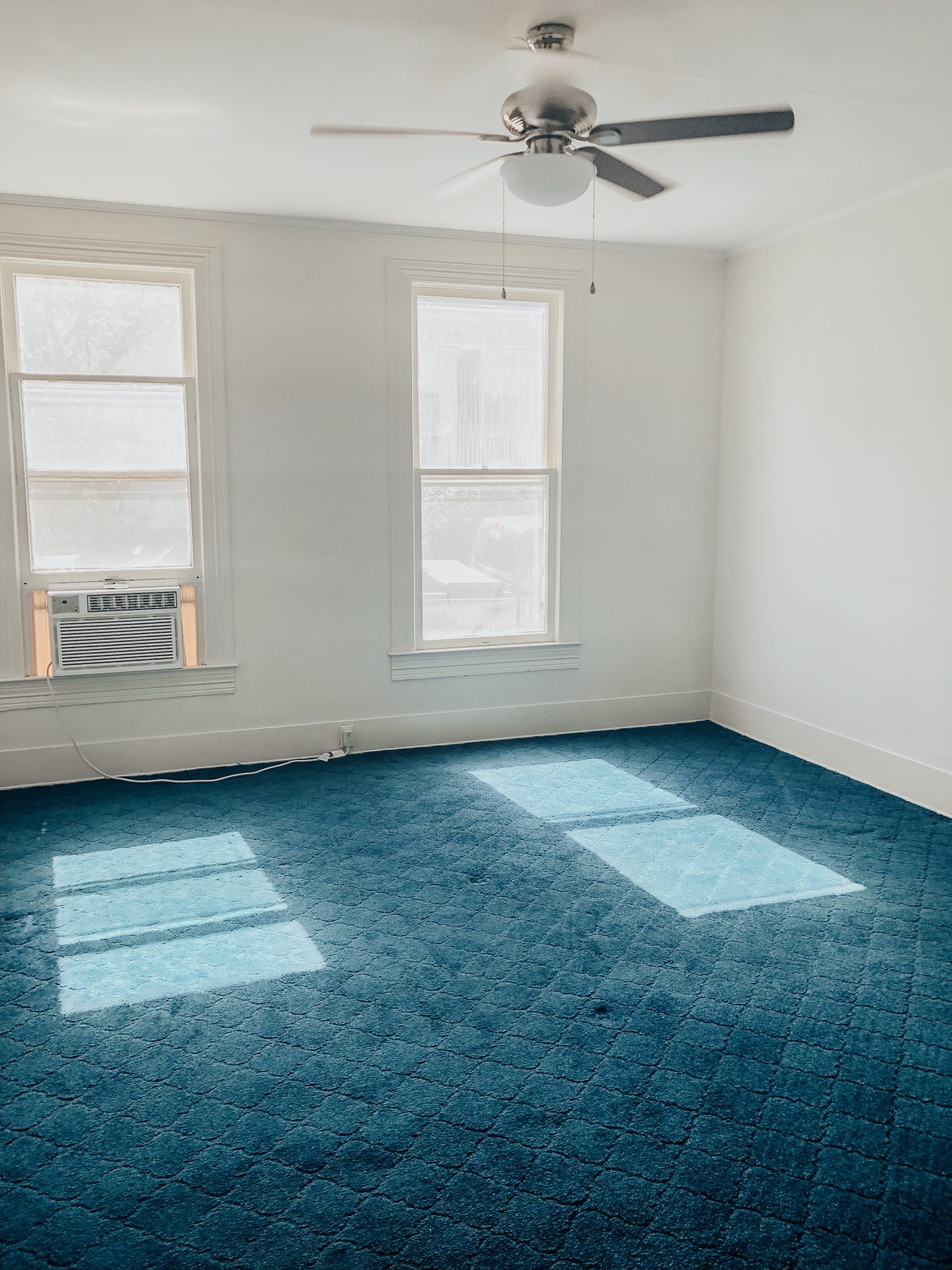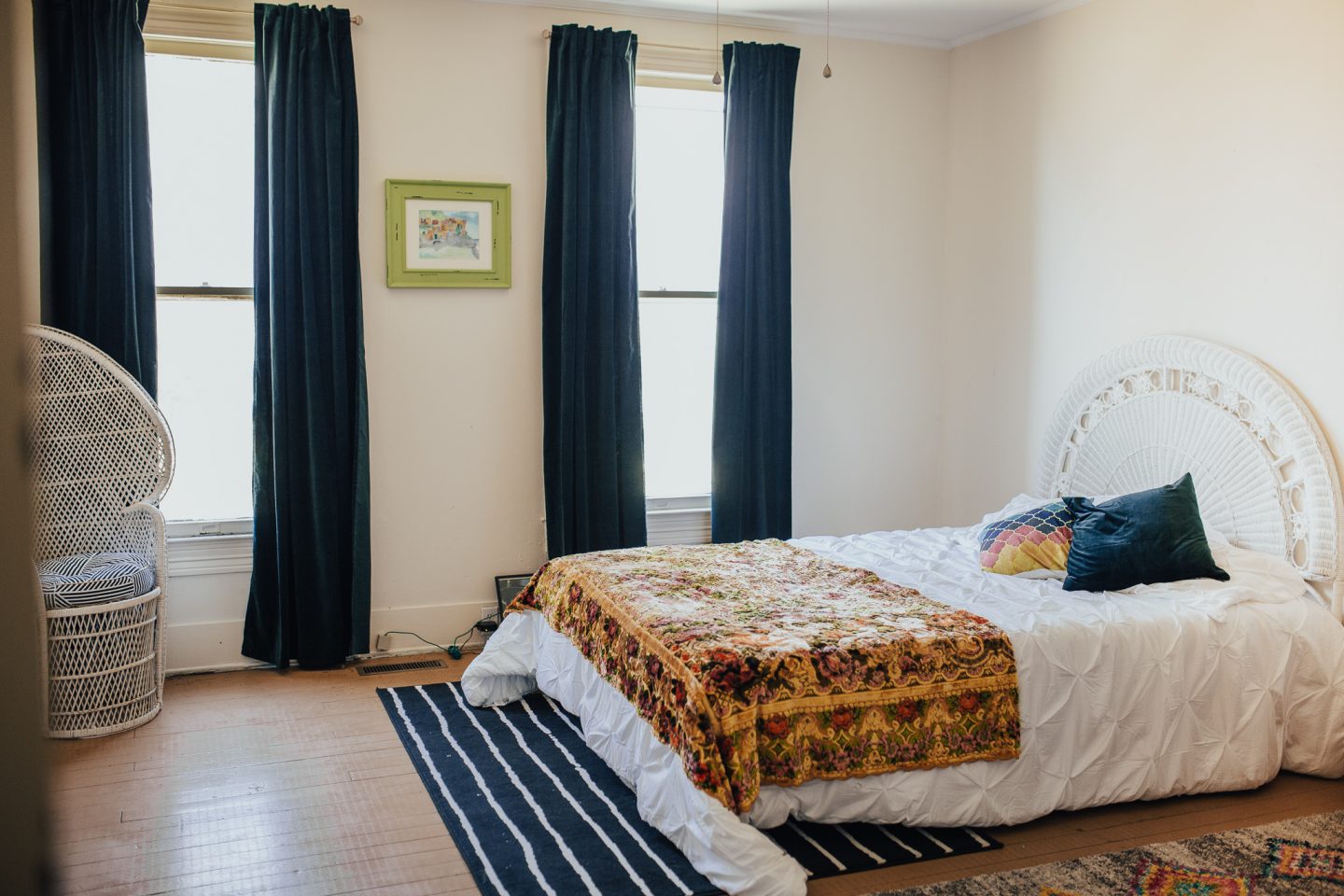 Sources: Green Velvet Curtains (link); Headboard (Facebook Marketplace, similar); White Pintuck bedspread (link); Yellow blanket on end of bed (vintage, gift); Green velvet pillow case (link); Black and White striped rug (old IKEA); Peacock Chair (thrift store find, similar); Black and White Geometric Round Throw Pillow on Peacock Chair (link); Fiesta Aztec Diamonds Shag Dark Rug (link); Blue Velvet Office Chair (Homegoods, similar); Hilda Writing Desk (link); iMac (link)
Dining Room
Before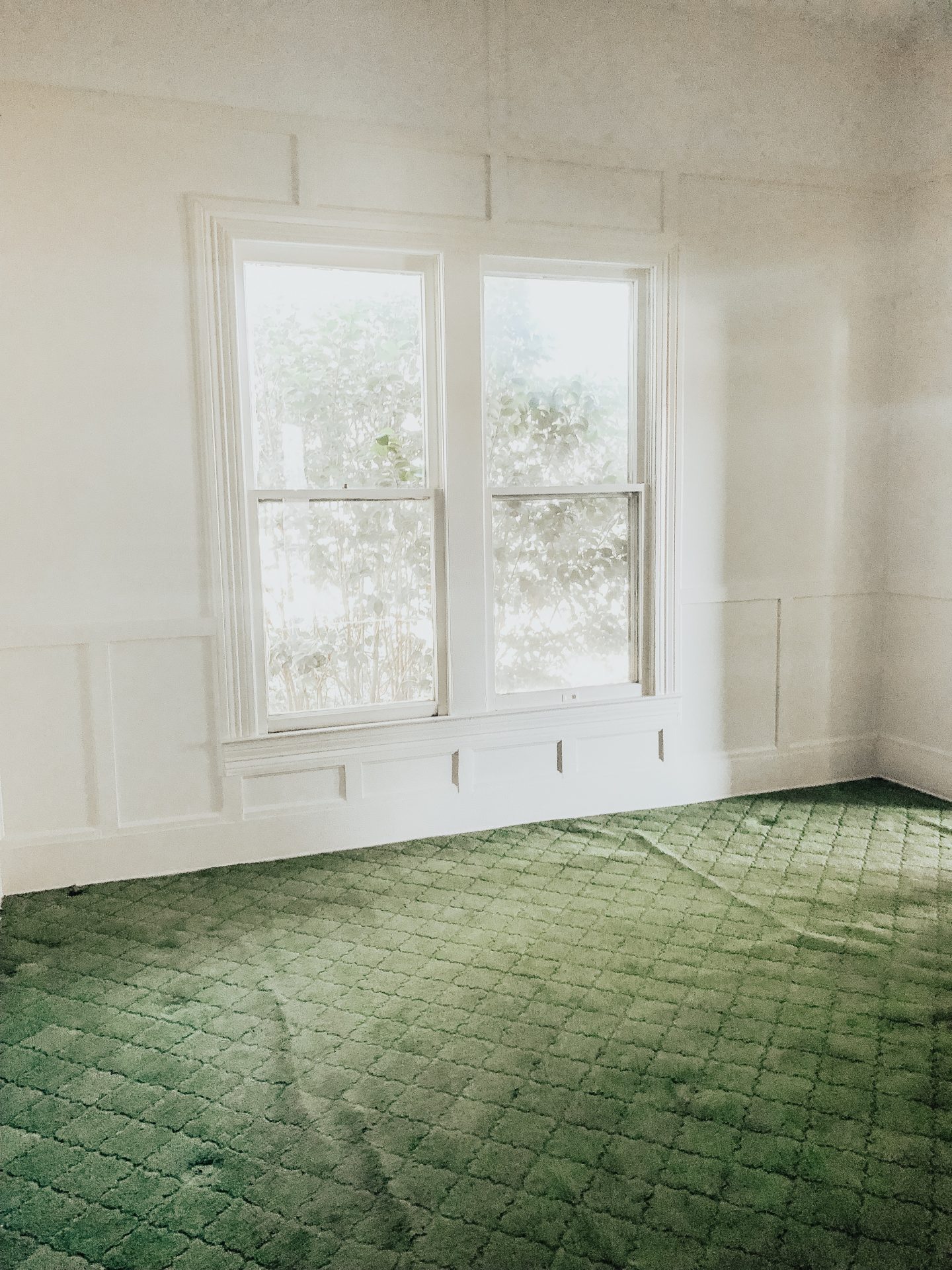 After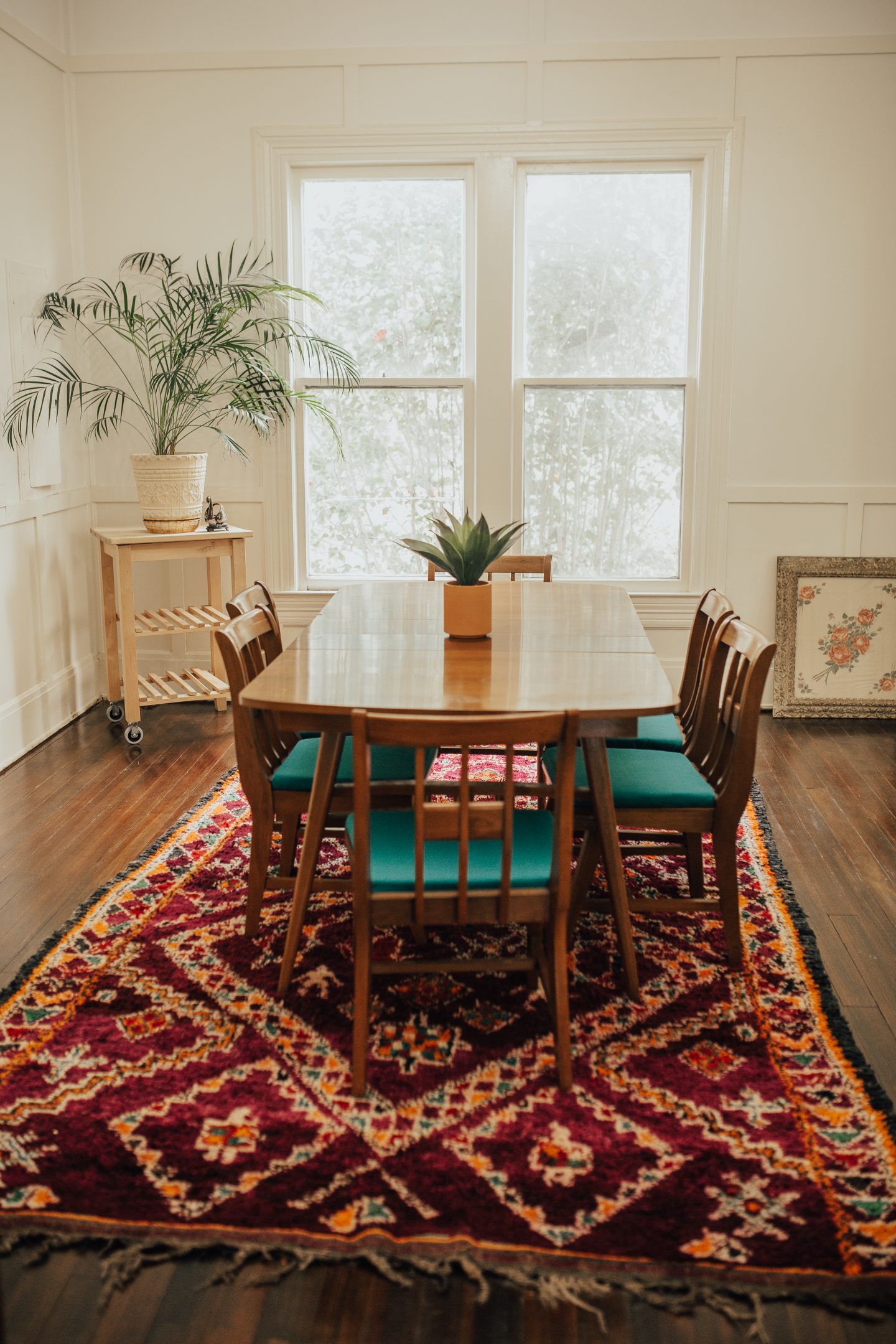 Sources: Moroccan Rug (similar to shop, rug is one-of-a-kind); Mid-Century Modern Table, 6 chairs, and buffet (estate sale, chairs recovered by me); Faux plant on table (Hearth and Hand, old line); Bar Cart (link)
Kitchen
My biggest project to date and I talked a little about the theme HERE. I love this space so much, y'all. It's so much brighter in here. BUT there is still a lot left I want to do.
Before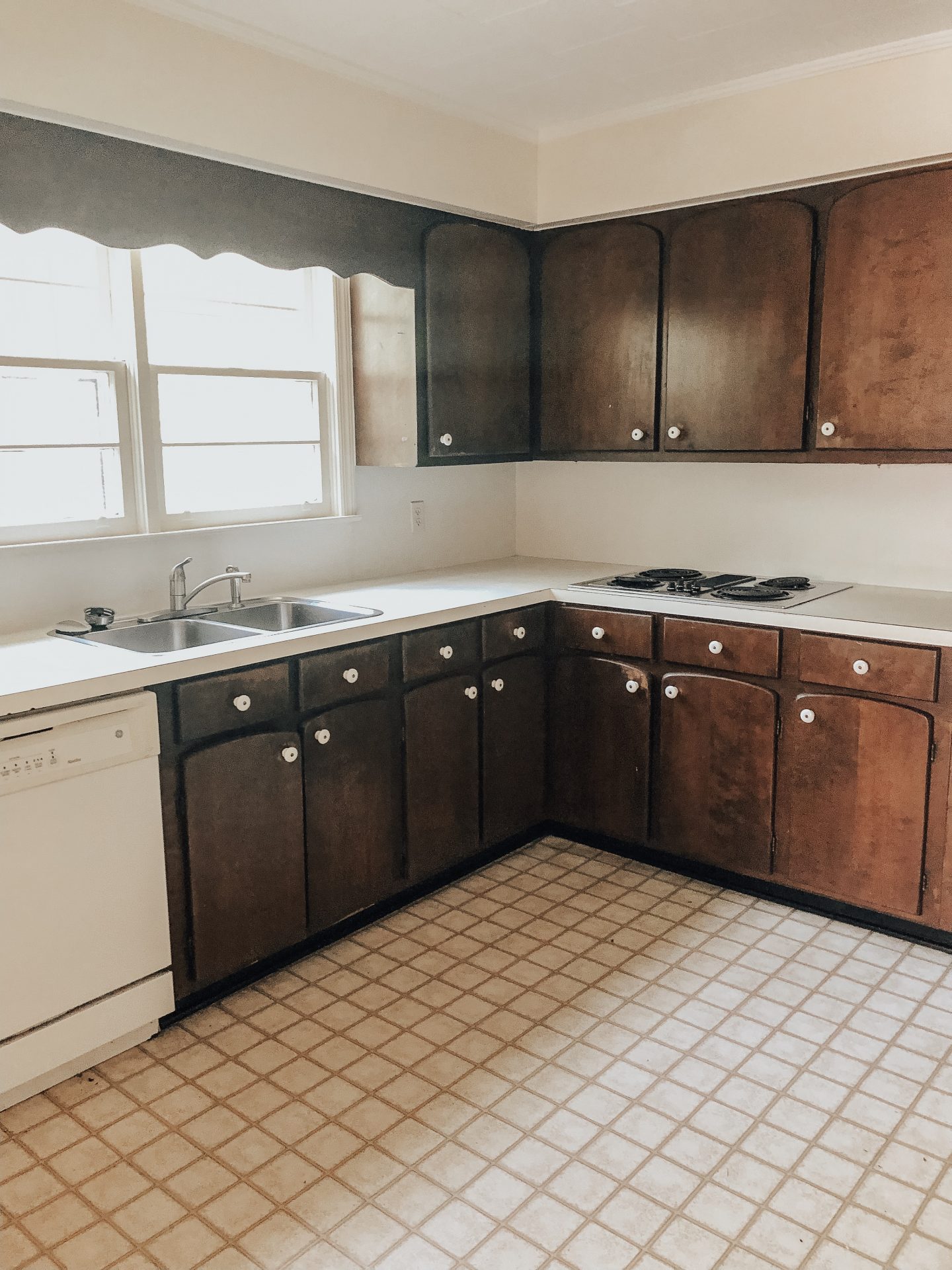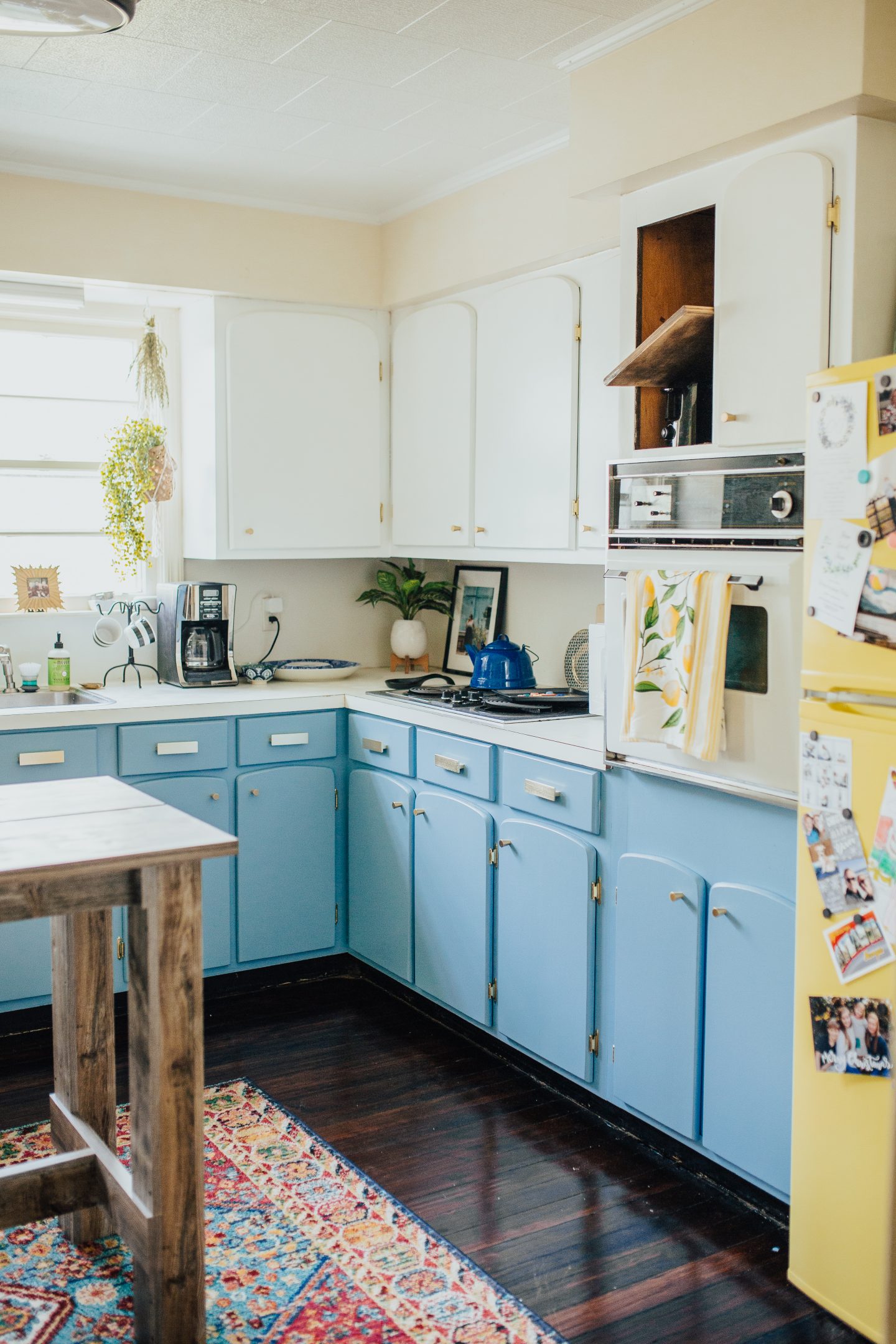 Sources: Lemon plant and vase (Kirkland's – similar); Gold hinges (Link); Brushed Gold 0.8″ circle cabinet door knobs (Link); Brushed Gold 3.75″ Drawer Pull (Link); Chroma Vibrant Meadow Rug (link); Valspar Tangy Lemon (my fridge paint – link); Sherwin Williams Resolute Blue (link); In terms of the white paint, I just told the Lowes guy to give me the whitest paint. I don't even think it was colored or anything; Kitchen island (link)
Laundry Room
I hand-painted this faux "wallpaper." Check out my DIY post.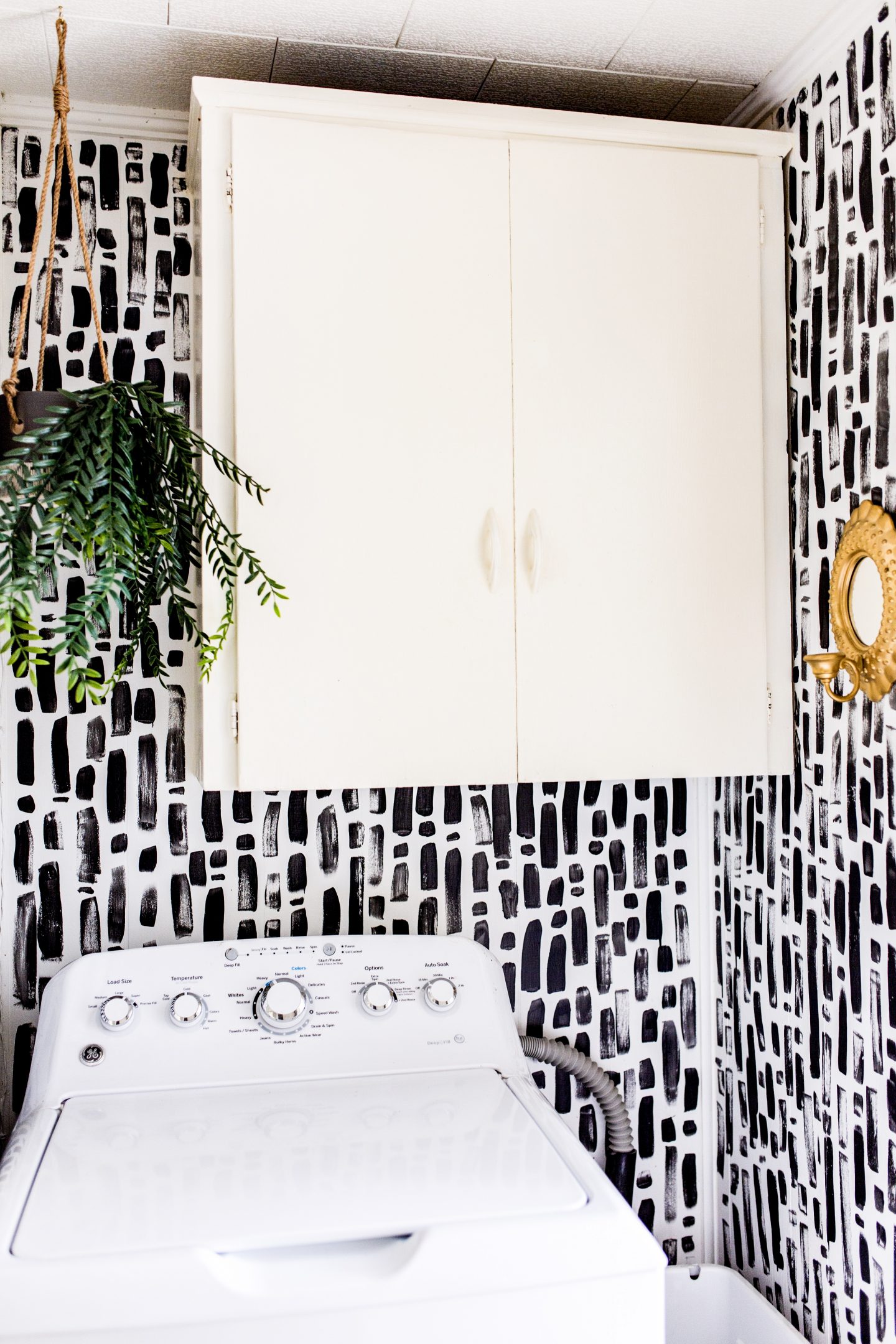 Mint Bathroom
Before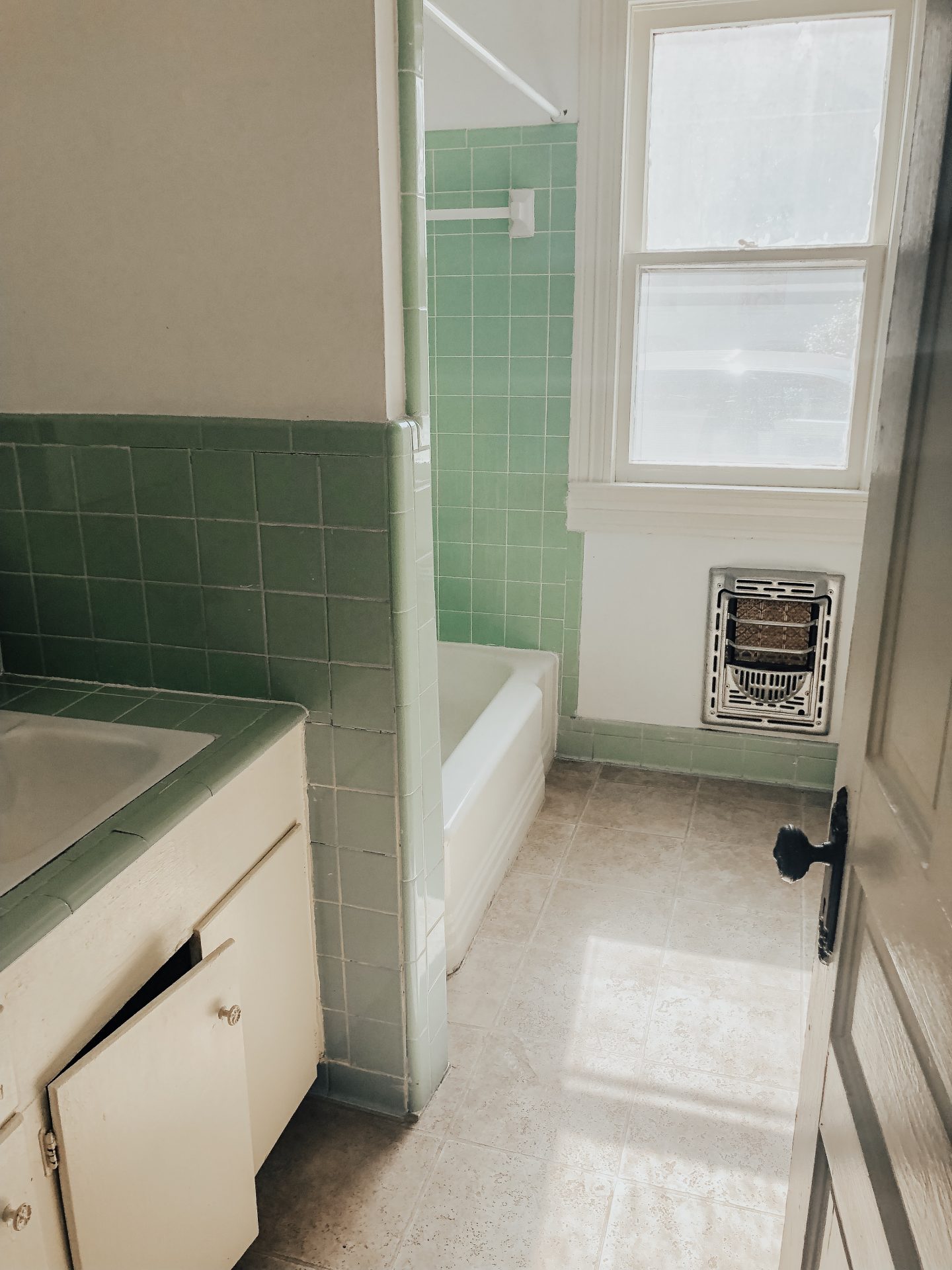 After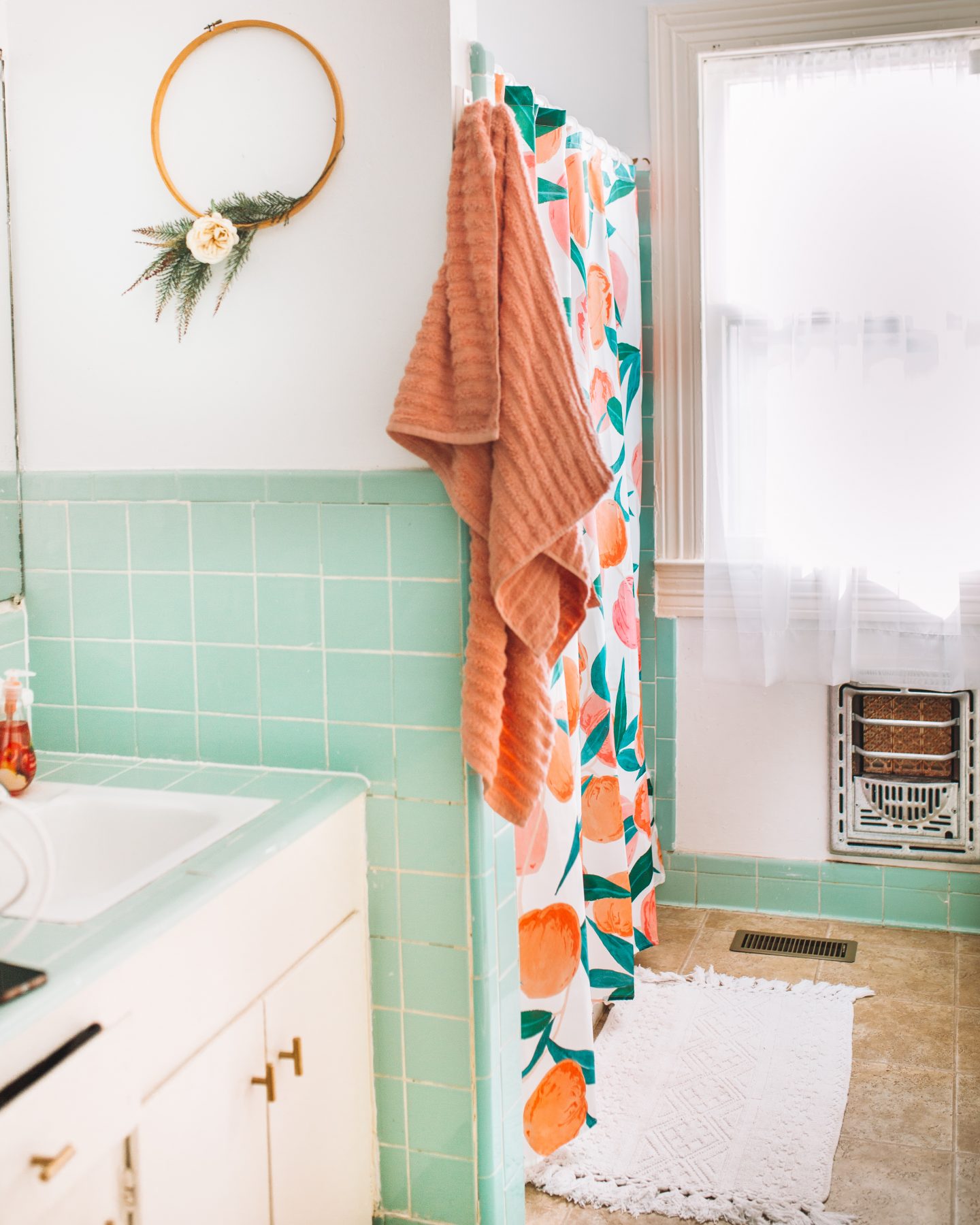 Sources: Peach shower curtain (link); Italy print (by me- purchase here); Druvfläder hanging basket (link); Fejka Artificial potted plant (2 pictured, link); Peach towel (link); white woven rug (similar)
Studio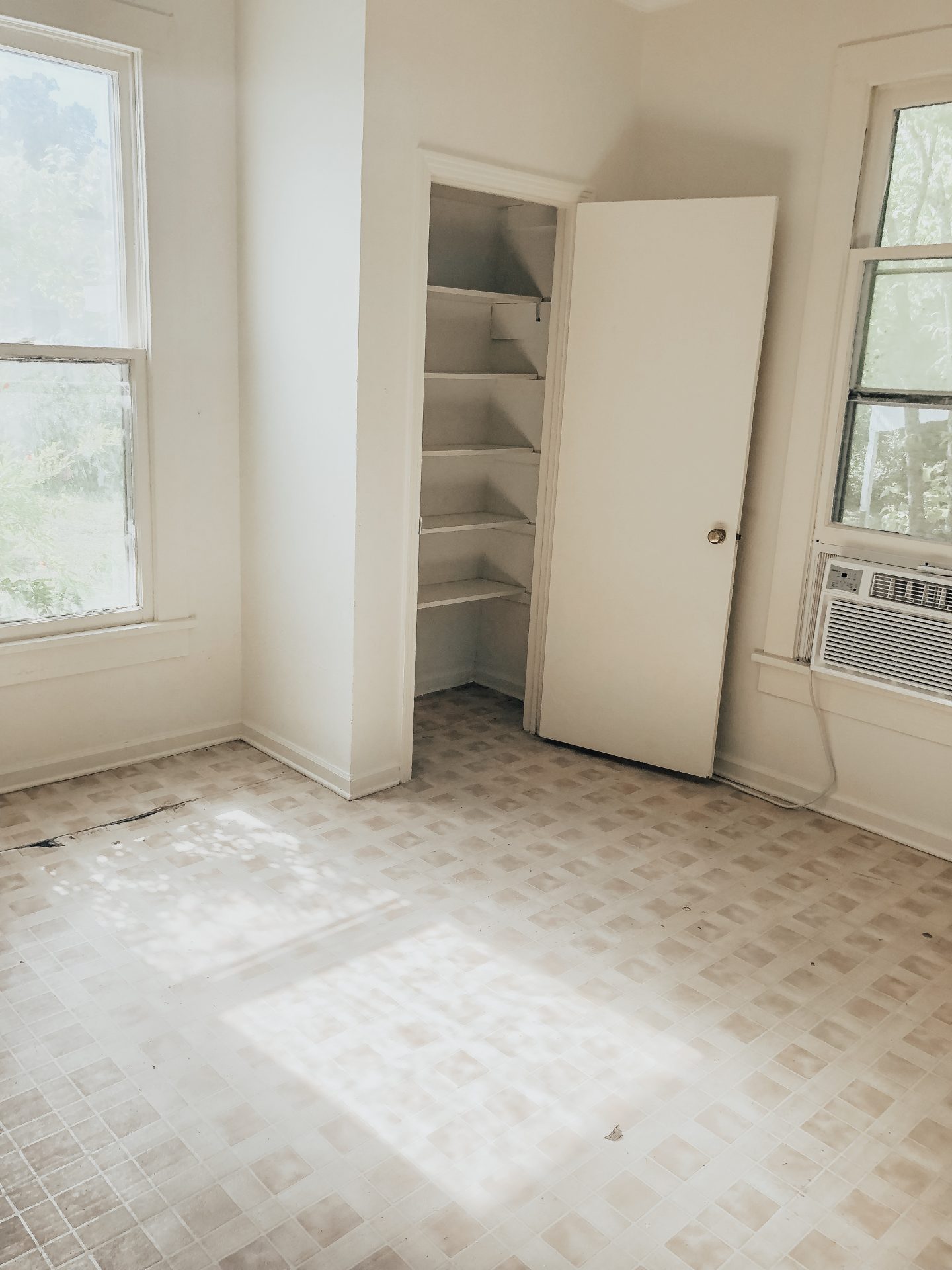 Tell me – which room is your favorite?
xx,
Sami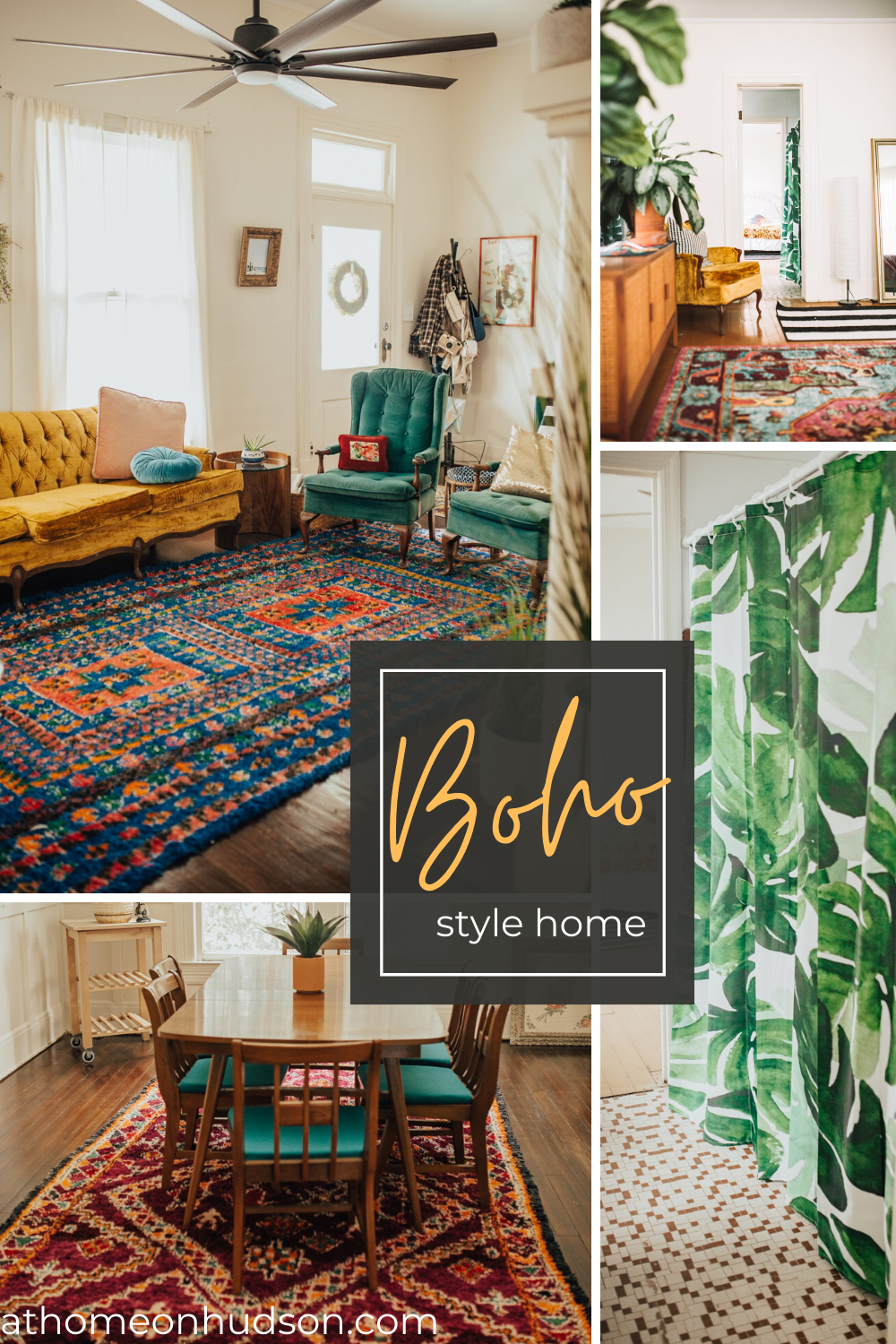 Please note that some of the links above are affiliate links, and at no additional cost to you, I earn a small commission if you make a purchase. That income goes to supporting this website and keeping it free for you and everyone else!
As always, ideas and opinions expressed in this post are entirely my own.