Surprise! If you are reading this, you are reading the first "new" post for my blog At Home on Hudson. After much change in my life with purchasing a new house, I wanted to share house tours and renovations of my charming 100 year old house and I didn't really have a space for that on my other two blogs. The thought of running and maintaining three blogs while just dealing with life in general really gave me uber anxiety. I seriously don't have that kind of energy.
Out blossomed this beautiful brain child of mine – a lifestyle blog dedicated to all things Sami: my new home, my travels, and my (spicy and smart) opinions. Yep- you are in for a wild ride. As an enneagram 5, I am a hardcore researcher and hoarder of information on topics I deem worthy and I want to share my knowledge. But I digress.
This post is dedicated to my newest money pit in my life, my first home – what I have referred to mentally as the Hudson House. I will be honest, despite the fact I am turning the big 30 next year, house ownership was not really on my radar. I had signed up for Zillow alerts for my hometown but I think I can say I did that for more of me being nosy to see how much people deemed their house worth. Plus I got to see inside how people decorated their spaces and silently internally judge (and not-so-silently group-text screenshots to my sisters). ?
So when I tell you this house fell into my lap, I seriously mean that. My dad approached me one random day in May of this year and asked me if I was interested in buying the Hudson house. He was in negotiations with the owner for a real estate trade and the Hudson House was part of those wheelings and dealings that he is so well known for in my family. I have never even noticed the house before despite driving by it a million times. Of course, me being me, I asked a million questions and wanted a house tour. I honestly had no idea what kind of shape it would be in and if I would even like it. I tend to have a very specific taste and with this kind of investment, I refused to settle for just anything!
With my 2 year old niece Georgia Lou in tow, my dad and I did a tour not long after our initial conversation. On first impression, I was kind of shocked with how much I loved it. I had the ability to look past the lack of central heating and air, the terrible linoleum, and the offensive bright green and blue carpets and truly see charm! The glorious details of the dining room, the 12-feet ceilings, and even the old rounded wooden kitchen cabinets drew me in instantaneously. I had a vision for how I would style the house. I remember feeling verrrrry excited! But that is for another future post.
Check out the photos from my first tour of the house!
It's a shotgun house which means you have a clear view from the front door all the way to the back door. Here is a view towards the front door.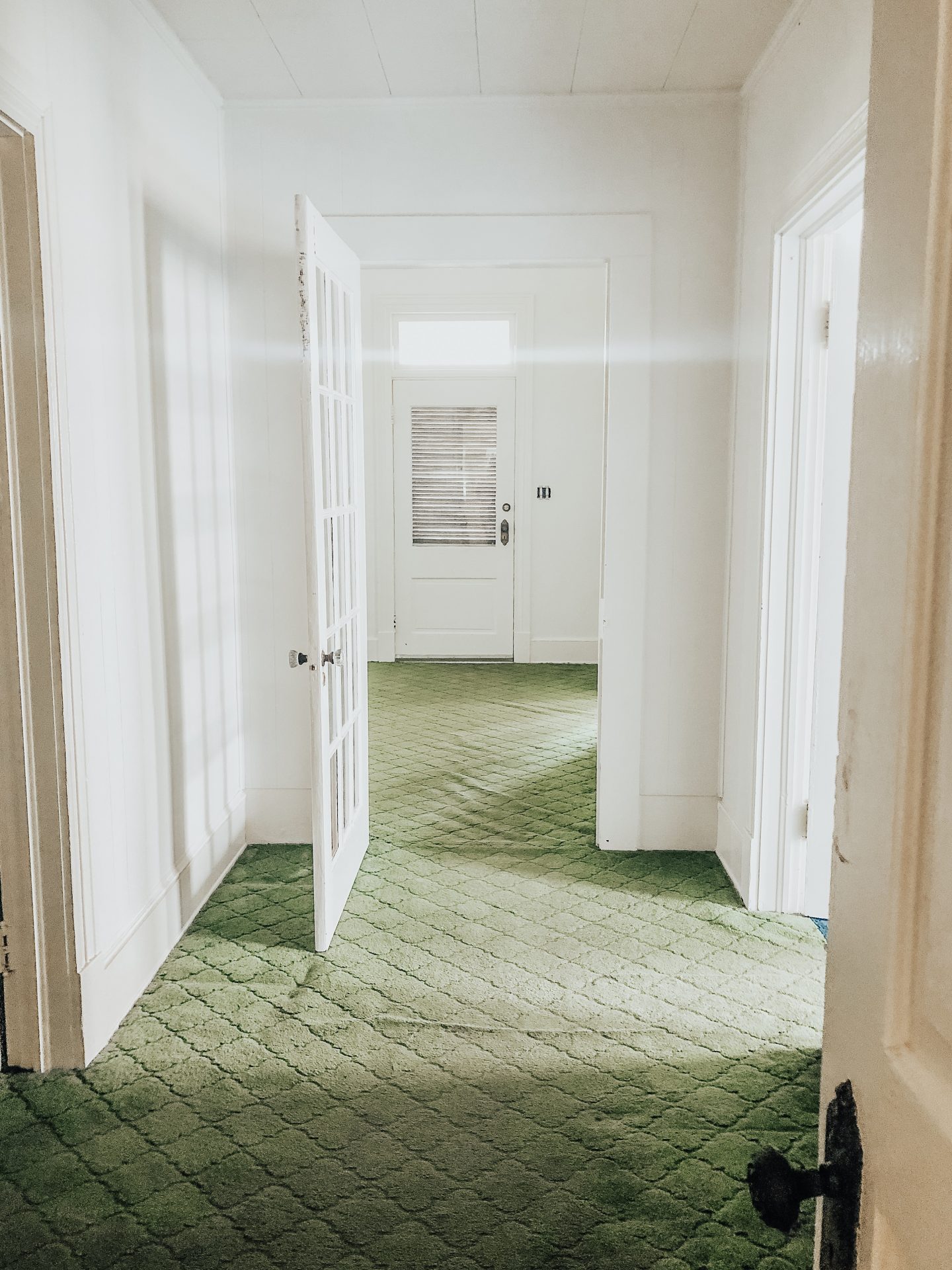 The Kitchen
I really do love the rounded tops of the cabinets and the fact that if you open the cabinet over the old stove, it has a hand-drawn diagram with written instructions on how to work the oven.
The dining room
This is perhaps my favorite room in the whole house because all of the wood details and that amazing fireplace.
The new SamiM Studio and attached bathroom
Master bedroom
THIS. BAY. WINDOW. IS. LIFE.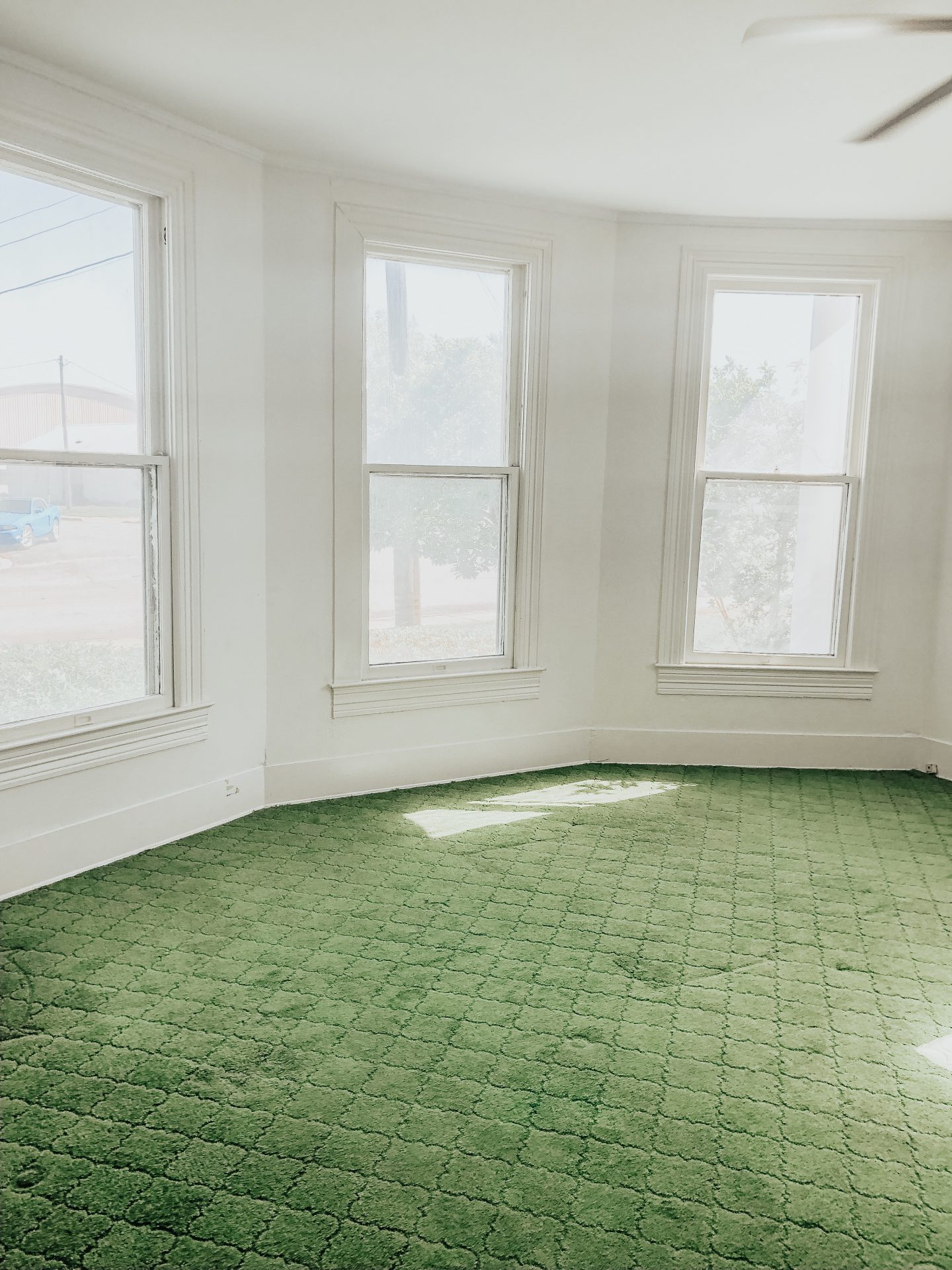 The blue bedroom aka guest room/home office
Both this carpet color and this ? colored bathroom are TOUGH to look at but alas, it's all aesthetic things that can be changed!
The Living Room
My second favorite room is the living room because 1. that fireplace and 2. the amazing natural light the space gets!
Fast forward to the end of July and I moved ALL of my belongings into the Hudson House. A lot has changed since I have actually gotten in and gotten my hands on the house but I love being able to refer back to these original photos. Stay tuned for a post on the most glorious surprise the house has given me so far.
So tell me, what is your favorite room of the Hudson House?
xx,
Sami