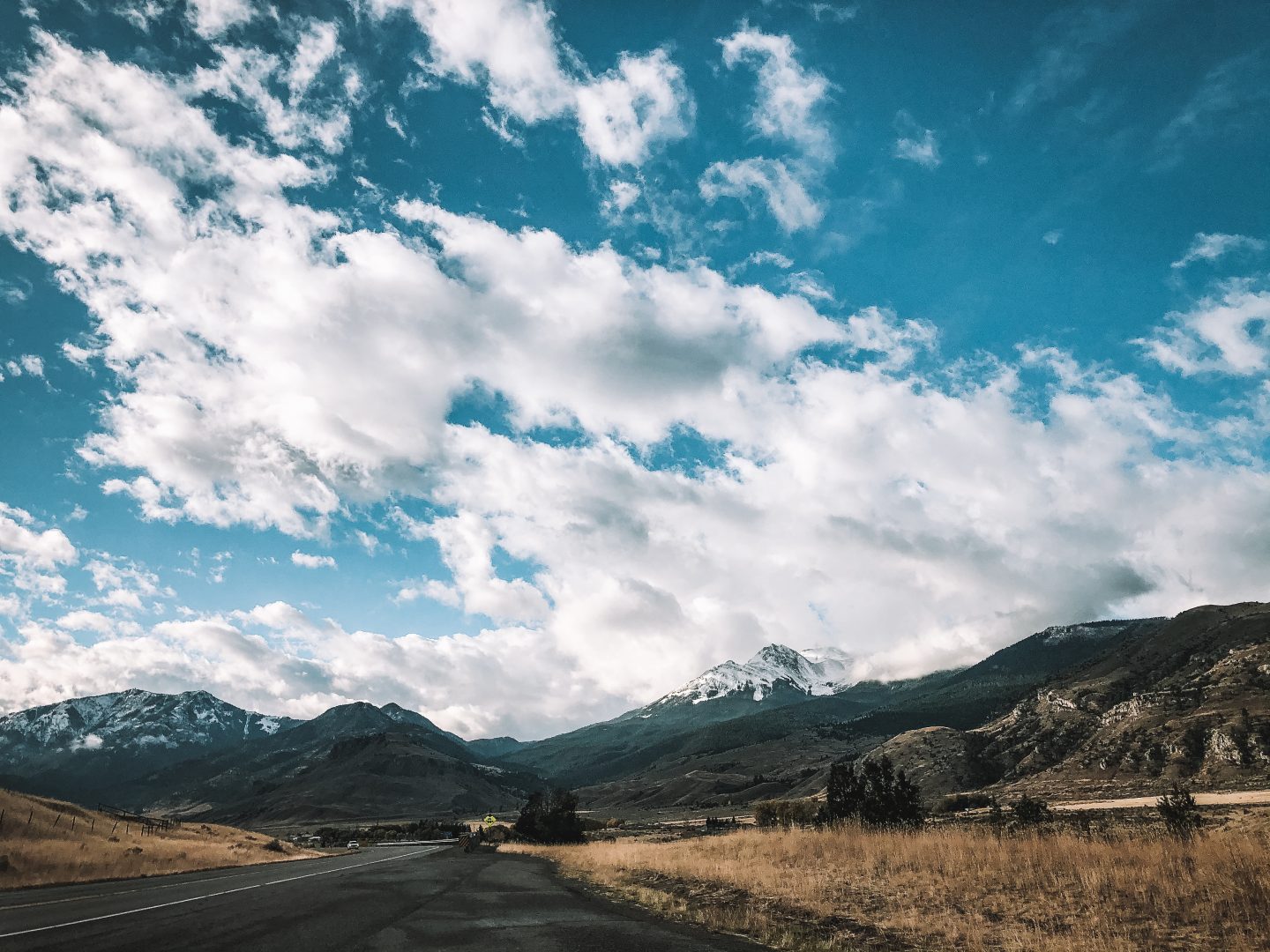 Yellowstone, America's first National Park, is seriously one of the most diverse places in the country and definitely worth all of the hype! Seeing the colorful thermal pools, the gushing geysers, the rushing waterfalls, and the animals will make you realize that everything picture you have seen didn't do the park justice. This expansive park has it all! I decided to put together a Yellowstone National Park travel guide with helpful hints to plan your trip!
We visited in late October and fortunately, the crowds were not really an issue like I heard it usually is in the summer! Luckily, that made it easier to socially distance ourselves from everyone just like we hoped. We got to experience a cloudy and sunshine fall day on our first day, and a snowy wintery day the next. Listen, I am truly thankful we visited during the off-season but full disclosure, you cannot see the Grand Prismatic Spring when it is cold for steam reasons and there are some road closures after a certain date. BUT in my humble opinion, I would deal with those cons any day rather than having to deal with traffic and crowds!
Note, this is not a definitive guide of ALL the things to do at Yellowstone National Park because there is just so much. These are a compilation of things I really enjoyed and recommend.
---
Info about Yellowstone National Park
Location: Mostly NW Wyoming, part of Idaho, and part of Montana.
Size: 2,219,791 million acres / 8983.18 sq km
Annual Visitors: 4.0 million+
Established: 1872 as a National Park
Visitor Centers: ALL CLOSED TEMPORARILY DUE TO COVID-19. Albright Visitor Center, Canyon Visitor Educational Center, Fishing Bridge Visitor Center & Trailside Museum, Grant Visitor Center, Madison Information Station & Trailside Museum, Museum of the National Park Ranger, Norris Geyser Basin Museum and Information Station, Old Faithful Visitor Education Center, West Thumb Information Station, West Yellowstone Visitor Information Center
Entrance Fee: $35 per vehicle; $70 annual pass (or $80 for America the Beautiful Pass – I highly recommend this option if you plan on visiting 3 national parks during the year. Pays for itself!)
Cell Service: Just a general heads up, cell service is practically non-existent when inside the park so be sure to download your Yellowstone National Park map before entering the park or get a paper one from the Ranger at the entrance! Also, note geyser eruption prediction times so you have a general idea of when to visit Old Faithful and the others.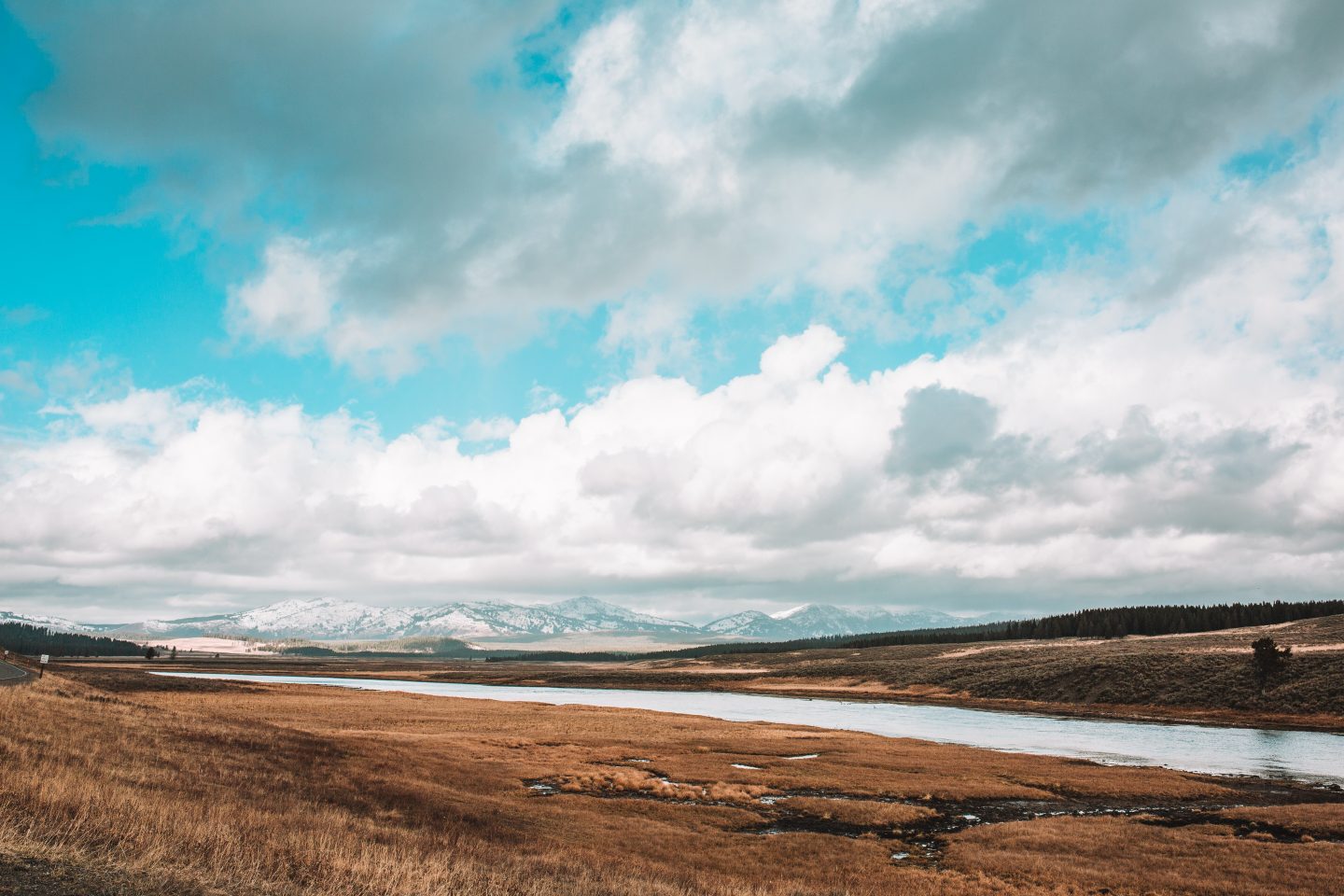 ---
Where to stay near Yellowstone National Park
No matter if you want to stay in or outside of the park, finding the perfect lodging is easy! For a more detailed page on what Yellowstone National Park has to offer for staying inside the park, check out this page! It is very useful especially because it has the most up-to-date COVID information!
But if you are wanting to travel in the off-season or if you want to save some $$ and stay outside of the park, one of the first things you need to determine is what exactly you want to see in Yellowstone and choose your entrance accordingly. The park is so large that driving around it can take hours, especially if there is heavy summer traffic!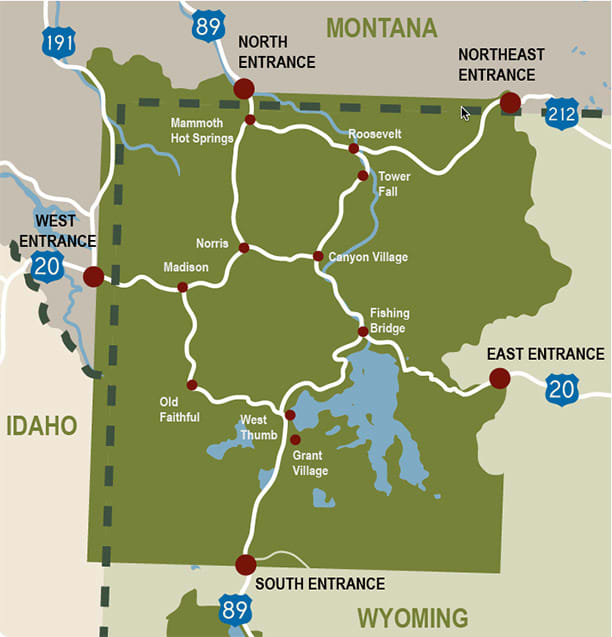 There are 5 entrances into the park aptly named the North, Northeast, South, East, and West. Depending on your goal for your Yellowstone trip, all have great options for hotels, gas, and restaurants nearby!
The South entrance is great if you want a quickish drive to Old Faithful geyser. It is also the best entrance to use if you are flying and staying in Jackson Hole, Wyoming, and plan on spending a few days exploring the famous mountain town! If you have plans to visit both Grand Teton National Park and Yellowstone National Park in one trek, I would highly recommend this entrance!
Be sure to check out my Grand Teton National Park post if you decide to go this route.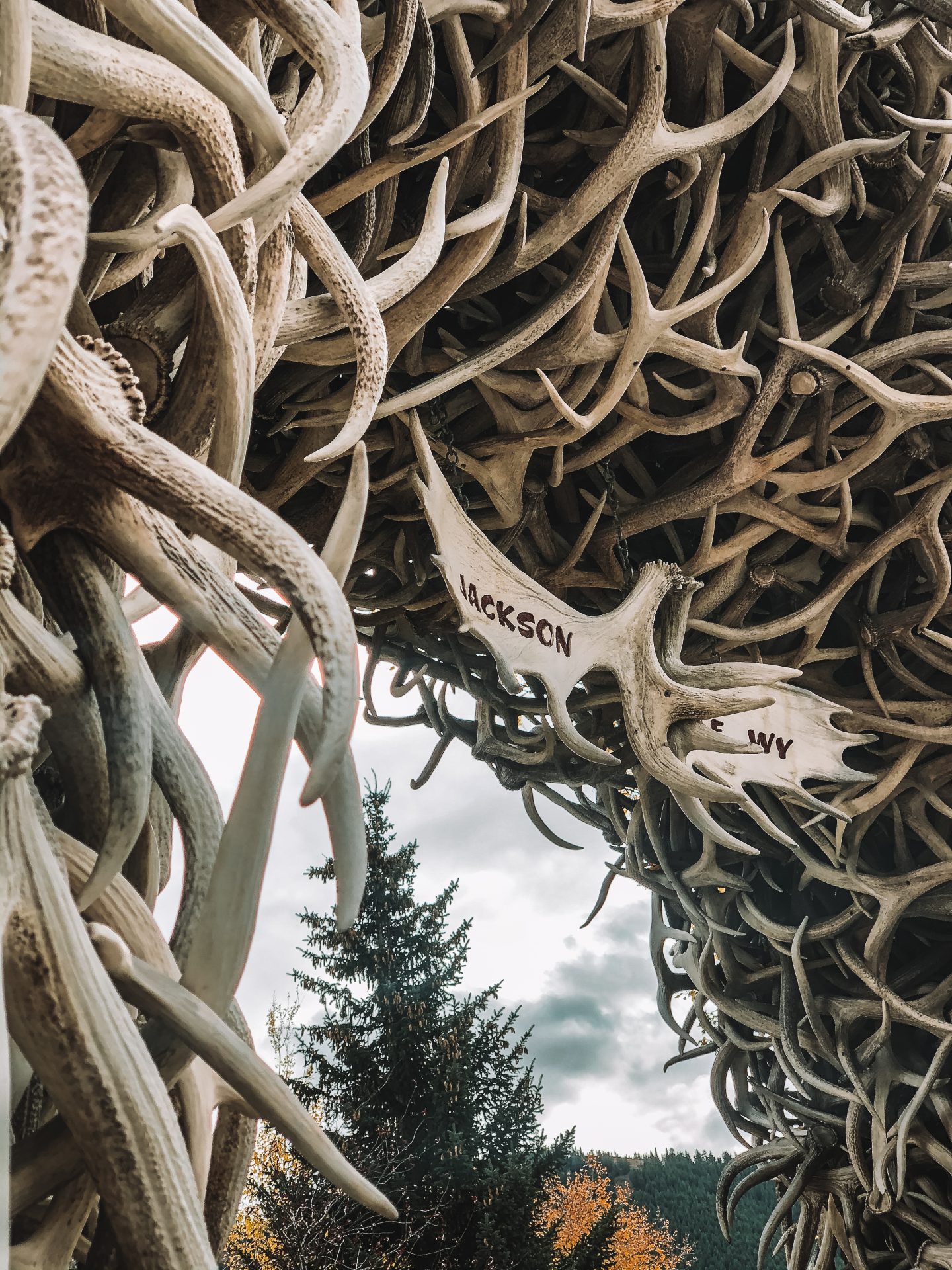 If you are looking to get the first view of the expansive Yellowstone Lake against snow-capped mountains, the East entrance is the best place to do this! But you should note that the closest town is Cody, Wyoming, a whopping 53 miles away from the entrance. But if the drive doesn't scare you, Cody, Wyoming has lots of rich history and tons of summer activities like rodeos!
My moma and I used the West Entrance and the town of West Yellowstone, MT is a bustling town that has tons of souvenir shops, restaurants, and lodging! There was even an IMAX theater, a perfect diversion for your kiddos on a rainy day. This is the perfect entrance for those who want to head straight to the geysers on your trip to the park.
The Northeast entrance is considered the gate to Yellowstone's wildlife. The nearest town to this entrance is Cooke City, MT and, although small, it does have gas and lodgings. But huge heads-up, this entrance is CLOSED during winter. But if you are planning your visit during other seasons, this entrance is best if you are coming from Billings, MT and have a hankering to catch a *hopeful* glimpse at Yellowstone's Big Three animals: elk, bison, and bears!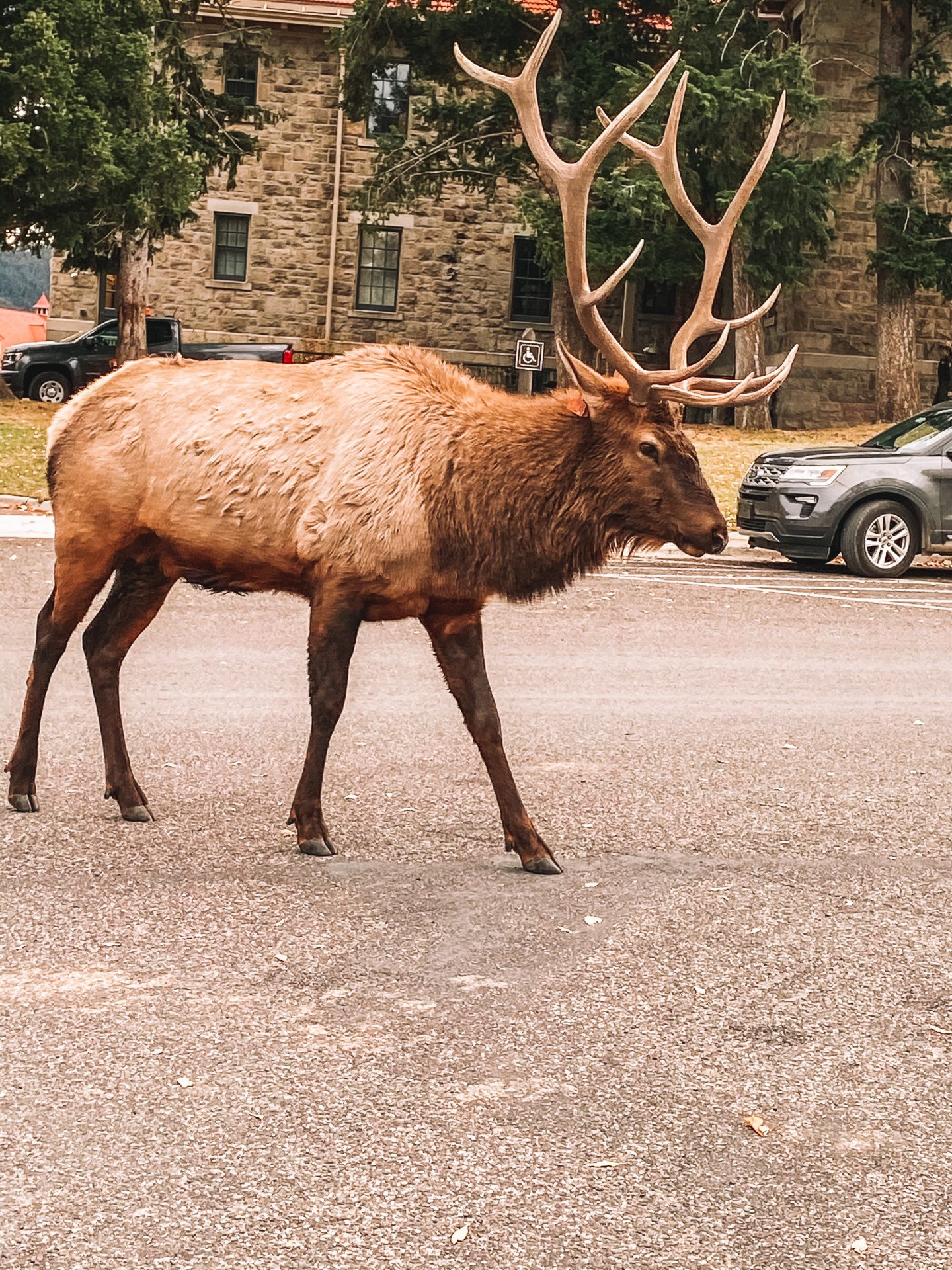 The North entrance is great if you want to drive through the famous Roosevelt Arch or hit up the famous Mammoth Hot Springs. This is also the entrance where the historic Mammoth Hot Springs Hotel is and I promise, you are almost guaranteed to see a herd of elk grazing in the little town area. We had a big guy bugling loud as can be less than 10 feet from our car. (We were safely inside the car. Do not approach wildlife!) The closest town outside the North entrance is Gardiner, MT. We drove through this town and it had a gas station, several shops, and food choices galore! We used this entrance for day 2 because we crashed at a cutesy little Airbnb in Pray, MT. The drive was more than worth it because we literally got to see 1000s of elk at dusk coming down from the mountains.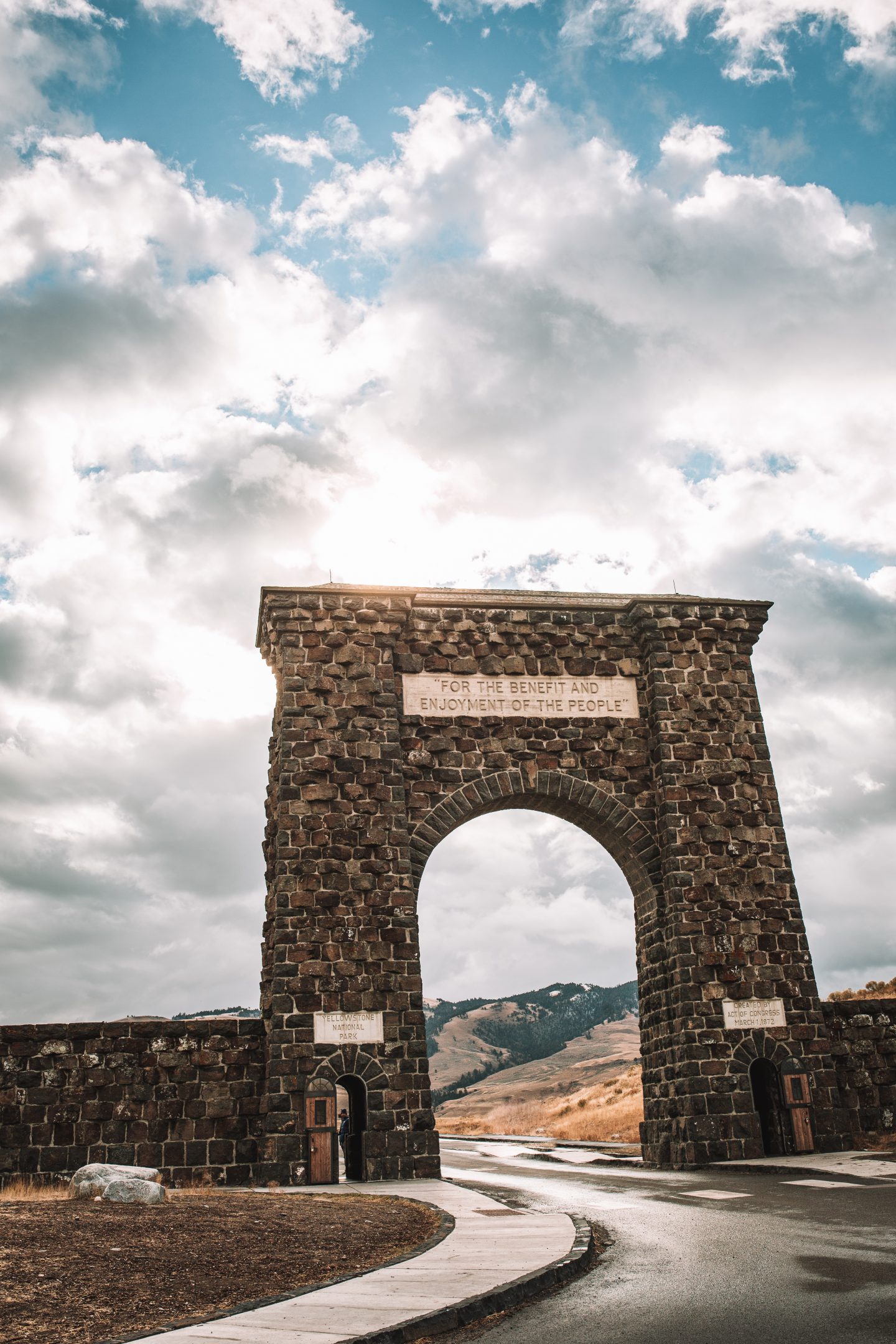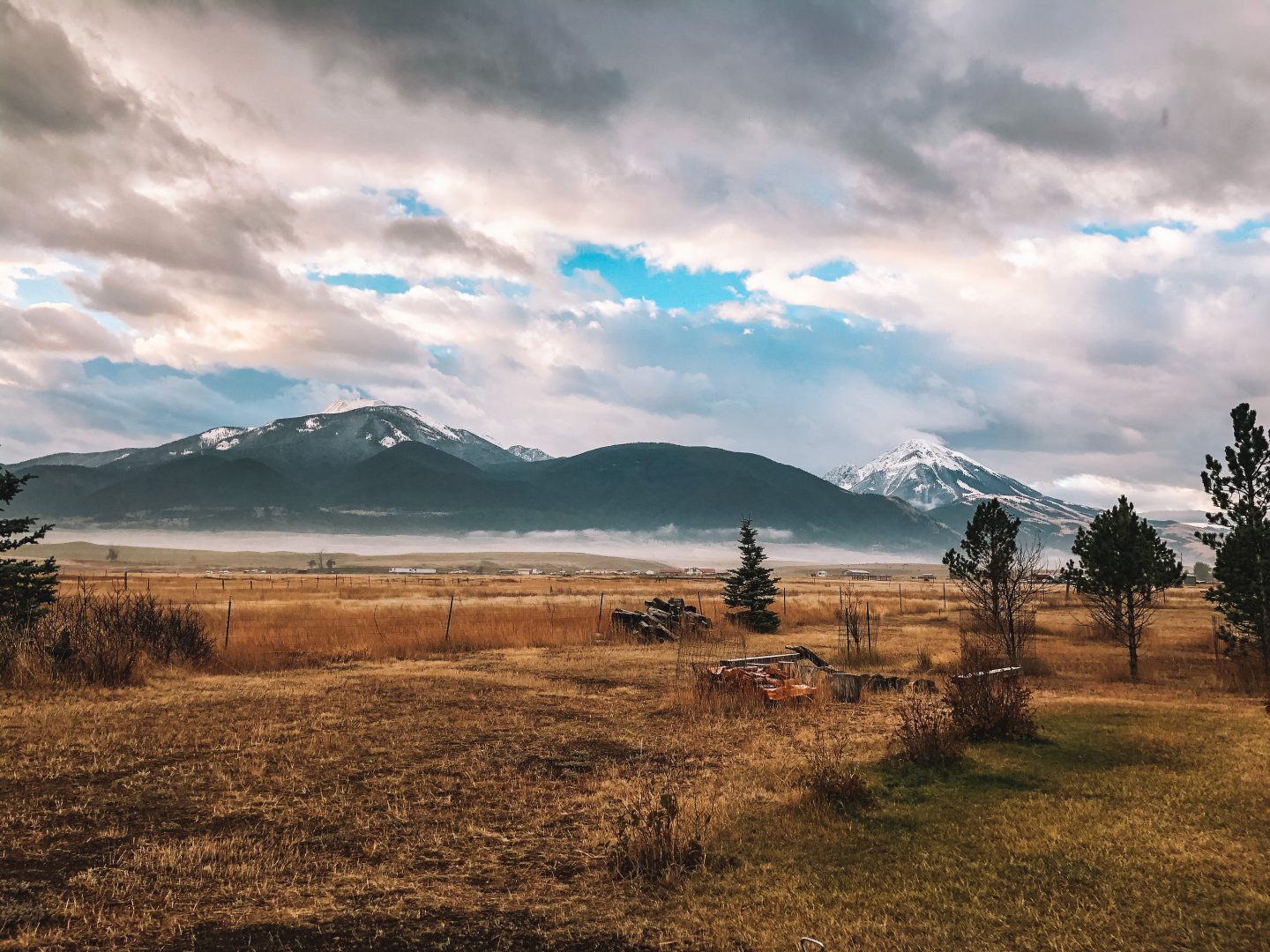 ---
Traveling solo and want to still get incredible photos of yourself so you can remember the places you visit? Check out my tried and true options! I have personally done ALL of these options and I have gotten amazing results! Trust me, I am a photographer. ?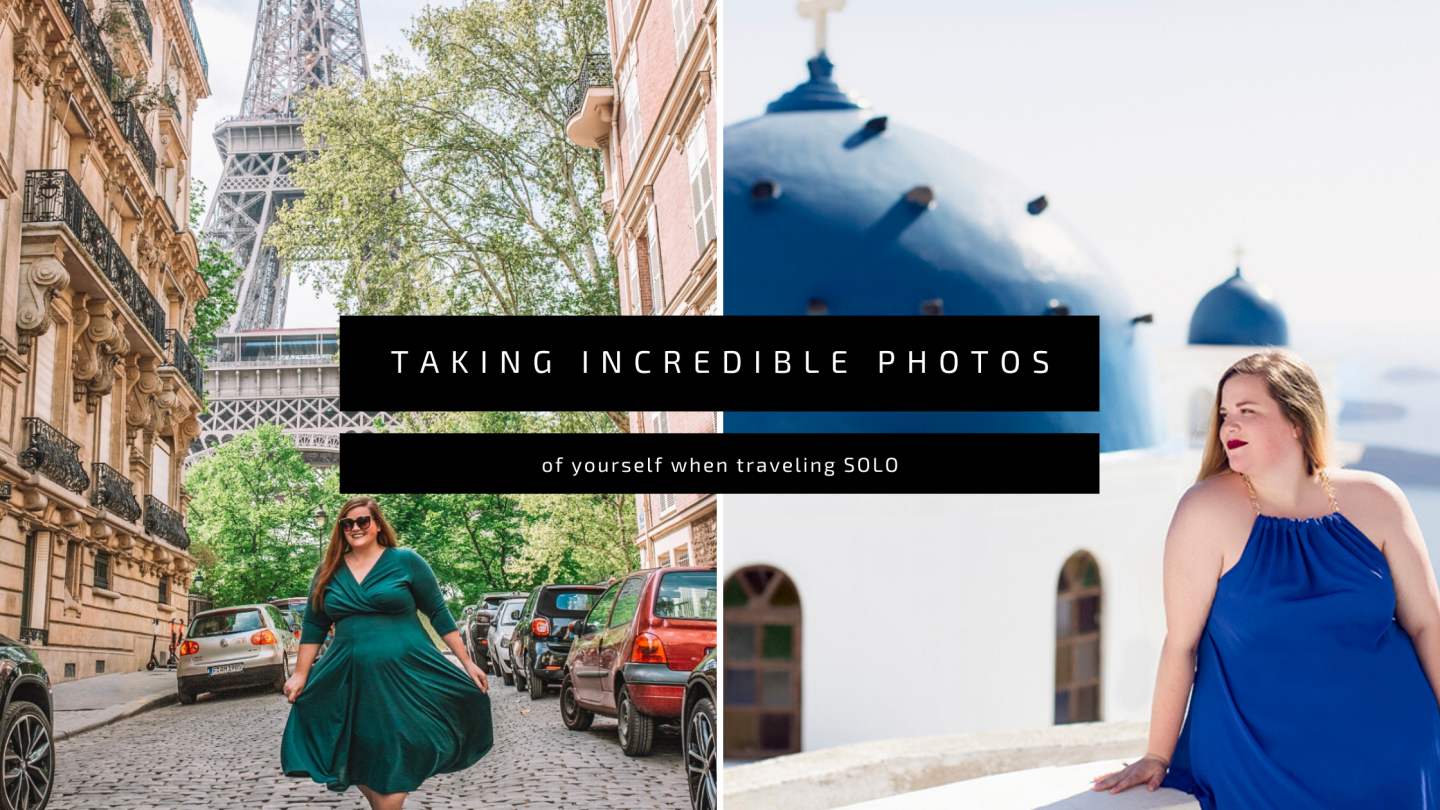 ---
Things to do in Yellowstone National Park
Listen, as I have mentioned, Yellowstone is massive and really, really hard to see it all in one day. I honestly recommend 2 days minimum if you want to see most of these. We were lucky when we went in late October because we had hardly any traffic but we still did a LOT of driving the two days we visited. I can only imagine that visiting during the peak summer season will mean more time sitting in the car driving. Take this into account when planning your trip route! Check out my suggestions, in no particular order, on things you don't want to miss on your trip!
Old Faithful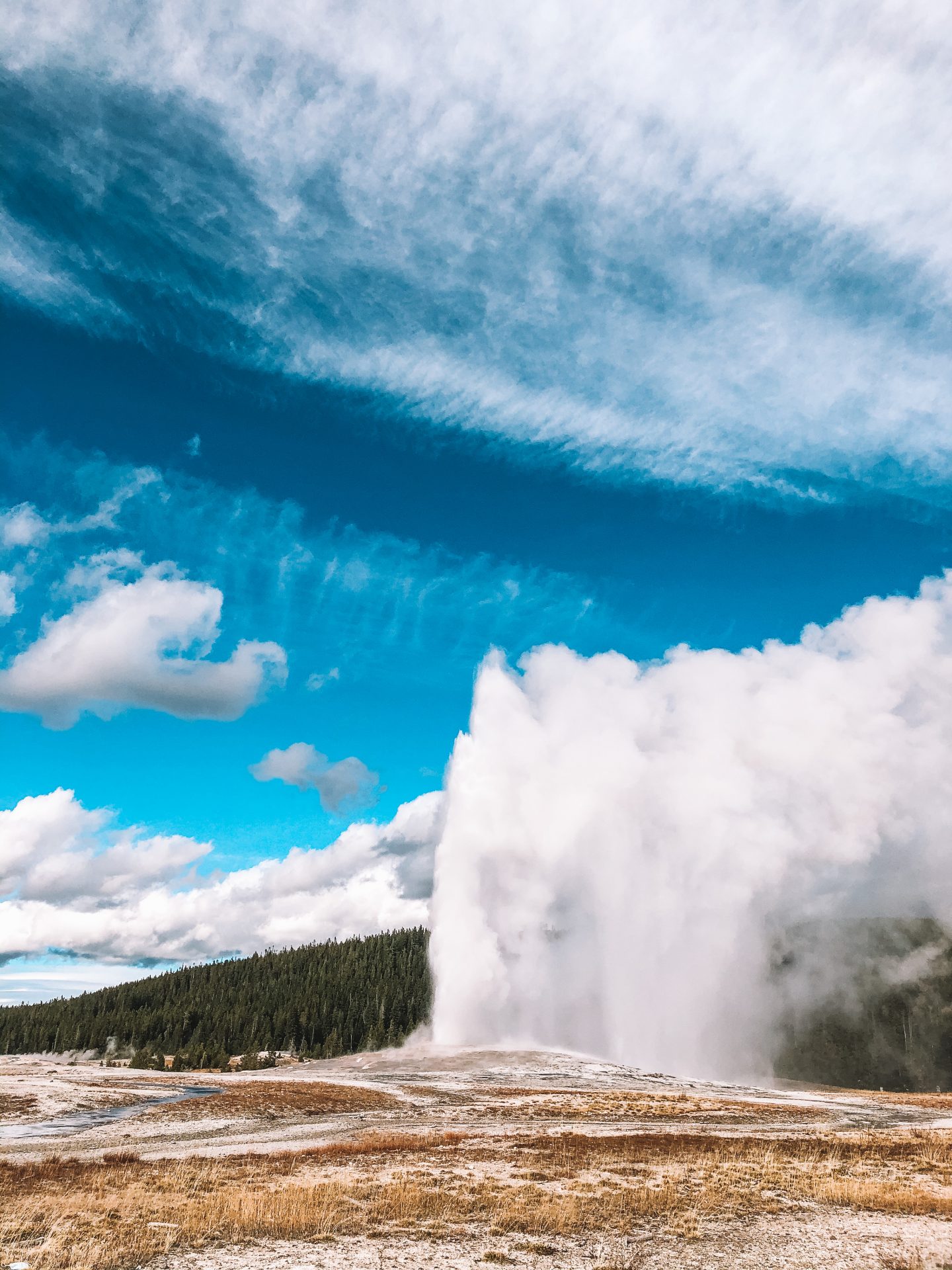 Located in the southwestern edge of the park in the Upper Geyser Basin, Old Faithful is probably THE most famous thing to see at Yellowstone National Park. This crazy natural phenomenon erupts typically 20 times a day and shoots up between 100-140 feet into the air. That is wild. And apparently, Old Faithful is so "faithful," that rangers are able to predict the estimated eruption times! Be sure to check out this website prior to entrance into the park for estimated times of all geyser activity. Cell service can be non-existent in the park so it's useful to know in advance. There is also a little sign posted near the Old Faithful visitor's center that has estimated times of eruptions if you forgot to check it out in advance!
The viewing boardwalk is very accessible, has seating for those who need it, and is located near restrooms.
Grand Prismatic Spring (season dependent)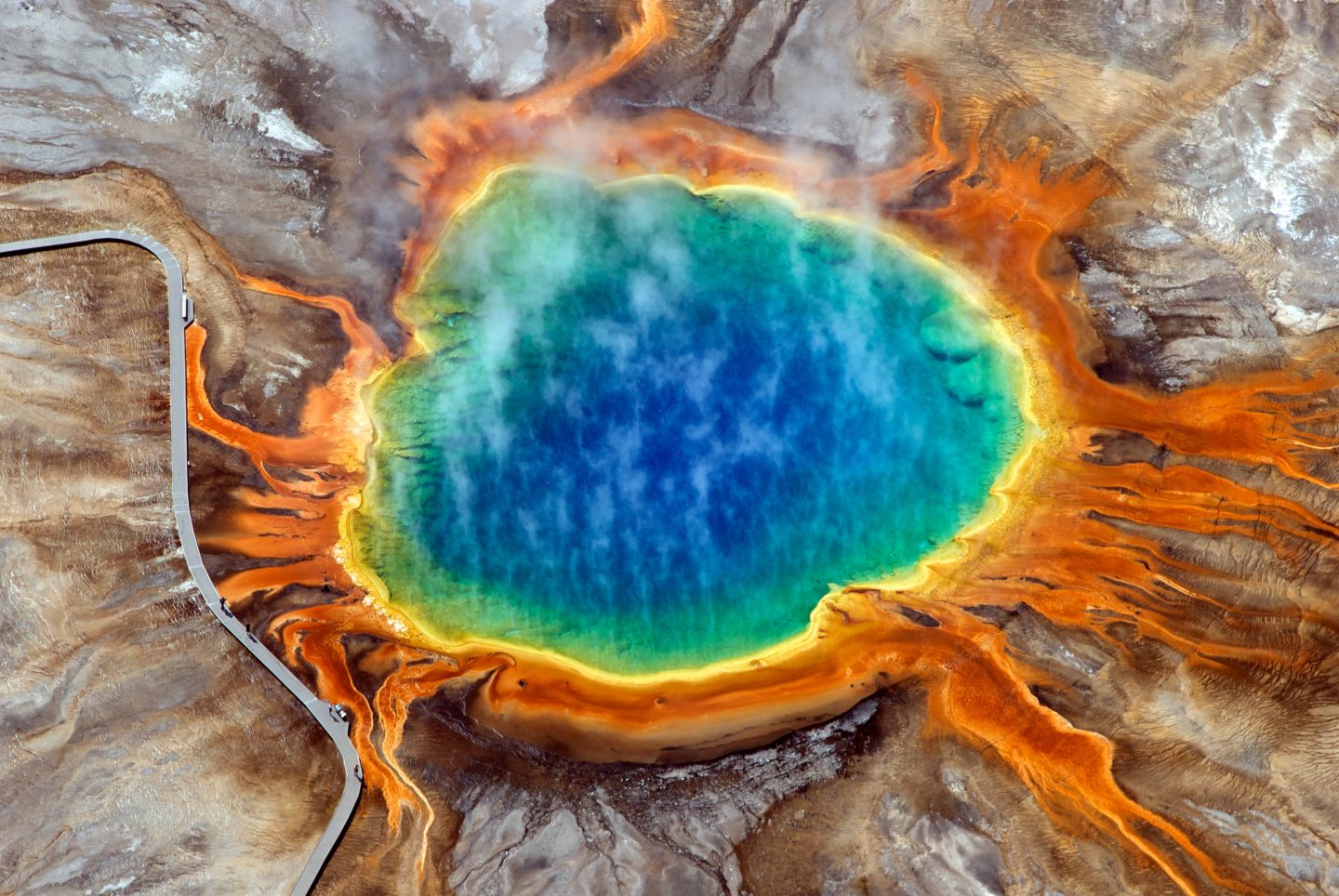 The Grand Prismatic Spring is another famous must-see in Yellowstone National Park. The colors of the spring are out-of-this-world in all of the photos I have seen of the spring so I was very excited to see it. Unfortunately, I should note that if it's cold, it's very hard to see the spring due to the steam rising from it. We visited on a very cold day and the spring just took over the viewing area. Keep that in mind if you are visiting outside of summer.
I found the boardwalk to be very accessible, although a bit of a walk, so keep that in mind for those who require assistance or wheelchairs.
Special Note: The area was very windy so please hold on to your hats, sunglasses, and masks! You are not allowed to leave the boardwalk so those items once lost, are sadly gone forever!
Yellowstone Waterfall & Grand Canyon of Yellowstone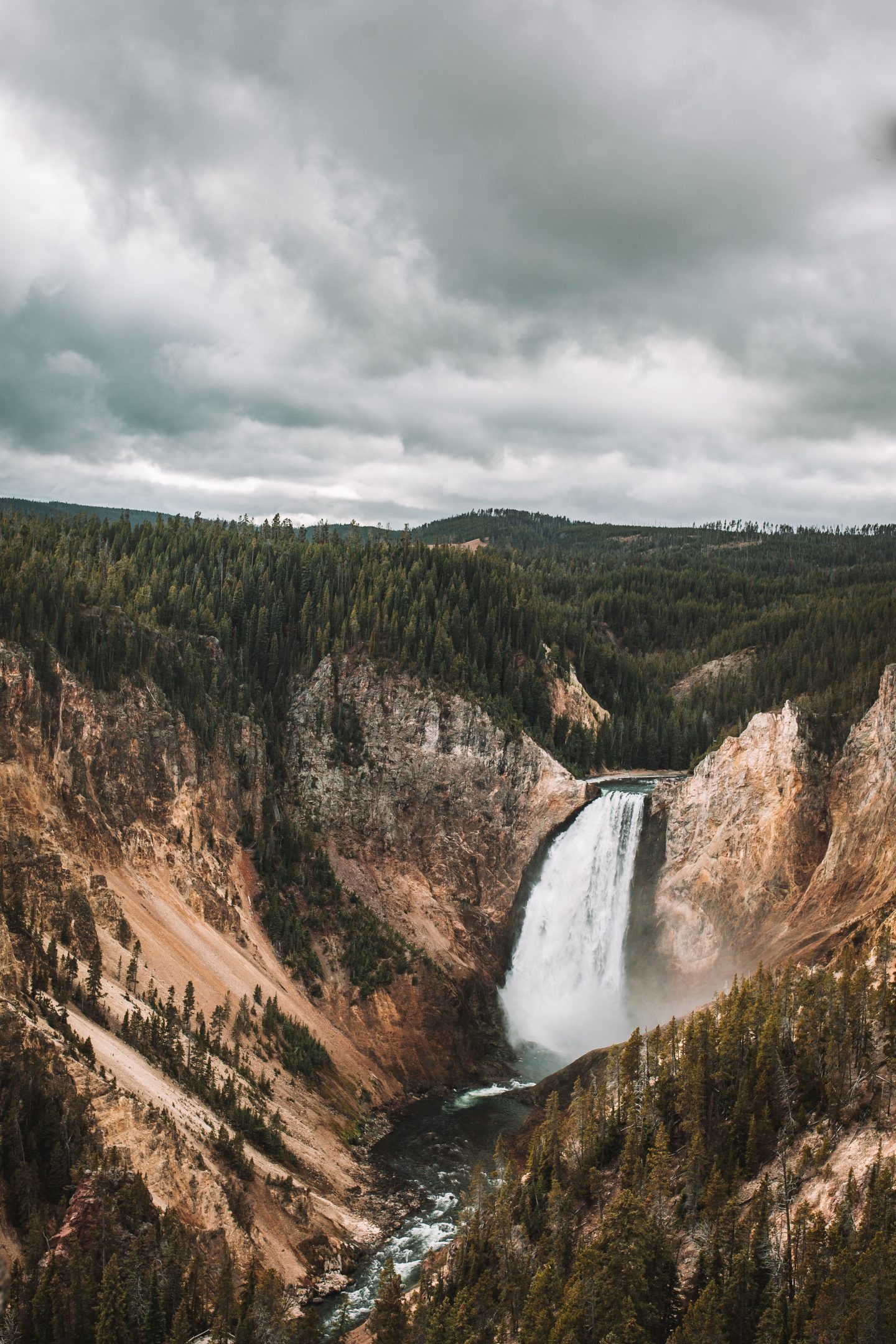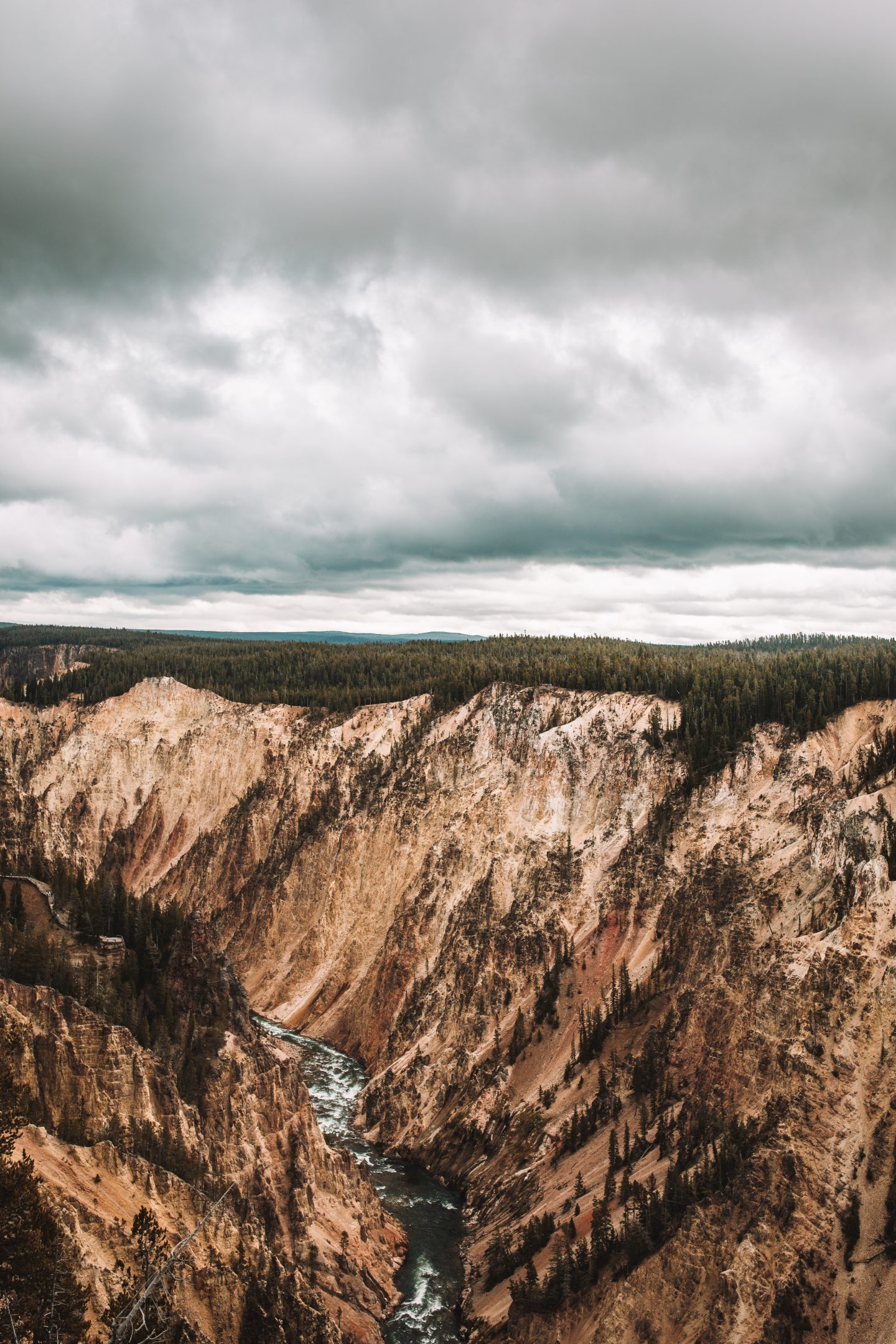 Although not as big as the Grand Canyon in the Southwest US, Yellowstone's Grand Canyon is still lovely with it's roaring waterfall and river and rocky canyon walls!
With several trails and viewing platforms on either side, there really is not a bad view of the Yellowstone Grand Canyon! To get the photos above, we drove on the one-way North Rim road and it was incredible to walk down to the Lookout points. It was a very snowy day and heavens it was windy, but oh so worth it!
Firehole Canyon Drive and Waterfall
Located on a 2-mile one-way drive, Firehole Canyon Drive and Waterfall was a fun little spontaneous turn where we were greeted with a 40-foot waterfall!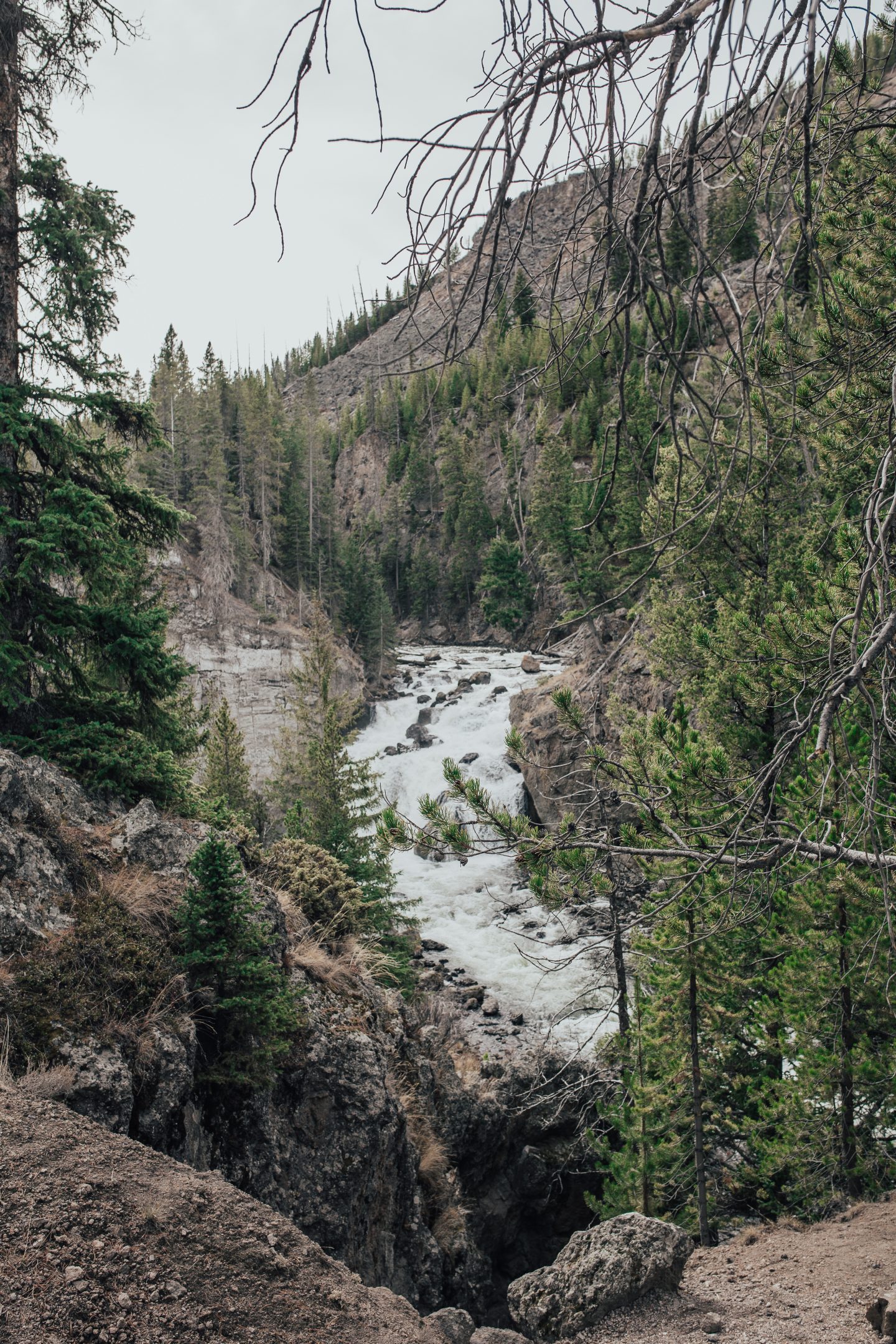 There is a swimming area too so if you are visiting in the summer, dipping into the cool waters in one of the few swimming areas would be great fun! If you are interested, check out the guidelines for swimming in the Firehole swimming area.
Madison River
If you are into fly-fishing or are like me and just like watching them cast, check out the Madison River between Memorial Day and the end of October. I was fascinated by watching how they flick their lines back and forth. A very comprehensive guide on the type of fish available, areas, and other guidelines can be found HERE!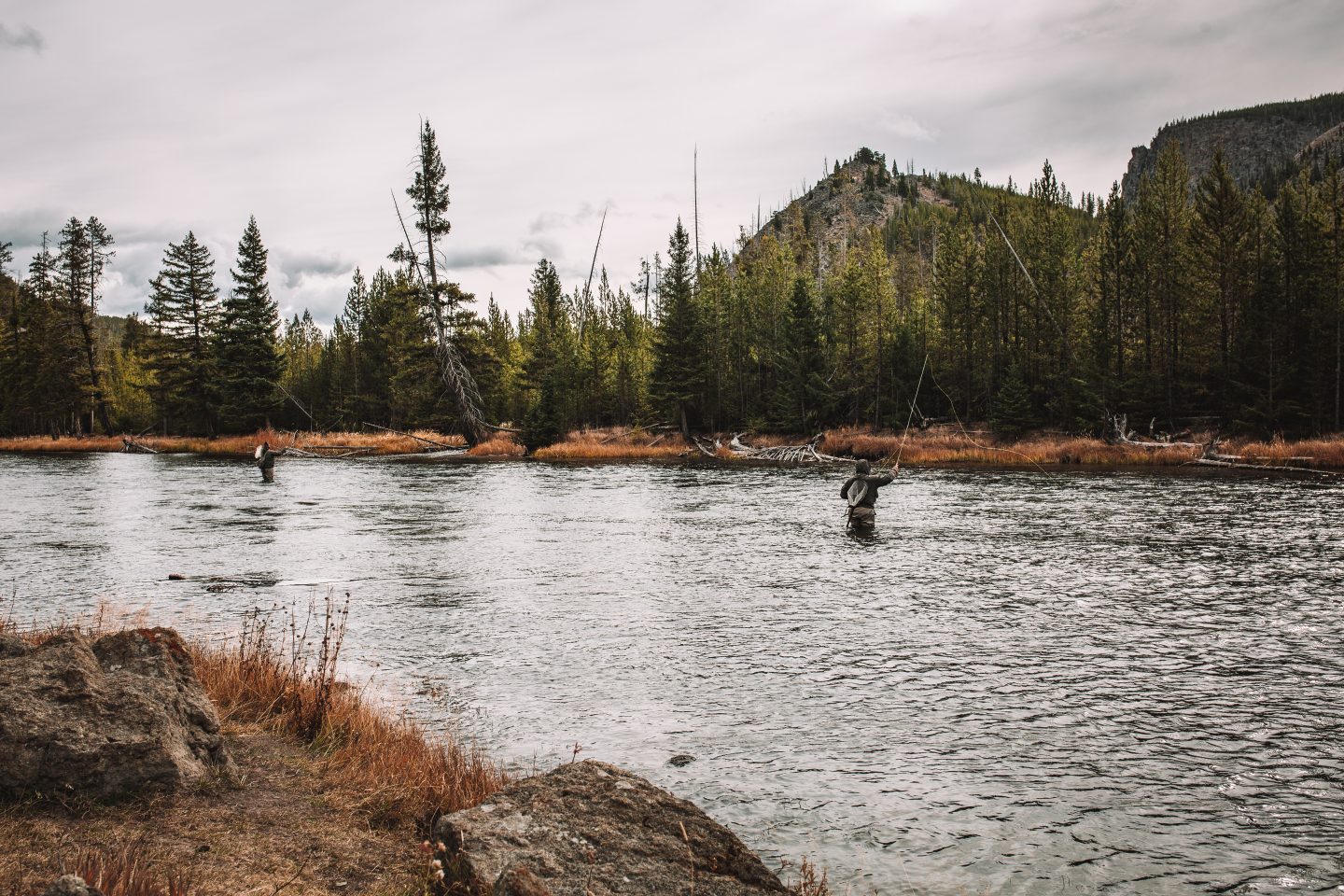 Other points of interest
Thermal Pools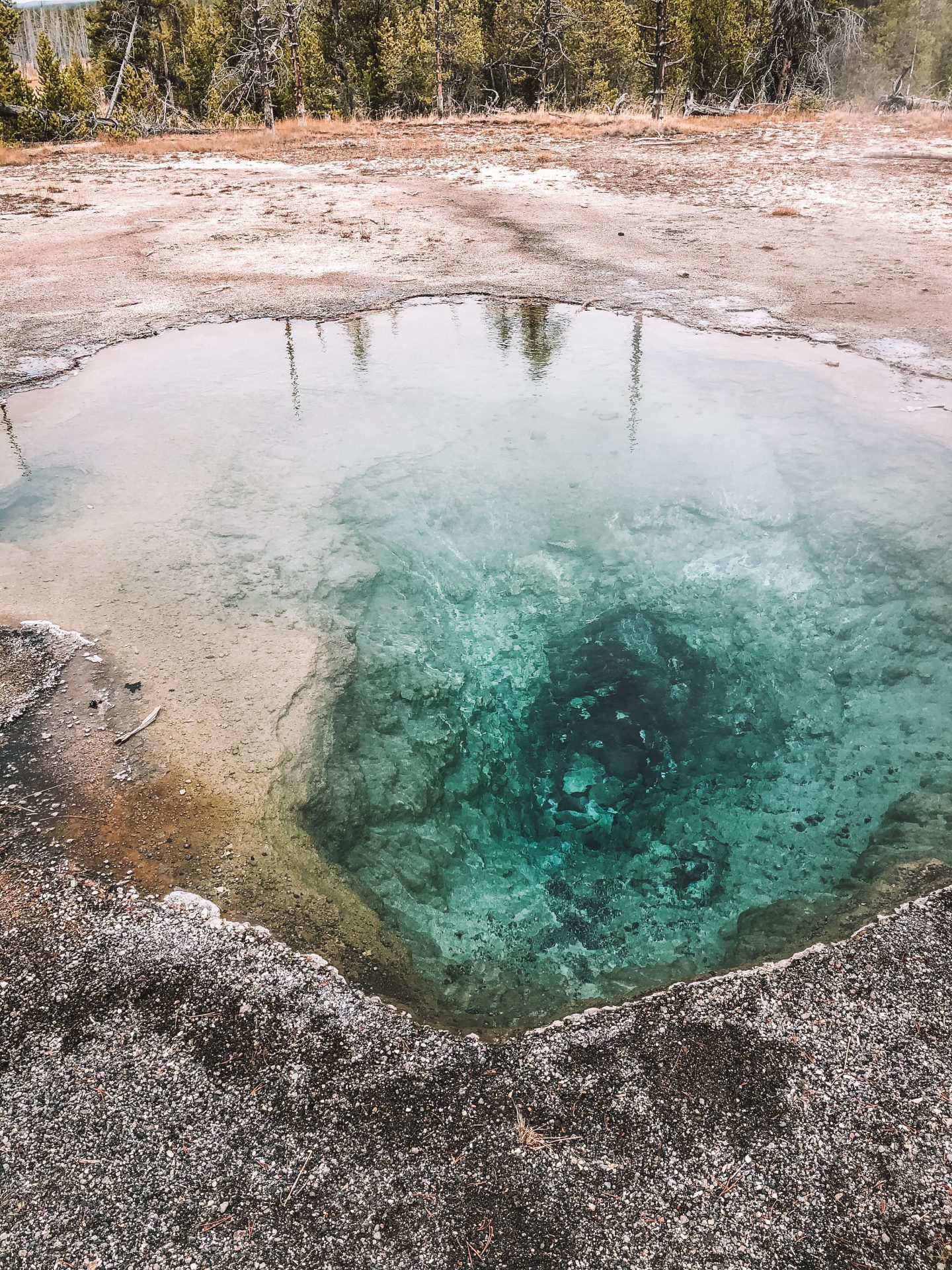 Hayden Valley/Lamar Valley
If you are looking for a wildlife experience, I read that either Hayden Valley or Lamar Valley is the best recommendation by the park rangers. Especially in the early morning or dusk since that is when they come down from the surrounding areas to graze! We happened to see animals everywhere but in the valleys but it's useful to note.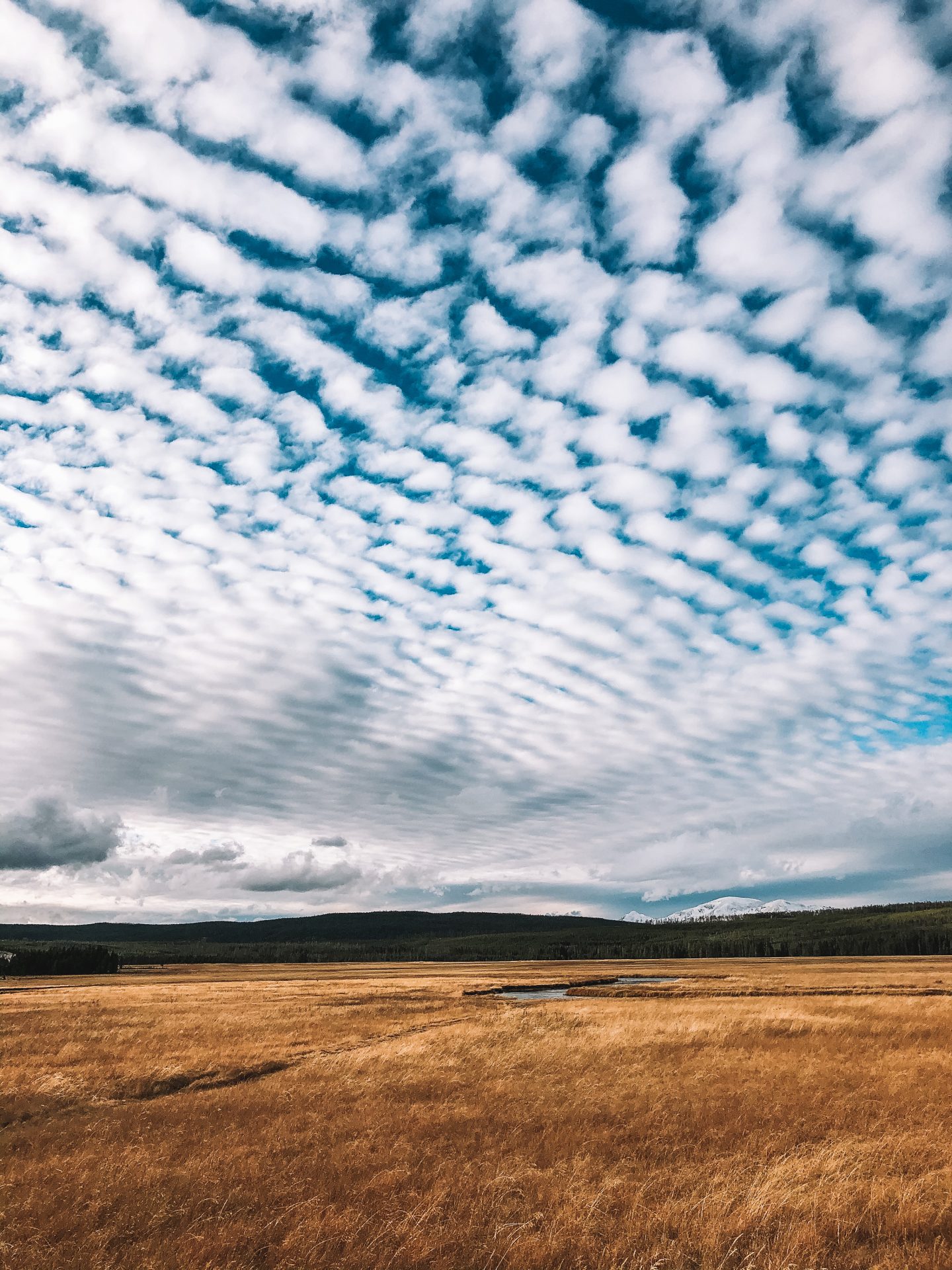 Kepler Cascades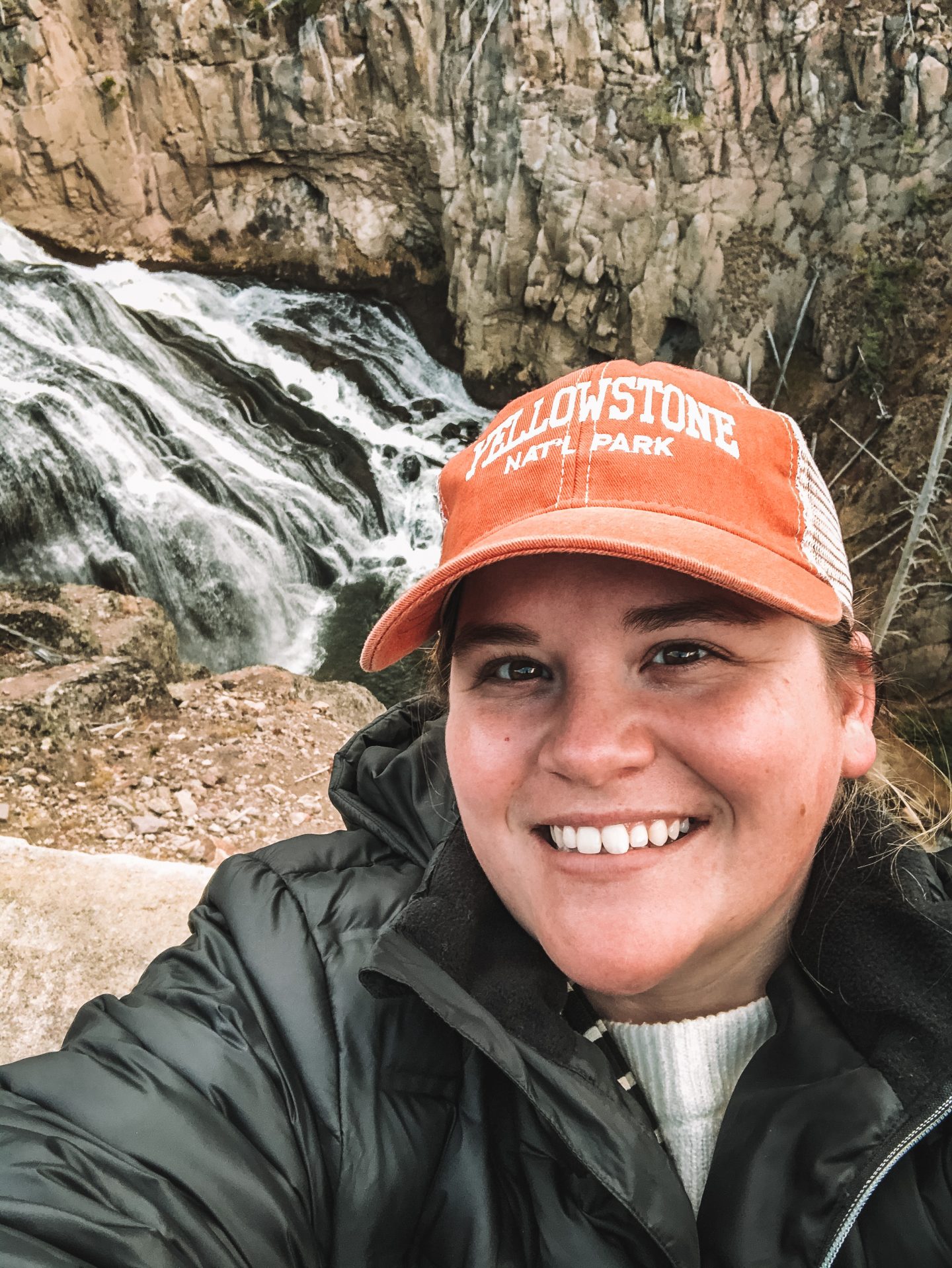 Mammoth Hot Springs
Yellowstone Lake
and so much more!
How to use this map: You can easily zoom in or out, click on the tags, or save the map to your Google account for later by clicking on the star beside the title! If you want to view the saved map later, open Google maps, click the menu, and click "Your places/maps."
---
If you are looking to edit your photos without blowing out the color saturation, become a best friend of the blog and get my FREE Lightroom preset!
It's my GO-TO one-click trick!
---
Other Photos of Yellowstone National Park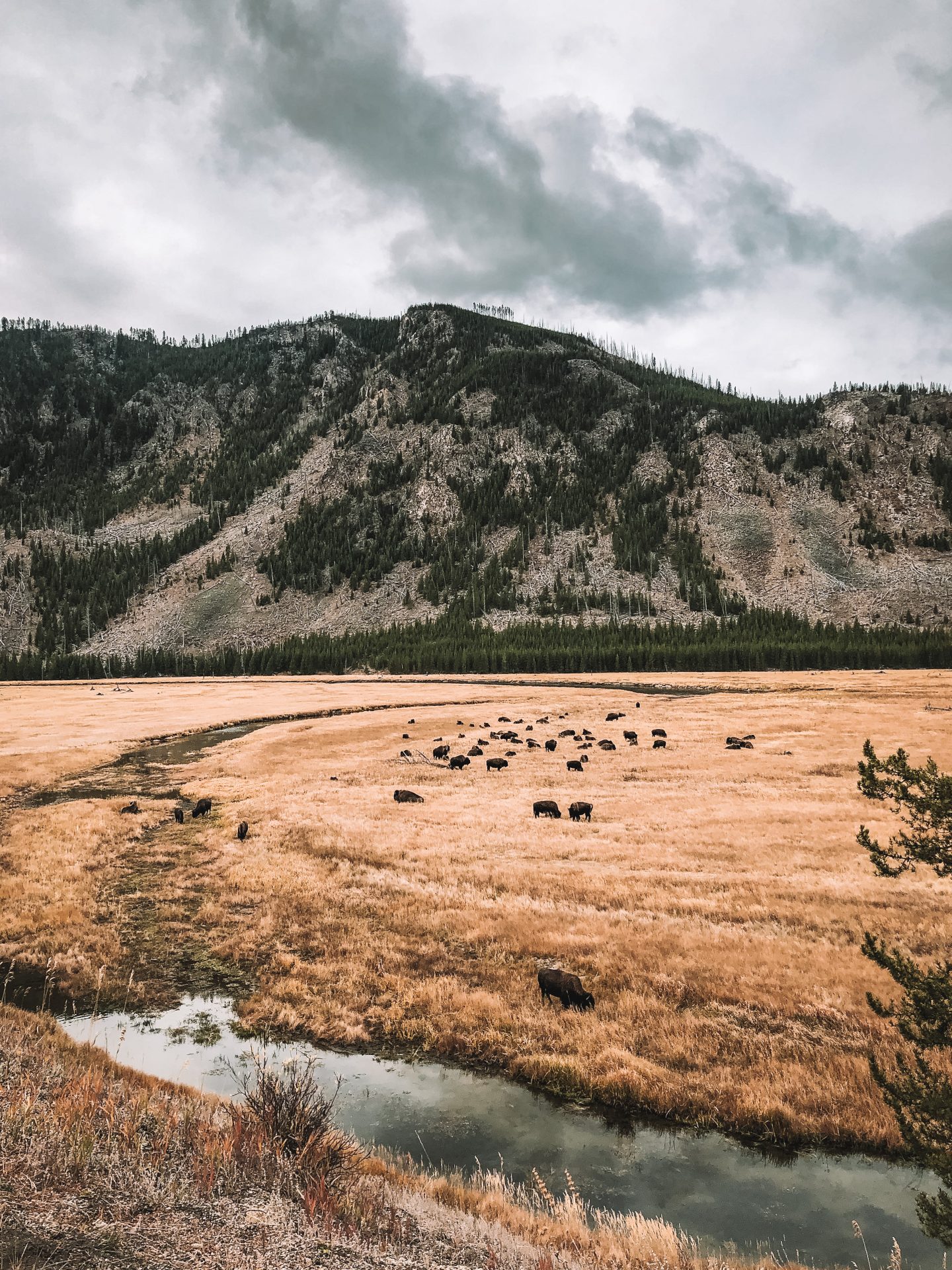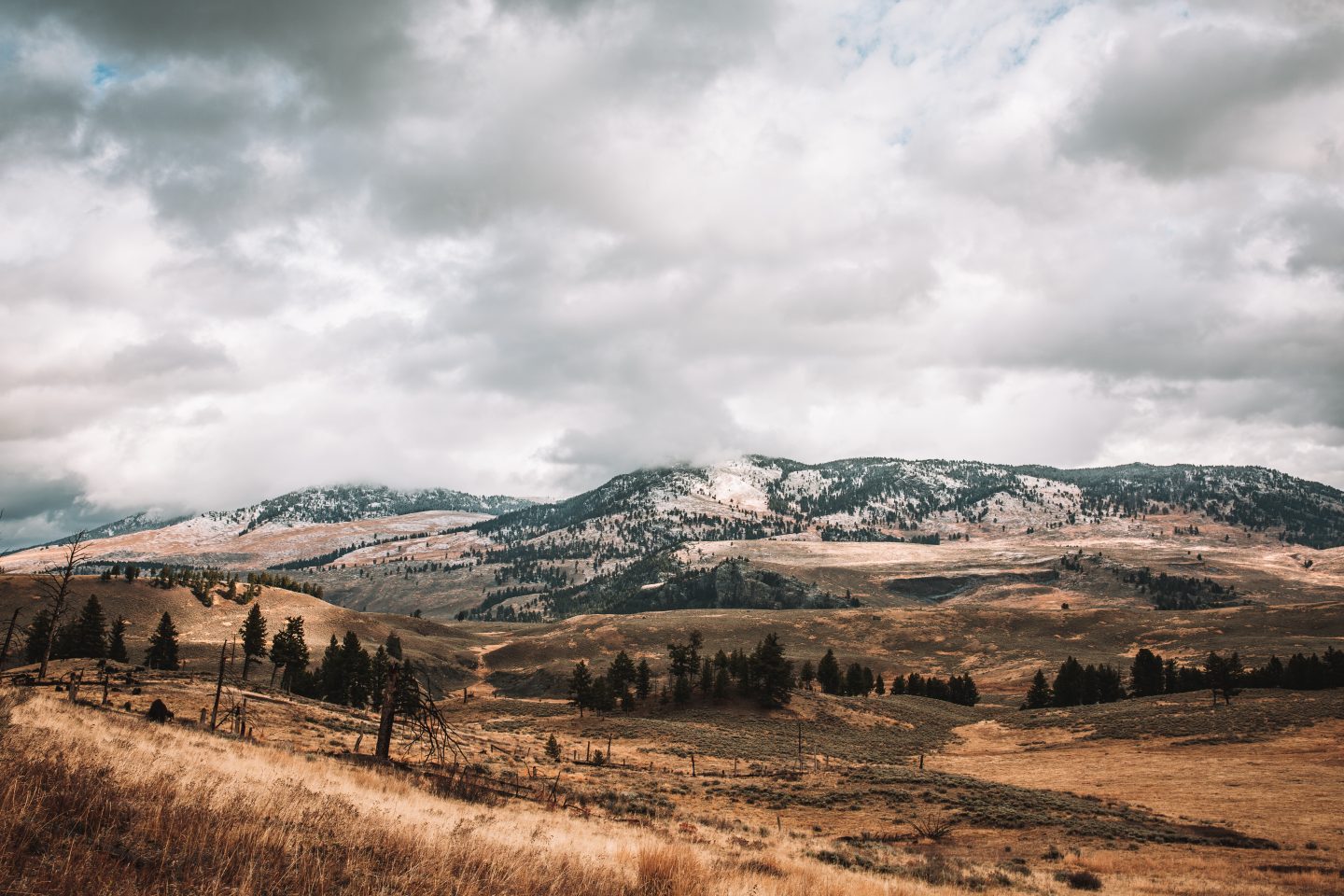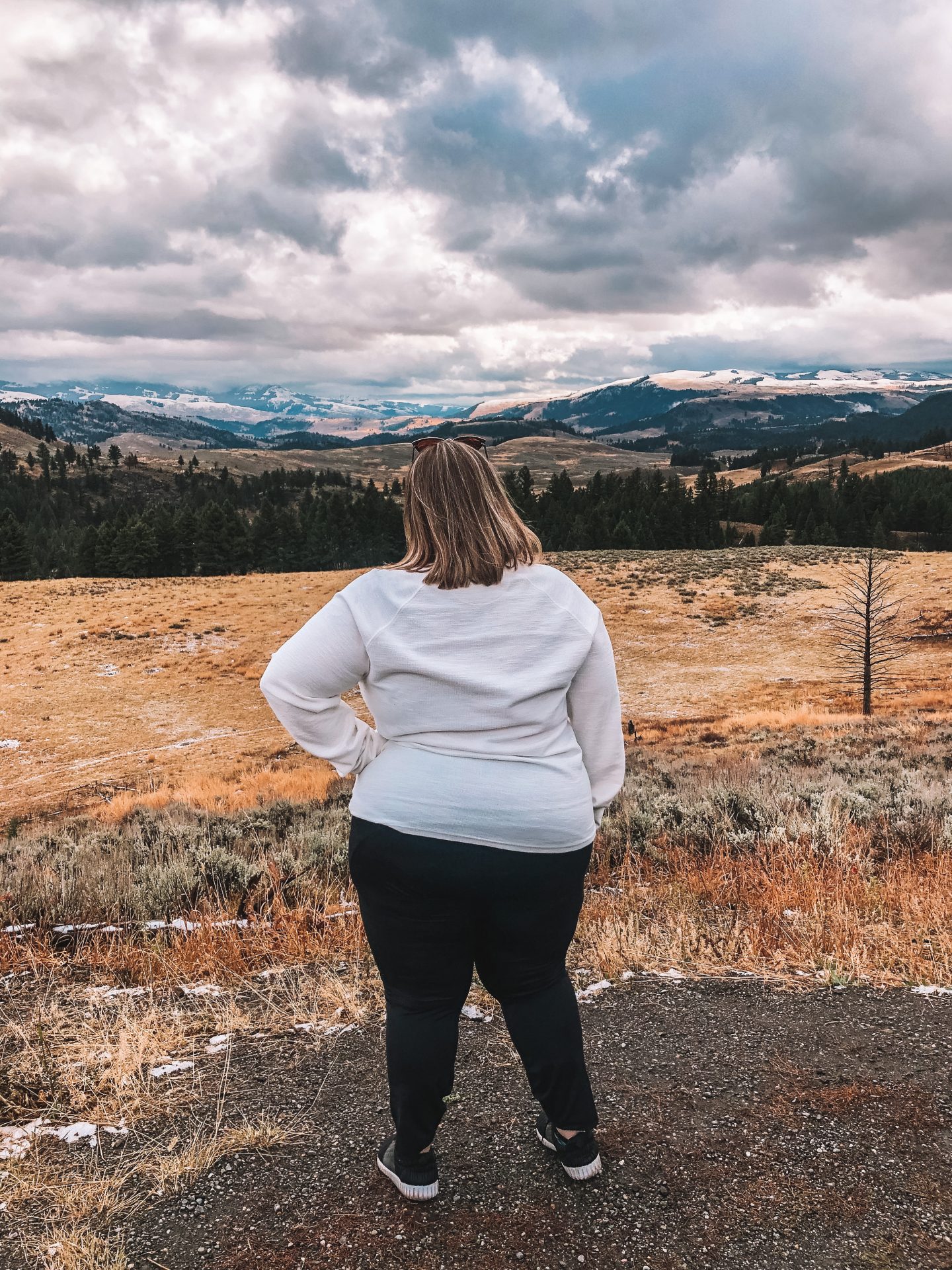 ---
Useful Tips for your trip to Yellowstone National Park
Gas up your car, pack a picnic lunch, and bring snacks too! There are few and far between amenities in the park so having everything you need on hand is my biggest recommendation. We did pb&j's at picnic areas and it was super easy!
Wear sunscreen. You will be in and out of your vehicle exploring all of the incredible sights. Trust me, wear it!
Have a paper map on hand or download your phone map before entering the park. Cell service is non-existent. On the same note, notate geyser eruption predictions before entering the park!
Do not approach wildlife. They may seem docile but they are wild animals, unpredictable, and extremely large.
Bring a jacket! It's pretty windy.
---
Love this Yellowstone National Park travel guide?
Share it or pin it for later!