If you are here, in all likelihood you know I bought a house. It's consuming my whole life and all I talk about it seems so sorry! But the house I bought is not just any old house but a 100+-year-old house that I am renovating and updating. It's a good house. Solid. Has just amazing bones and character. But let's be honest, a LOT of it was just not my style.
Click here to see my first walk-through before I bought it. So much character – and linoleum and green carpet. But unlike those couples on House Hunters who somehow cannot to see past simple aesthetics, I knew I could make this house special.
Today, I am going to share a quick weekend project I did recently to give my bathroom a slight updating that was minimal and easy enough that I did it all myself: updating the cabinet drawer/door pulls! What started as a simple knob swap turned into a more intensive process. But more on that later.
Here are what I was starting with: vintage floral knobs? The knobs had been painted over to match the cabinets and honestly, they were not terrible. They just were grungy and definitely not my style. And they did not pop against the cabinets, either.
So my search for what I wanted instead began. Y'all- knobs are expensive!! Especially with my taste, I find I like the ones that cost approximately a million dollars each. But this time, oh this time, I lucked out majorly with 10 knobs for $12.99 with free Prime shipping. WHAT??
These modern, simplistic knobs were exactly what I needed for the mint bathroom. But as I mentioned, something so simple turned out to be an ordeal. I believe for most people when changing out knobs on cabinets, it is a straightforward process: screw off, screw on, done-zo. But since I am dealing with a 100-year-old house and custom cabinetry, everything is really old and usually takes 10 extra steps.
It's fine. I am fine.
First up in the process is removing the old knobs. This was perhaps the most tricky part of the process because these suckers would not come off. The screws were covered in layers and layers of paint. I used an x-acto knife to remove paint only to find out the screws were stripped out and WOULD.NOT.BUDGE. After spending 10 minutes attempting to remove one knob, I almost decided to just keep the current knobs. I called my best friend (or he may have called me about something- who honestly knows?) and we discussed the knob issue. Him, in his infinite wisdom that I lack in all things handy, recommended a vice grip tool. He even brought me one he had to see if it would work.
Bless his soul, that tool, that beautiful blessed tool saved my life that day. I absolutely refused to part with the tool and quite defiantly told him it was now mine because I am so attached to it. It currently sits in my tool bag in case you are wondering who won that battle. My best friend is a very giving enneagram 2 and is very gracious to my grouchy 5-ness.
After removal of the knobs, I ran into another problem. My knobs were on the wood cabinets for so long that they almost became one with the wood. When I removed them, the wood had compressed into the knob or simply removed tore off with the knobs? The damage would be noticeable because my new knob backs had smaller drawer attachments than the ones I removed. That means I had to patch the holes, get matching paint to cover the patches, and go from there.
My sister recommended 3M wood patch plus primer and it was amazingly easy to use! All you had to do squeeze a bit on the hole and use the scraper end of the bottle to smooth it out. And wait. And wait a little more until you are sure it is very dry because if you start sanding when it's not completely dry, it crumbles. I am totally not speaking from experience. Just kidding. I am a disaster when it comes to handy work but LEARN from me. Give it an hour or so and then sanding is a breeze!
Once that baby is smooth from a quick sanding, you can paint over it with your matching paint and VOILA- fresh drawer front! I am honestly impressed with my paint matching skills. Apparently, if you want to paint match at Home Depot, you need a flat, dime-sized piece of paint for them to match it with. I had an old knob which would not work apparently. So I matched the paint solely on comparing a paint swatch to the knob. But it was a perfect match if I do say so myself (which I do).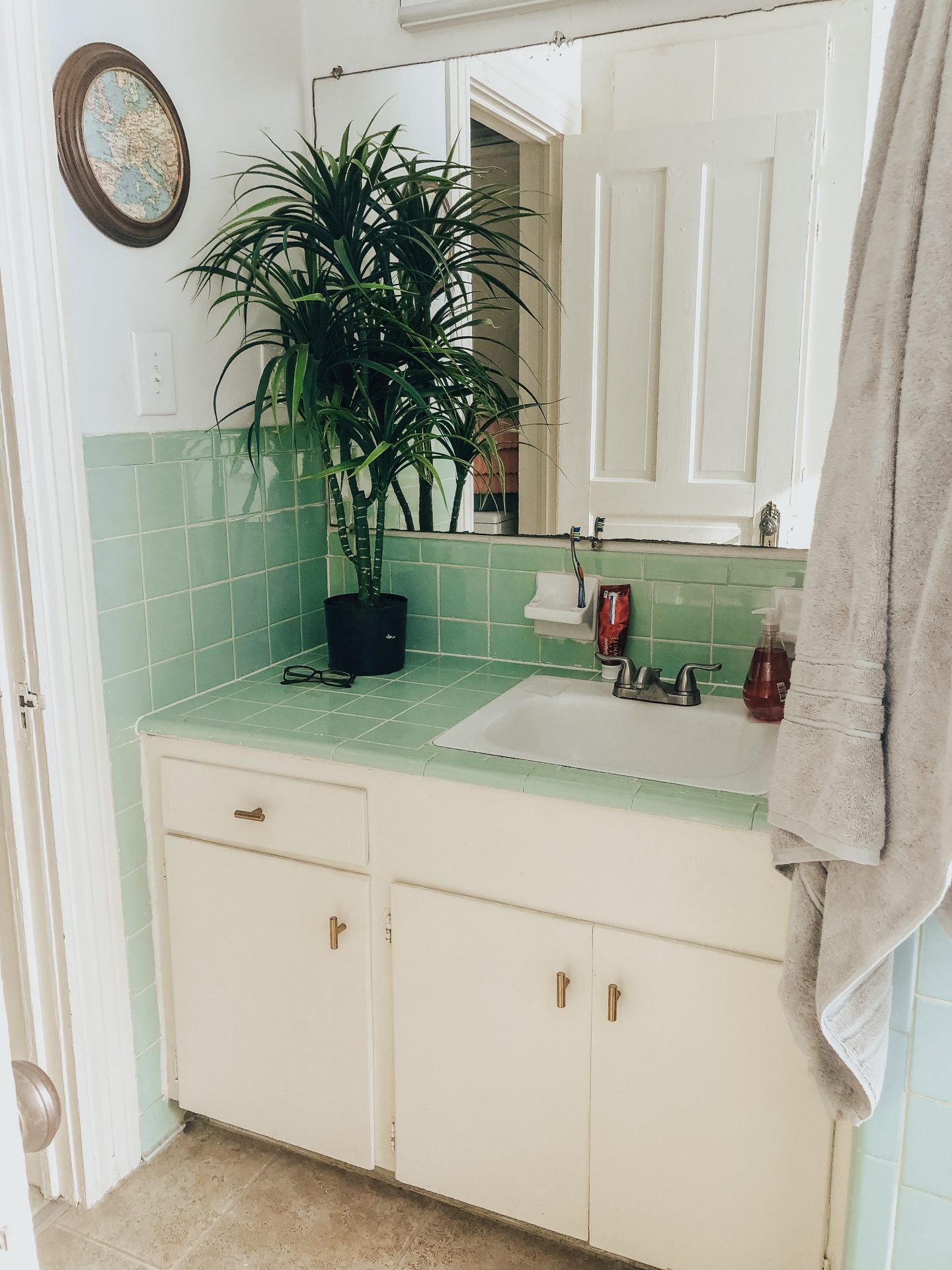 I have so many larger projects and smaller projects that I need to get done in my house. Next up, my larger project is painting kitchen cabinets and really brightening up that space since my hardwood floors are very dark! And another weekend project is painting my laundry room a funky wall pattern and bright cabinet color.
If you want to keep up-to-date on all things house projects, I post about it in real-time on my Instagram stories and feed!
Now your mission, should you choose to accept it, is to find gold/brushed brass knobs/drawer pulls for my kitchen that I like that don't cost a million dollars because I have to buy 9 drawer pulls and 26 cabinet pulls. So many. So much.
Thoughts and prayers to my wallet.
xx,
Sami
Shop the post
Please note that some of the links above are affiliate links, and at no additional cost to you, I earn a small commission if you make a purchase. That income goes to supporting this website and keeping it free for you and everyone else!
As always, ideas and opinions expressed in this post are entirely my own.