My next major project for the Hudson House was my spacious kitchen. This has been an journey to say the least and one of the largest DIY undertakings of the house so far! And honestly, it is still a work in progress.
I knew upon first tour of the kitchen that I was going to update it. Add some color and what not. Give it a little pizazz and bring it into the new millennium. Especially after finding out that there was hardwood under the linoleum and staining it such a dark color to match the rest of the house, I had to change the cabinet color at the least due to how dark the room became. As you can see, it was dark brown on top of dark brown.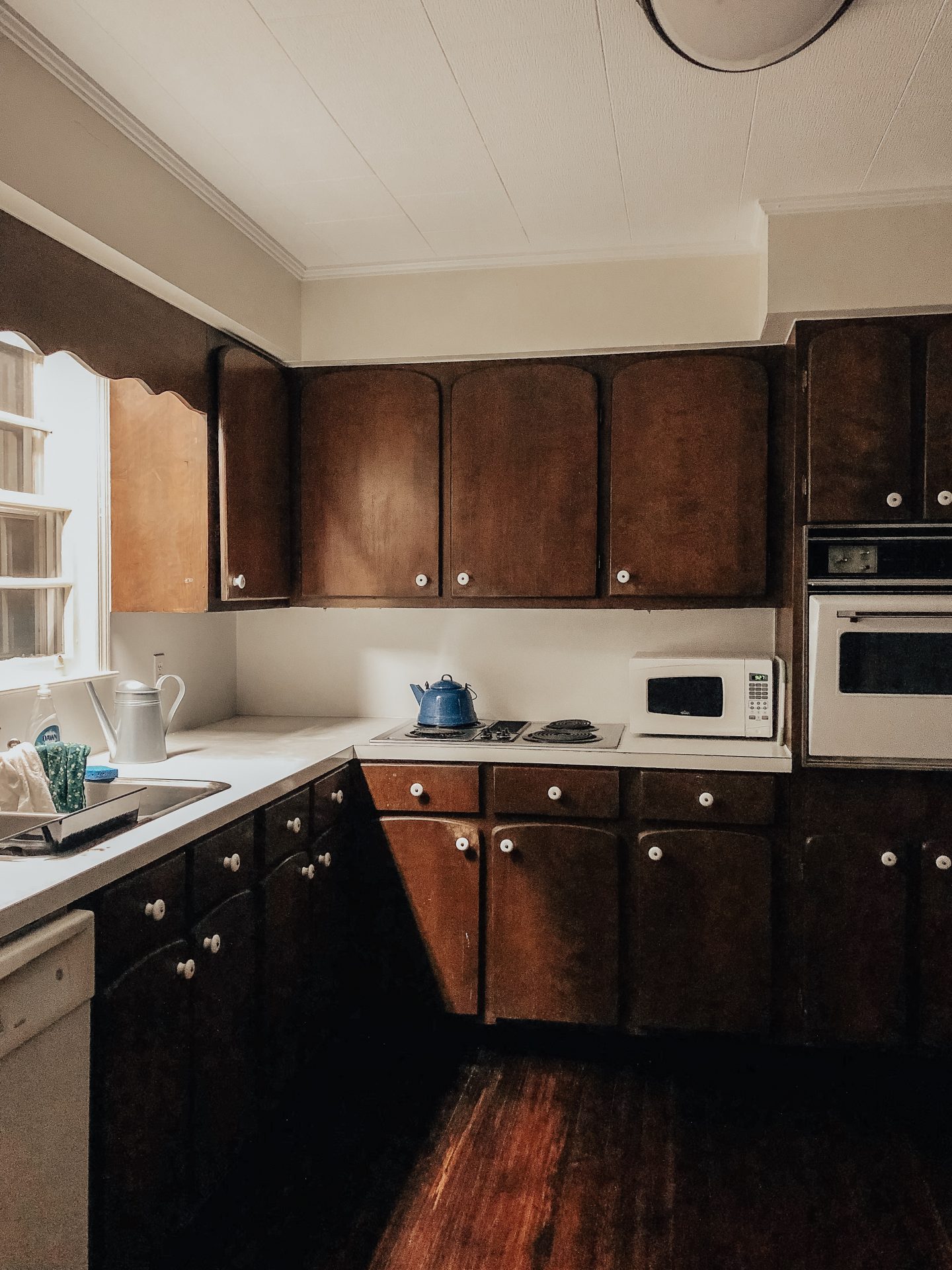 BUT one thing that I really loved about the kitchen was the character of the rounded cabinet doors. I thought they were just so charming and was exactly why I purchased a fixer upper- the charming architectural details! You cannot easily get custom cabinetry like that anymore without shelling out some serious moolah!
So instead of replacing the doors, I decided to keep them. But that is about the only thing I kept. Everything else had to go: the floors, the knobs, and eventually the faucet, the sink, and the countertops. That's going to be a bit though for monetary purposes. Feel free to paypal donations.
Choosing the theme
When it came to creating something that was 100% mine and choosing a theme, I struggled. I tend to stray away from the typical expected themes because I fear they are going to become the 1970s shag carpet trends: modern farmhouse, industrial, minimalistic modern, etc. I have absolutely nothing against those themes and I actually like them but I also see that EVERYONE and their moma has kitchens in those themes.
I put way to much thought into this whole process. I ultimately ended up deciding to go with a theme of Italian/Greek Mediterranean coastal vibes. My love for Italy knows no bounds. I have been to the Mediterranean coast 3 times and it's so inspirational and GORGEOUS. I think of the bright colors in Cinque Terre and the blue and whites like I saw in Santorini. Lots of handing greenery (if I can figure out how to hang them with my ceilings). Maybe a distressed wooden table for an island. I even liked the idea of lemon accents to add a pop of yellow.
When describing to my sister what I was thinking, she found two lovely photos that really embodied the whole theme. And I took these images and kind of ran with it choosing paint colors immediately. Once I decided colors, it just kind of fell into place.
Inspiration
And here is what I ended up with as kitchen details!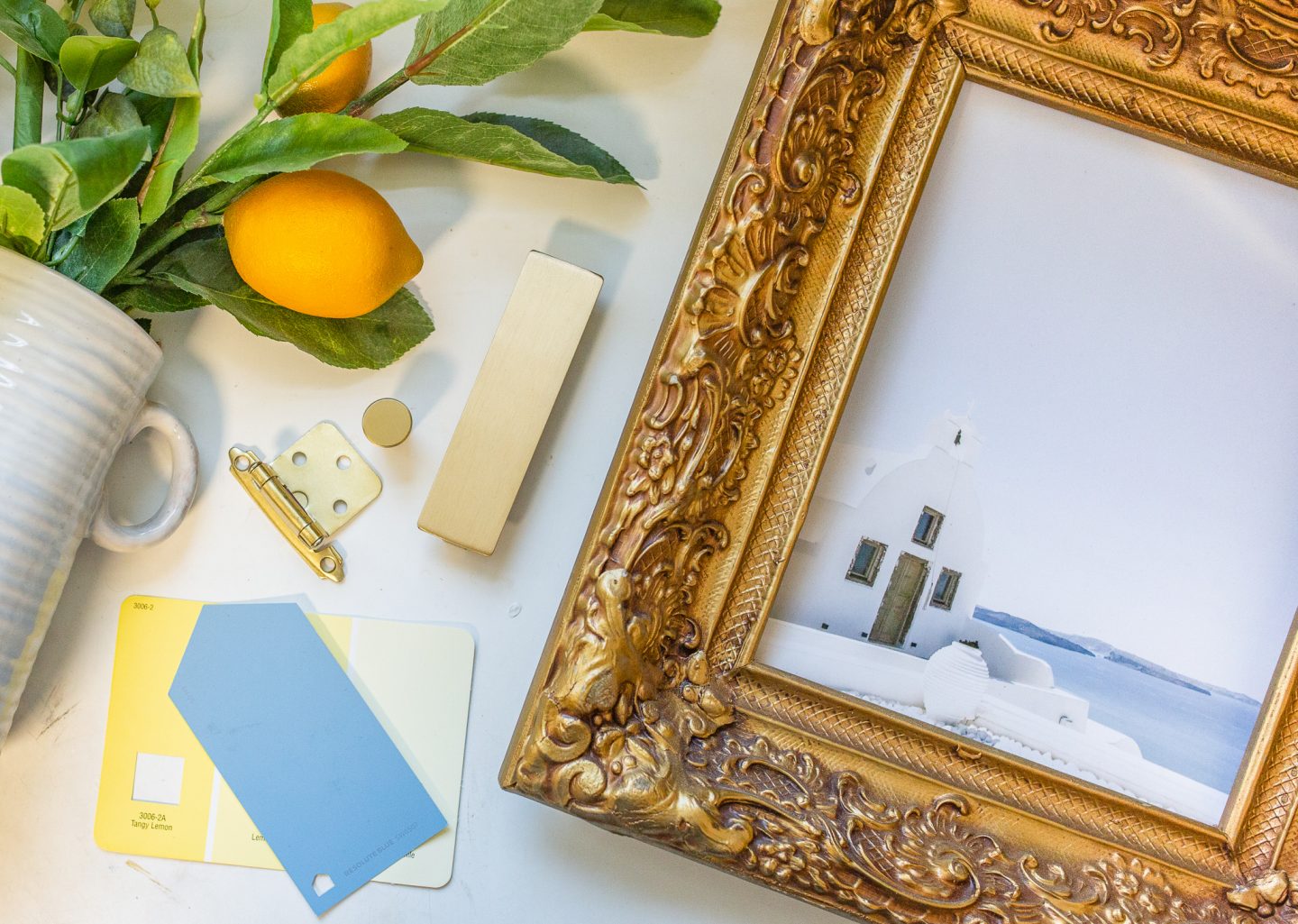 Sources: Lemon plant and vase (Kirkland's – similar lemon stems); Gold hinges (Amazon); Brushed Gold 0.8″ circle cabinet door knobs (Amazon); Brushed Gold 3.75″ Drawer Pull (Etsy); Santorini print (by me – purchase here); Valspar Tangy Lemon (my fridge paint – here); Sherwin Williams Resolute Blue (here); Gold frame (vintage antique store find); In terms of the white paint, I just told the Lowes guy to give me the whitest paint. I don't even think it was colored or anything.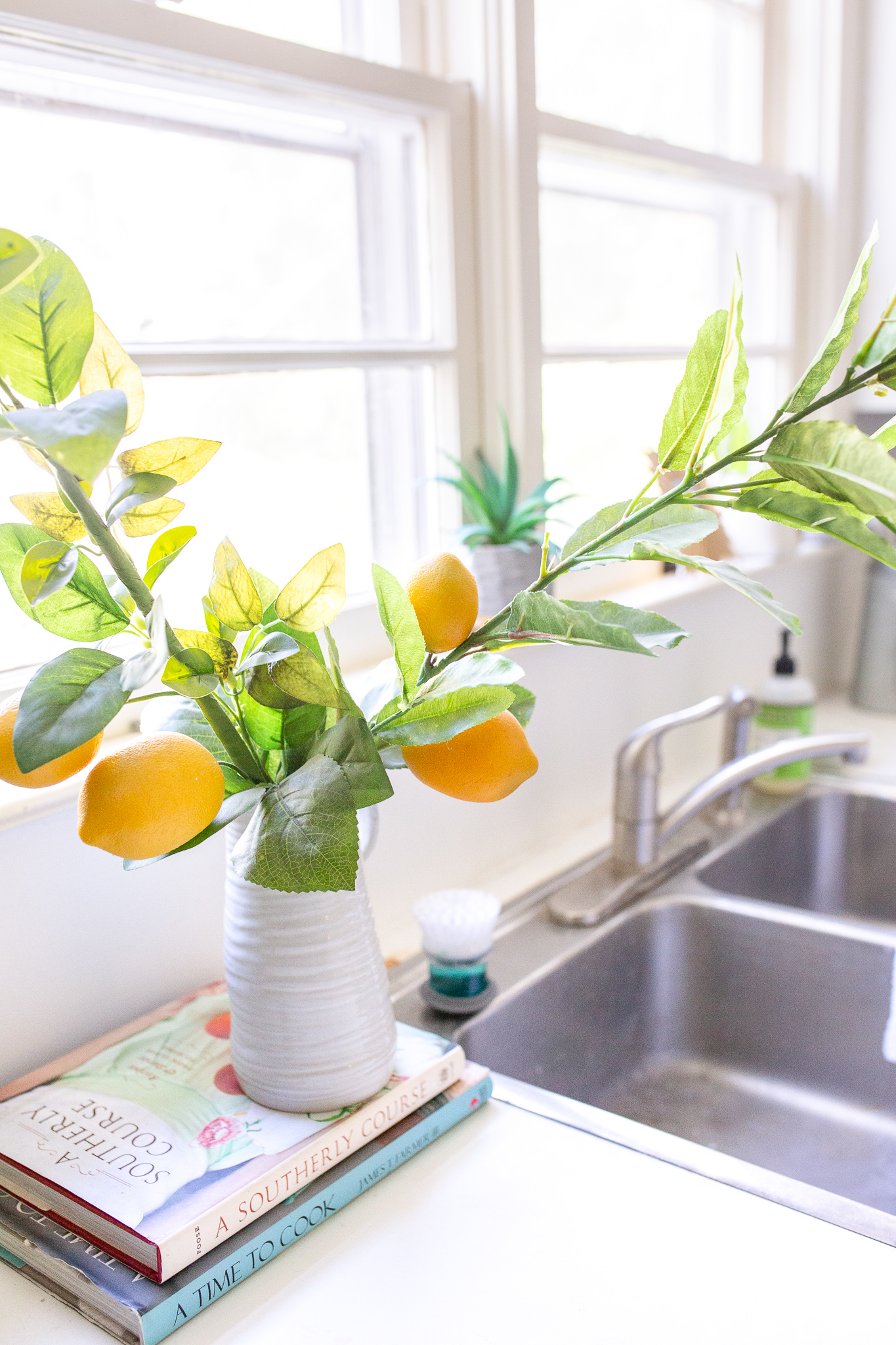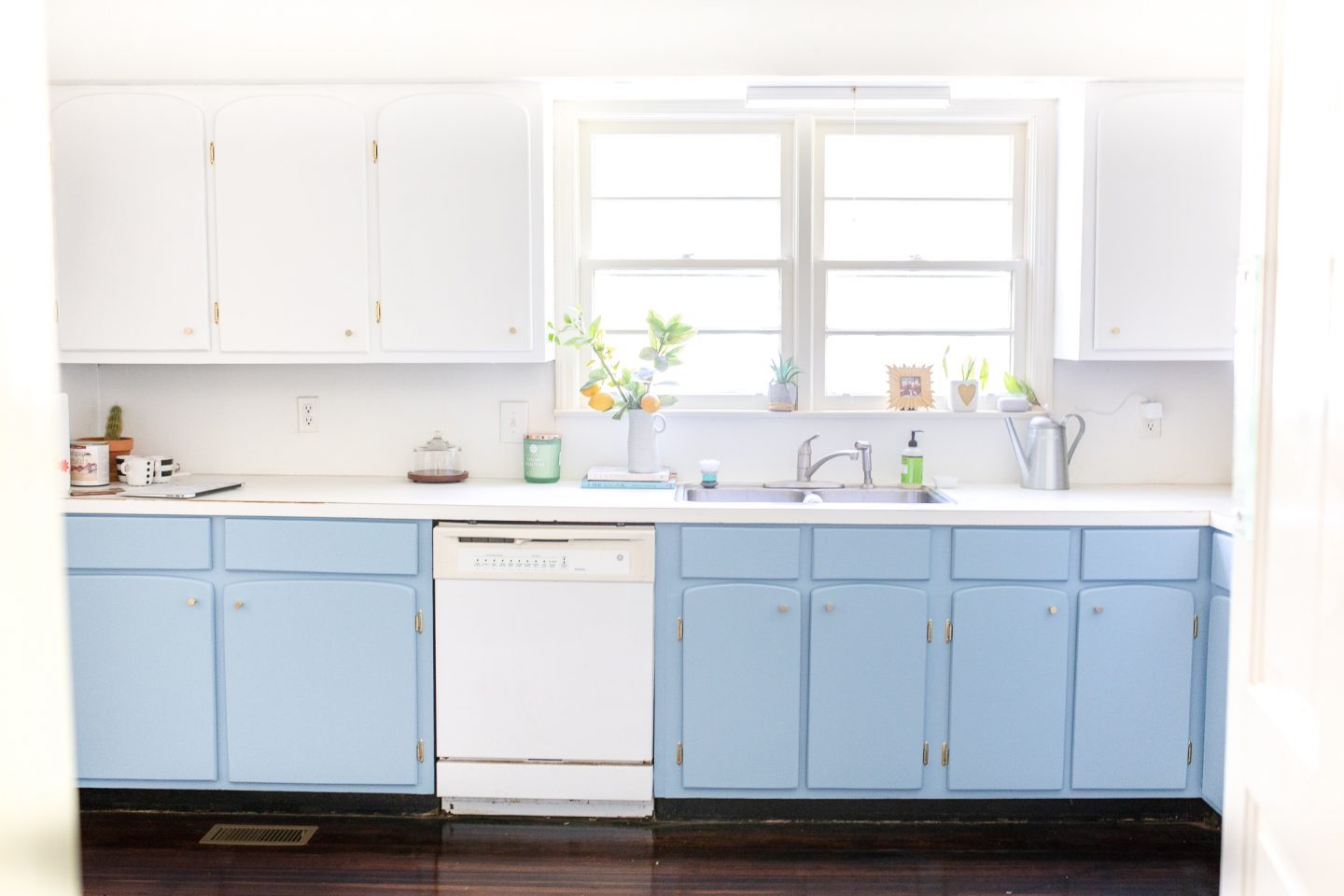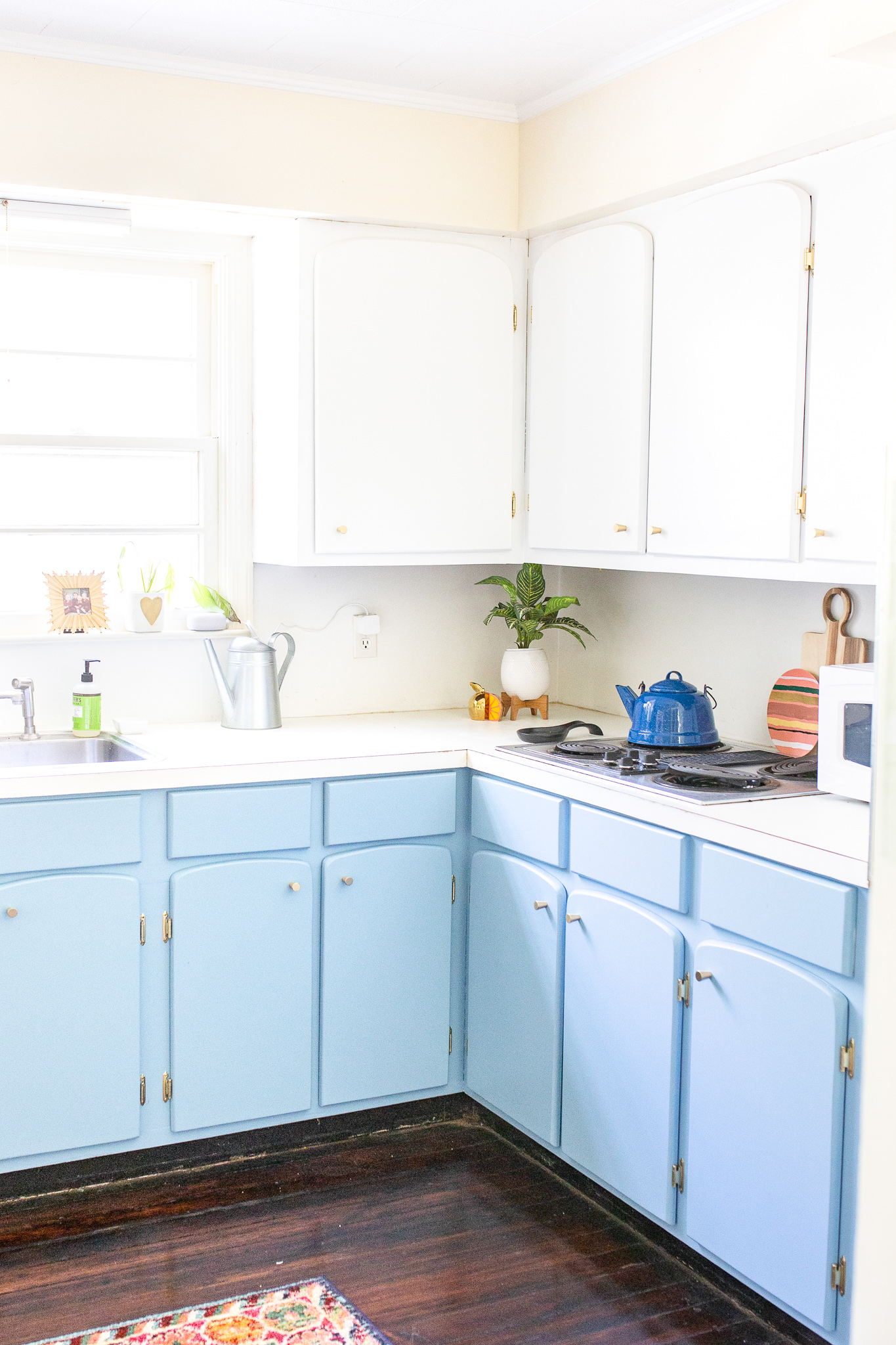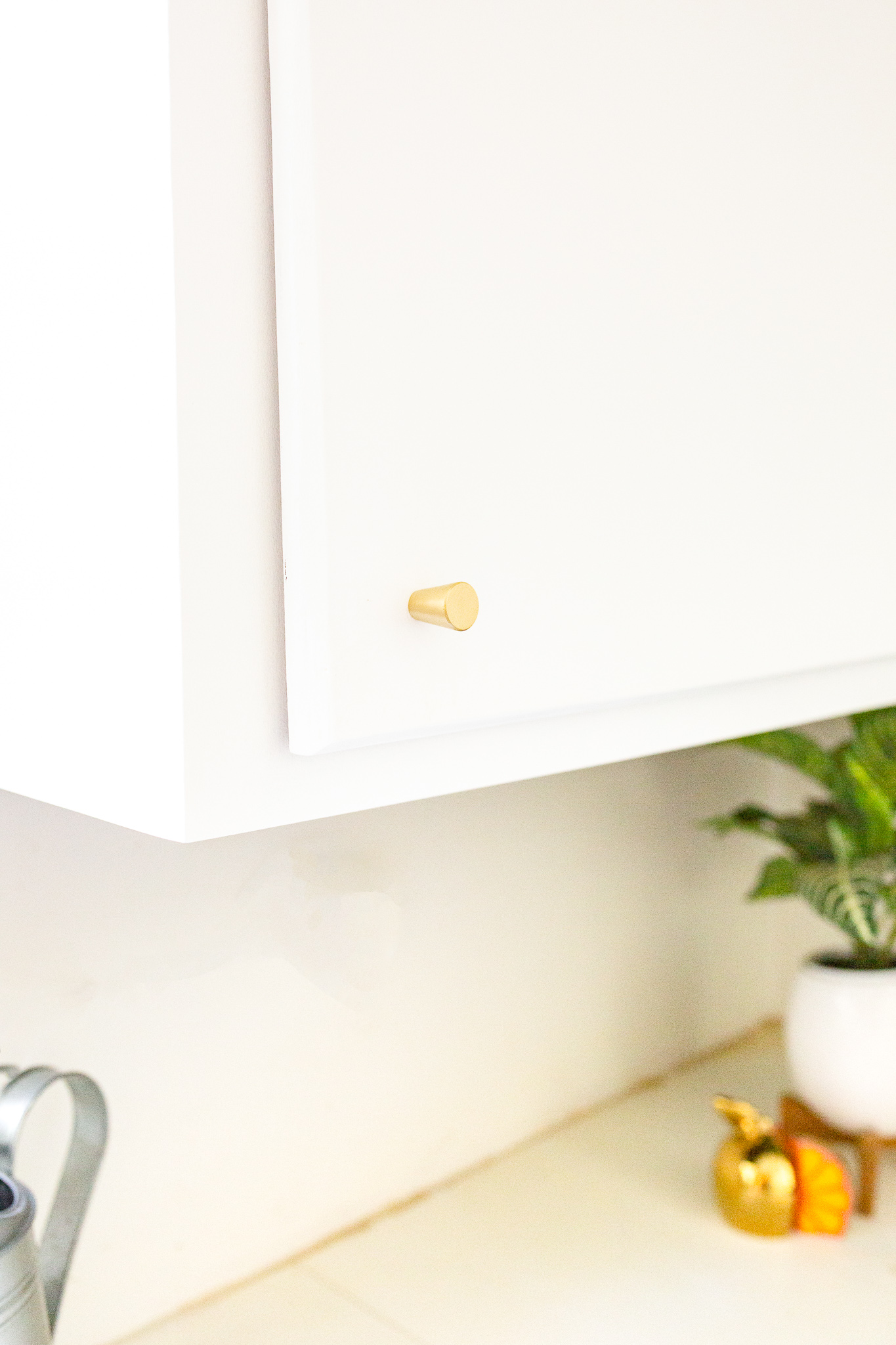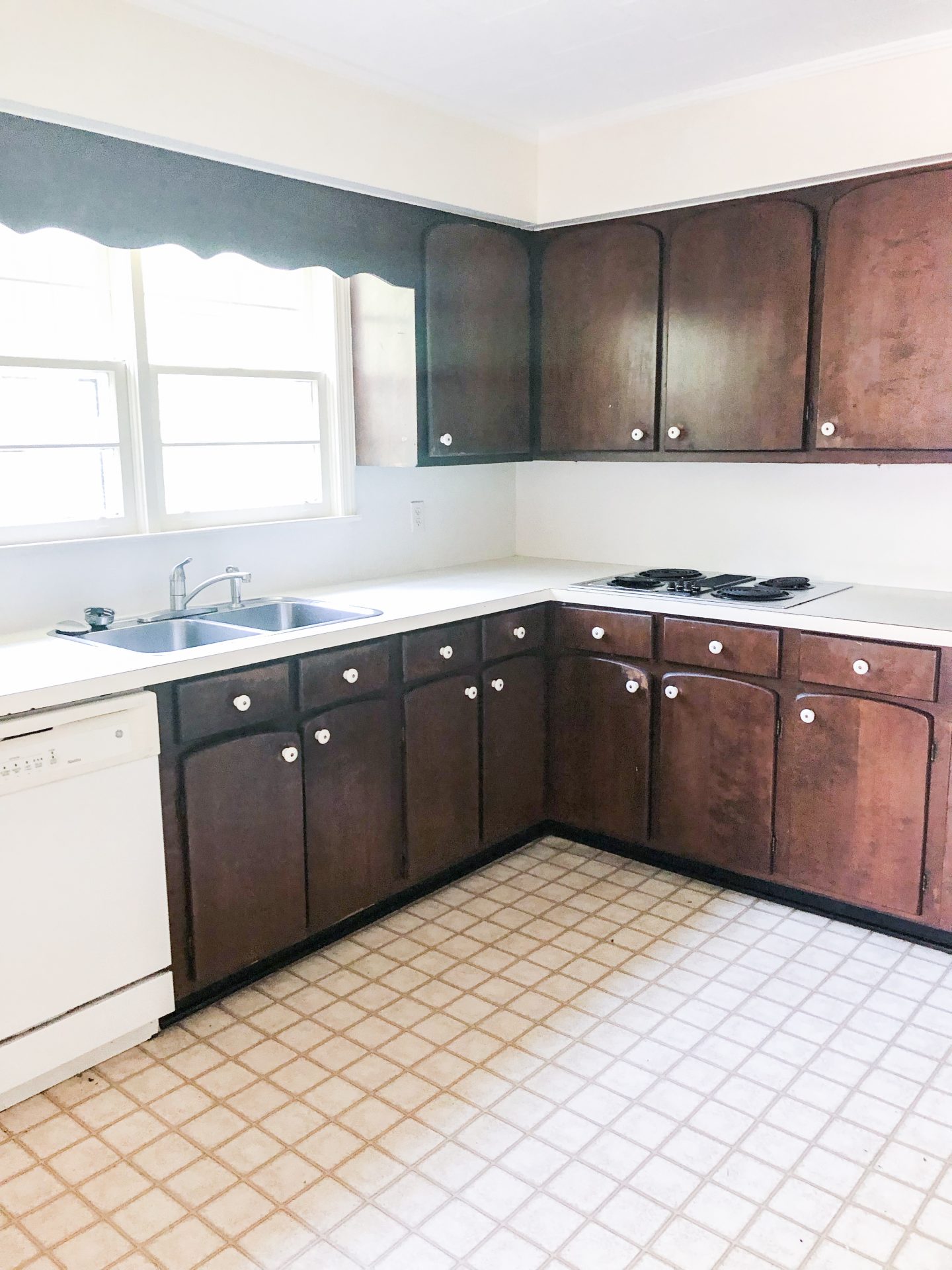 You may not be able to tell from my photos, which was my intention, but this kitchen is definitely still a work in progress. Here is what I have left to do:
Paint the header over my cabinets white
Remove the painted wallpaper and paint it white on the walls you don't see
Buy an island
Replace ALL the lights
Replace the sink
Replace the faucet
replace the countertops (there are stains all over it that don't come off with any kind of cleaner)
Next up, I promise I will share the full DIY on kitchen cabinet process!
What do you think??
xx,
Sami