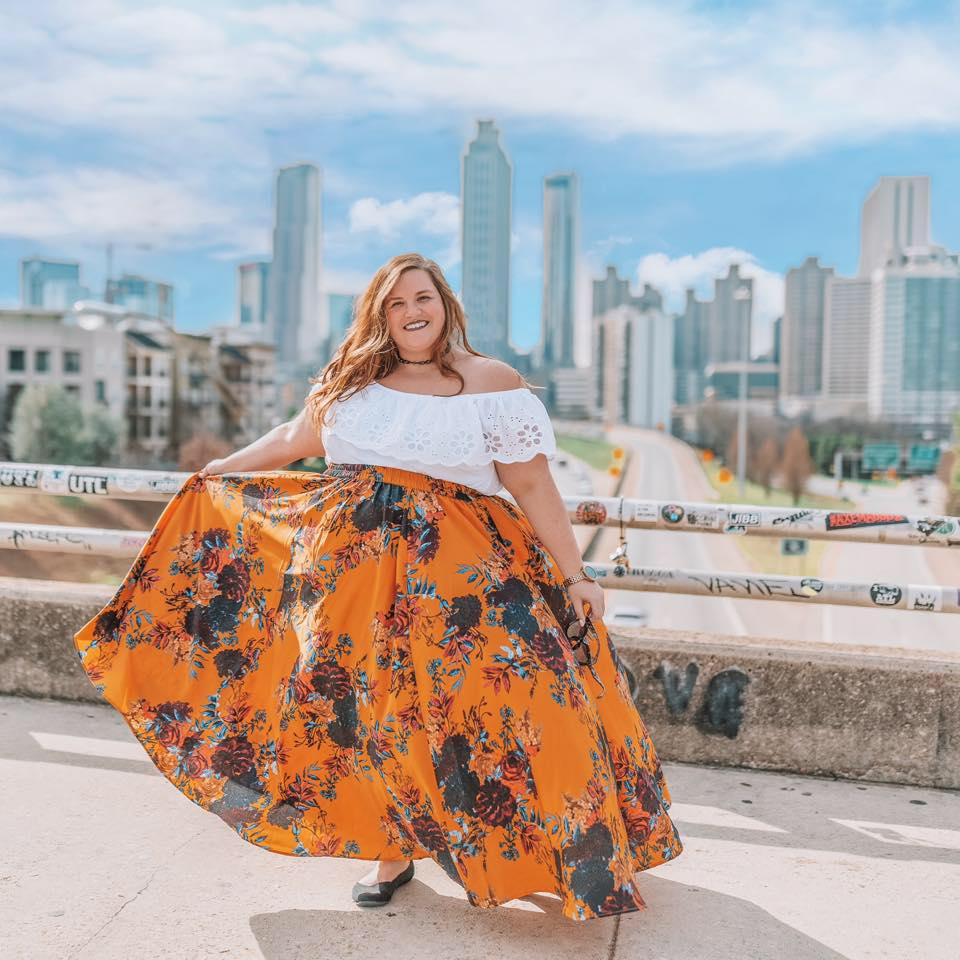 When I post a photo on Instagram, I usually get comments or DMs asking, "Who is taking all of your photos when you are traveling?" Honestly, my answer is not as exciting as I wish- like saying a hot Italian stud. Because that would be the dream if we are being honest with each other.
But how I get my pictures while I solo traveling we will get into in a second. I want to talk a bit about why it is important to have photos of yourself in your travel photos because I feel super passionate about it. It all stems from my first international trip when I studied abroad in Italy during the summer of 2011. It was perhaps one of my most singular life-defining moments that truly influenced my future (you are here at my travel blog so this is a pretty great example of that cause and effect if you are wondering). I was in the heart of Tuscany for a month and I took a gazillion photos.
But I can count on both hands how many photos I have with me in them- they are mostly landscapes or my attempt at being artsy with food. Now don't get me wrong, I do have some photos such as me in a gondola in Venice or when I was straight up cheek-pinched by a group of old Italian men who thought I was the bees-knees, but for being in Italy for a month, I was less than impressed with myself and my lack of photos. I also didn't have a phone so there were zero selfies too. Crazy for a millennial, right? But I think that it is so important to actually get in your photos when you travel because otherwise, they could just be a stock photo.
So yea, I have strong feelings on the subject.
Now that we got my lecture out of the way, let's delve into how to get incredible photos of yourself while traveling solo. I have done all of these methods so they are tried and tested by yours truly. No blind suggestions here!
---
How to get incredible photos of yourself while traveling?
Invest in a tripod and a remote!
If you are a solo traveler and if you read nothing else in this post, read this one blurb. I cannot begin to convey the game-changer a tripod AND remote are for self-portraits. Speaking from personal experience, before my tripod/remote days, I was propping my phone or Canon camera on fences or other bizarre surfaces and doing the self-timer trick and it got old REAL quick. The walking back and forth to turn the timer on got so dang repetitive and if we are being completely honest, the angles where my camera sat were less than flattering!
That is not to say that I didn't get a good one every now and then so it is possible … Like this one! I got super lucky because there was a pillar that was pretty tall where I could set my camera. But there were a lot of outtakes of walking back and forth.
Option 1: tripod and remote for your smartphone
If you are looking for the first foray into the tripod self-portrait, I recommend you invest in a smartphone tripod. I used this method pretty much exclusively for my first solo European trip with the included Bluetooth remote. This is great for the budget-conscious traveler because the tripod/remote is CHEAP! My exact tripod I used with my iPhone is below and it was so portable especially since it fits in my carry-on suitcase easily.
Smartphone tripod examples!
At the time, I liked these photos a lot because I got some decent photos of me while traveling solo and that was a feat. But I was less than impressed with the wonky colors and pixelated images from my iPhone. But that is more of a personal preference as a photographer myself!
Option 2: Tripod and Remote for your DSLR Camera
(my exact Canon 5D Mark III set-up!)
As I said, the smartphone tripod is a great option for those on a budget but I wanted to have more editing flexibility with my photos, create higher resolution images, and really step up my self-portrait game. I invested in a DSLR tripod and remote. It also didn't hurt that I already had the DSLR Canon 5D Mark iii camera from my photography business side-hustle. I have had it for 3+ years and have had 0 issues!
The 5D Mark iii is an older model Canon camera but it is a beast and I highly recommend it! Pair it with a 35mm prime lens and you are golden for self-portraits. An investment in your photography equipment will NOT let you down. It's a cornerstone for producing top-notch content whether for social media or your blog!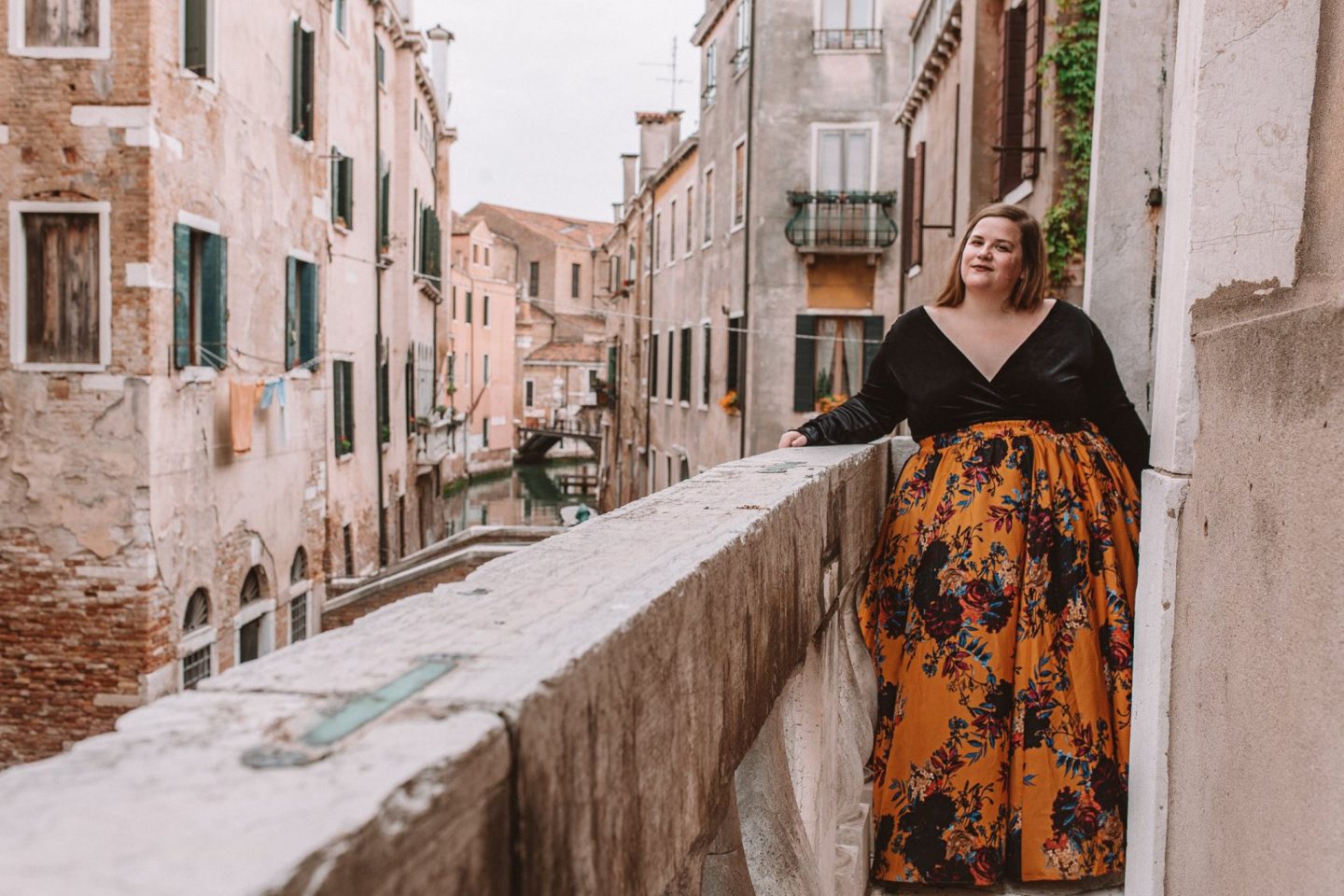 This is not the set-up for everyone because it does get expensive when you add in the camera gear. But I have never been happier with my images! It is a bit of a pain to pack and carry the tripod since it does not fit into my carry-on suitcase but I have perfected my packing method and found it does fit into my checked luggage. I also plan ahead and bring a tote bag so that when I am walking around a city, I can carry the tripod and camera gear without looking like a total tourist.
***ProTip***
If you are super smart, get up REALLY early before the city is awake and take a million photos at sunrise and get zero judgment from passersby because you are probably the only person out and about! Plus the lighting is perfection at that time.
DSLR tripod examples!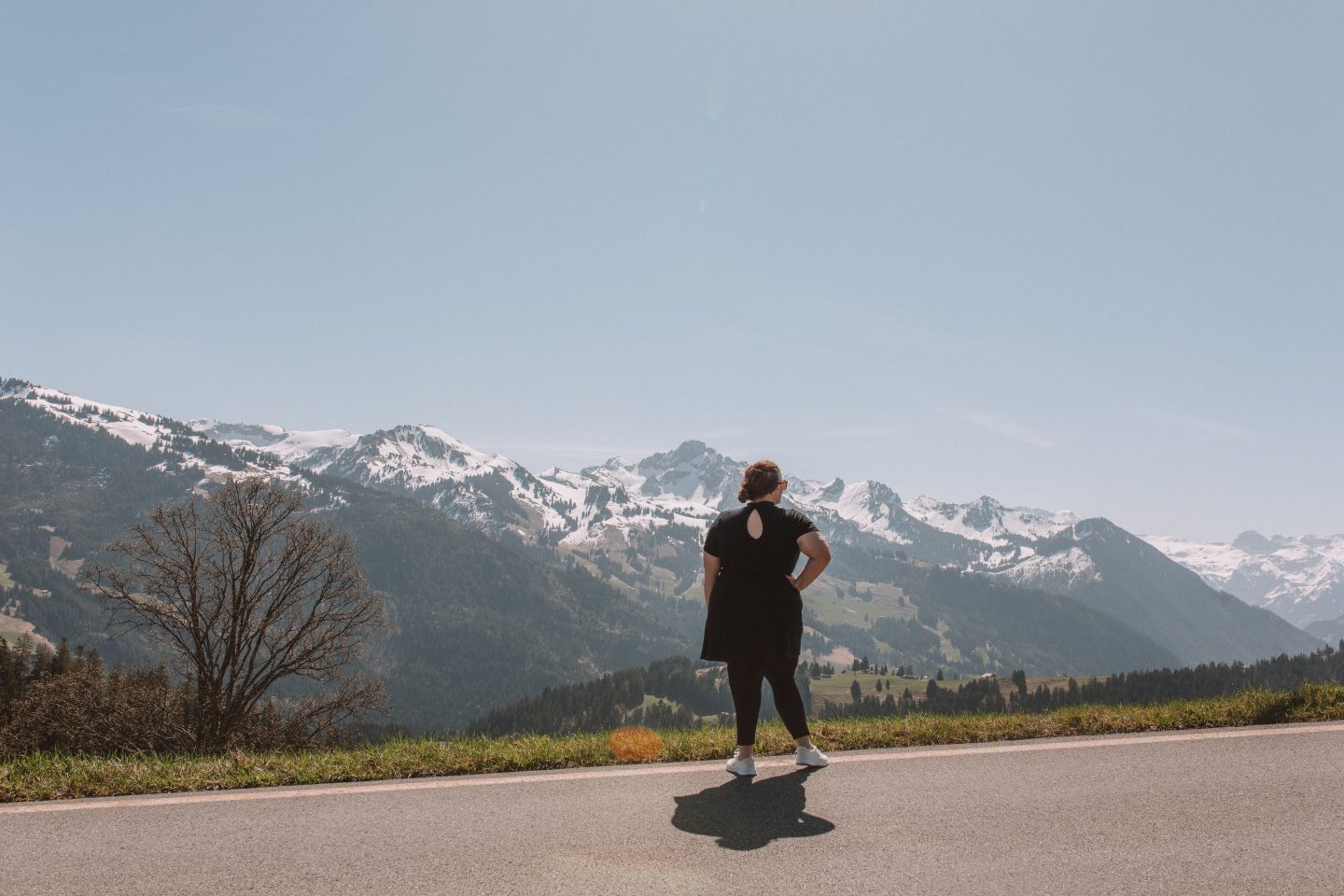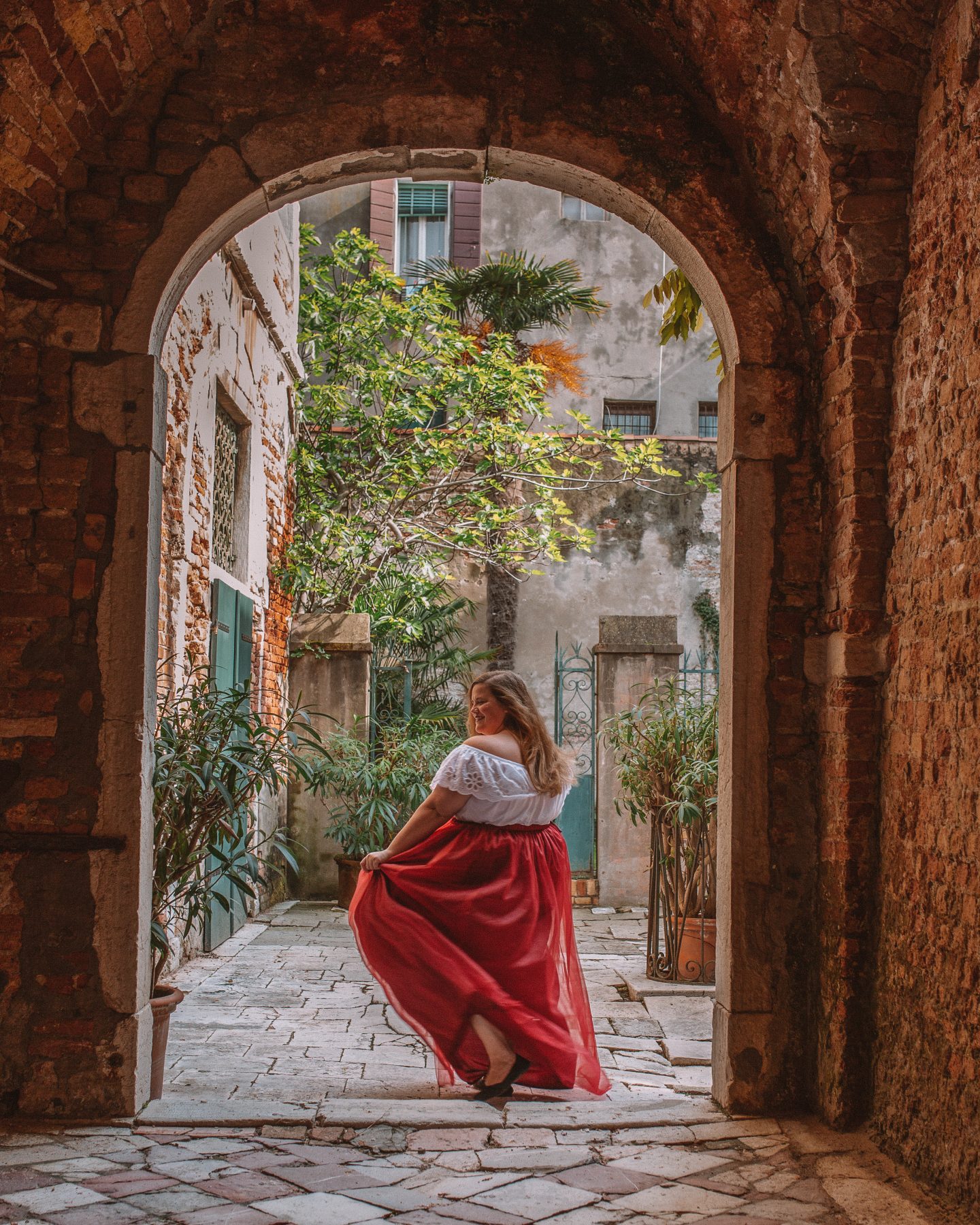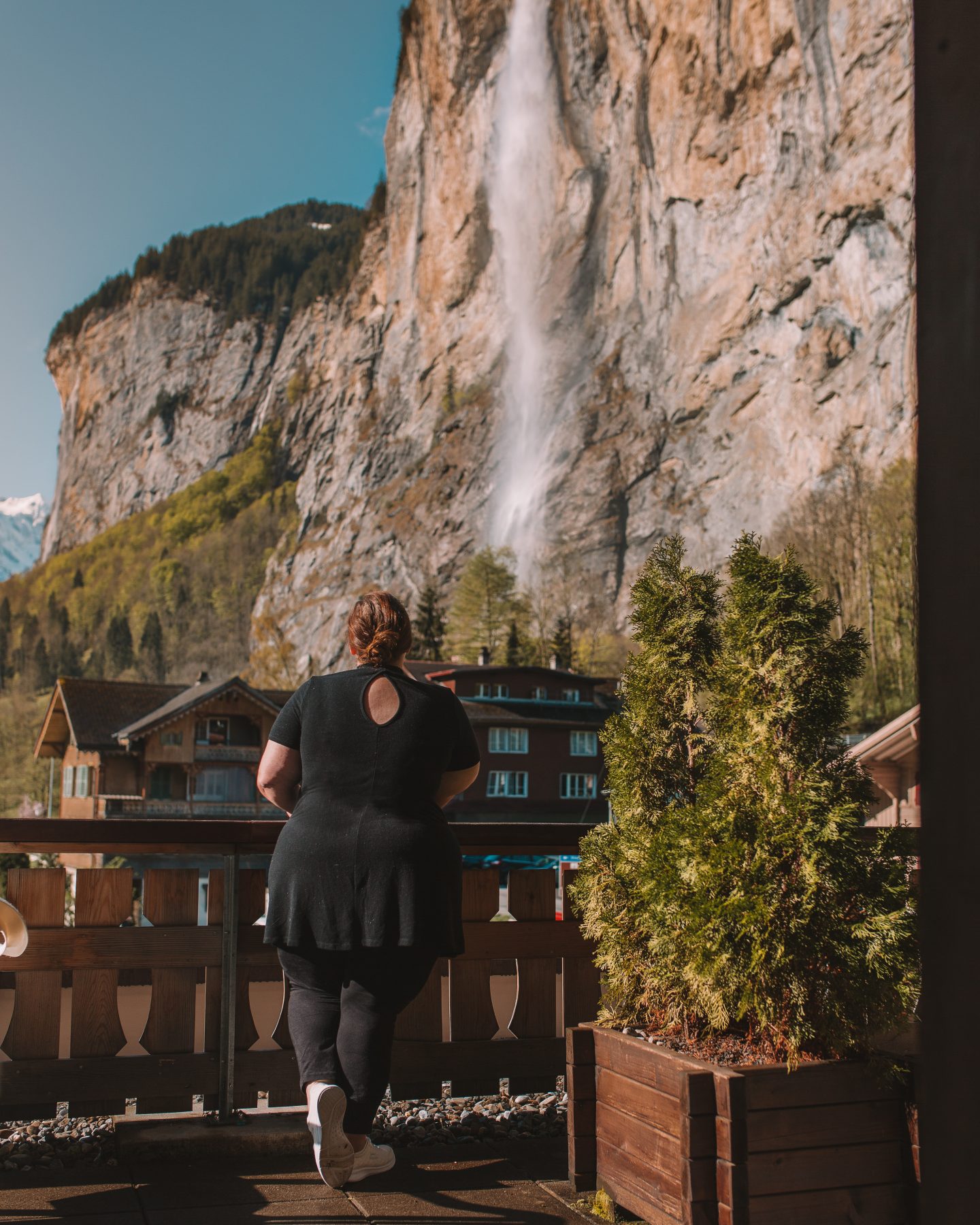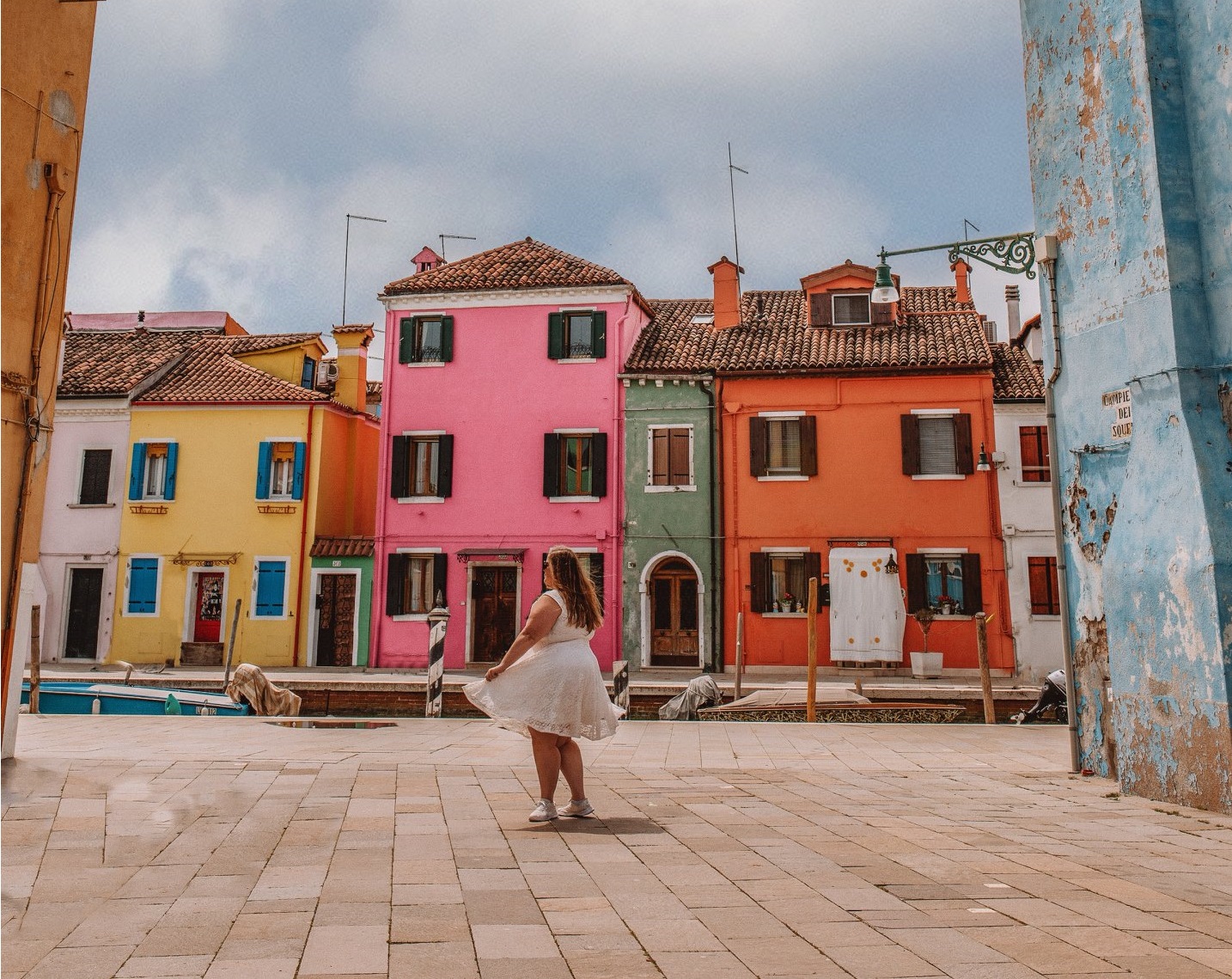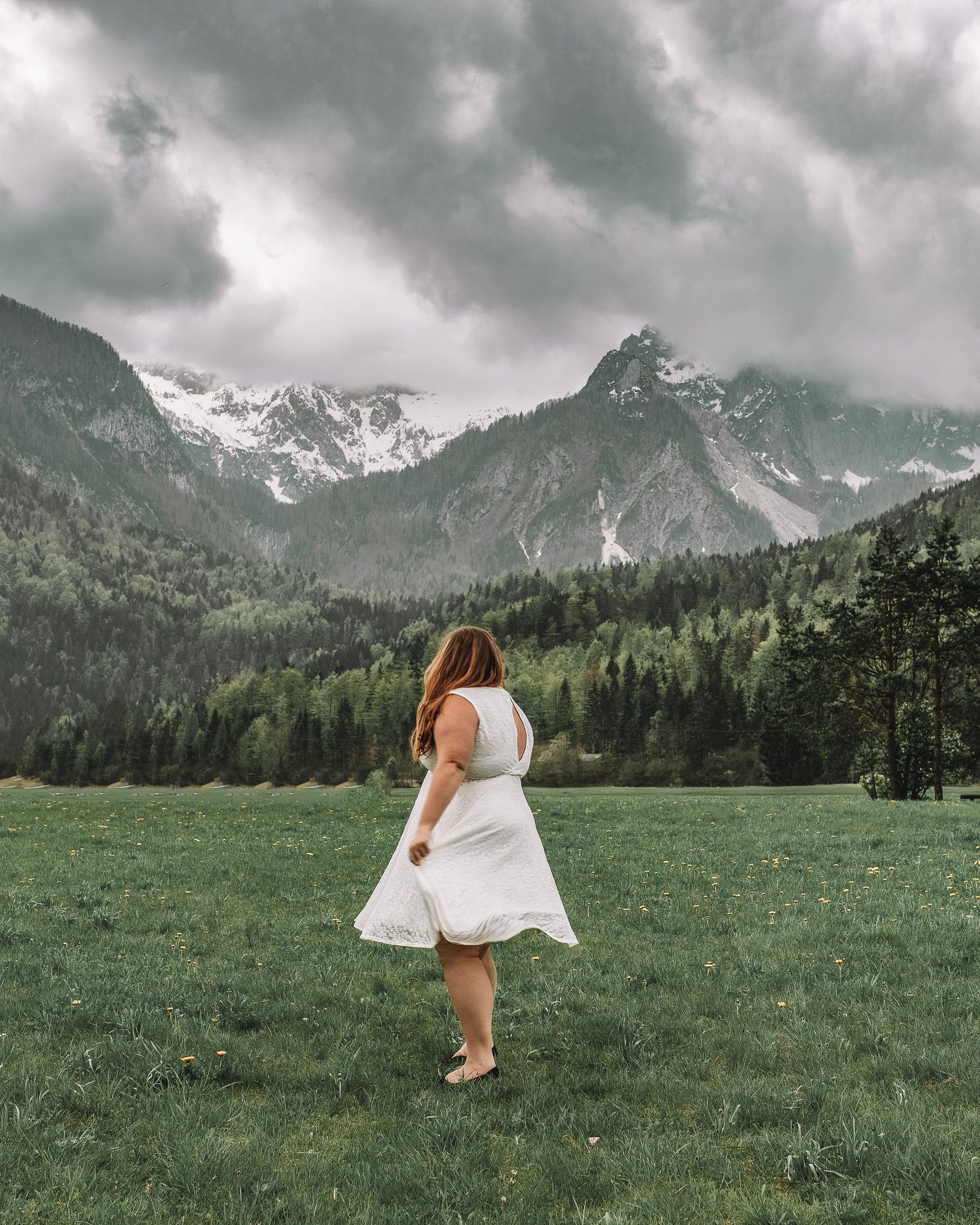 ---
How to get incredible photos of yourself while traveling?
Ask a stranger!
If you are like me, I am forgetful and sometimes I just underestimate my need for my tripod and then I immediately regret it and want to take all the pictures because I stumble on this beautiful location. Enter in the "stranger danger" portion of the post.
Ok, I am kidding, it's not so much of danger but definitely involves a stranger and asking them to take a photo (or more like 10) of you.
This is a bit harder for my introverted personality and it does not always guarantee good results because I cannot tell you how many times I have gotten blurry, chopped-off head photos. But every now and then, I hand over my camera to someone who knows how to *werk it* and they create some photo magic. It definitely helps if you have been chatting them up already and get them comfortable with your weirdness.
This happened to me when I was traveling solo in Key West, Florida. I spontaneously booked a sunset wine-tasting cruise and honestly didn't want to bring my tripod on the open seas and watch my precious camera fly into the ocean. I sat next to this lovely couple and we had just a lovely chat about traveling and the crazy American political system. You know, nothing polarizing or anything. After a few glasses of different wines, we were sure friends. With the gorgeous sunset blazing in the background, I offered to take a few photos of the couple and they so graciously returned the gesture. I now have one of my favorite candid moments because the wife snapped a few while I laughed at a joke her husband just said. My hair is a complete mess and my teeth look huge but I just love it because it shows in the moment joy from my cruise.
I also sometimes do a photo for photo trade as I did in Paris, France! After spending the morning in an Easter service, I decided to meander around Paris with no plans and possibly find a place to grab some food. I didn't have my tripod since I was not really planning on photos but then I stumbled upon this incredible residential street with the most amazing view of the Eiffel Tower. I noticed there were two girls trying to take a selfie and the Southerner in me compelled me to offer my help! After snapping as many as they wanted, they offered to help me out too. I mean it was like a full-on photo session with these girls.
Girls helping out girls is just one of my favorite things.
And the photos are so dang wonderful, I almost cried. As someone who hates emoting and feeling feels, I was just so grateful to have these unexpected photos from my solo adventure to Paris!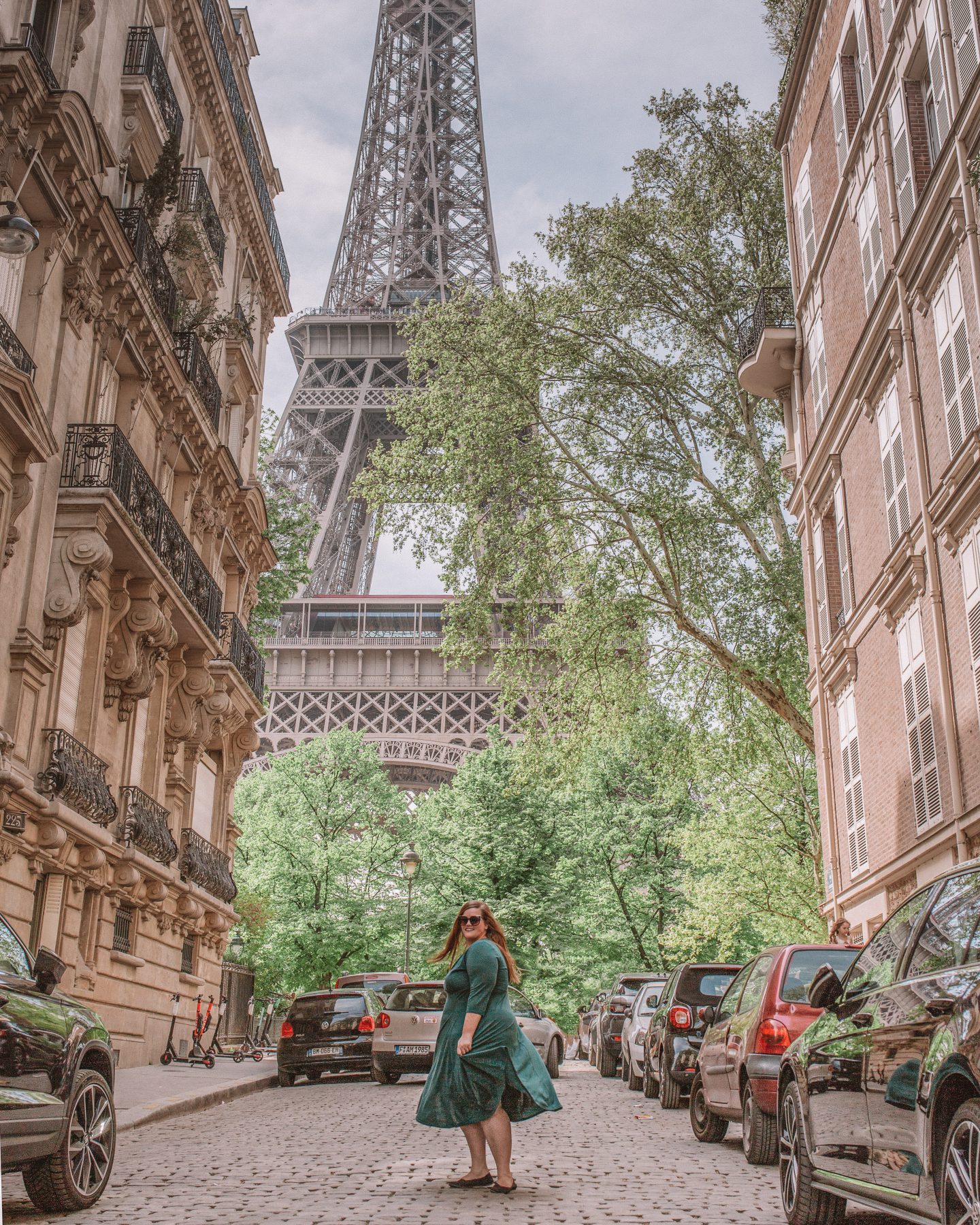 ---
How to get incredible photos of yourself while traveling?
Find a fellow traveler or friend and swap!
Another great option for getting incredible photos while solo traveling without the awkward "tripod/remote" set-up is connecting with another traveler and being each other's photographer. Not only are you forging connections and friends all over the world, you are finding someone who truly understands your solo travel photo conundrum.
There are tons of ways to connect with someone but I found social media to be the easiest and most genuine. There are Facebook groups that are perfect communities for whatever niche you are in. Some of my favorite groups I am in are:
Female Travel Bloggers
Fat Girls Traveling
Girls LOVE Travel
Curvy (Girls LOVE Travel)
the Solo Female Traveler Network
Travelettes

But Instagram is another community that you can meet new people! I follow some great influencers and travel bloggers and I can interact with some truly lovely human beings. That is how I happened to have the most epic day in the Netherlands while I was there solo. After seeing I was coming to Amsterdam, fellow blogger Aimee (Aimee in Wanderland) offered to be a true gem and drive me around outside of the city to see the gorgeous tulips fields. Her sweet friend Lizzie tagged along! Aimee was a true lifesaver that day because I had planned on doing the same thing all the other tourists do – figure out the best train stops and bike the rest of the way. I am exhausted just thinking of that option.
The day was magical. Getting to pass by the MANY colorful beautiful fields outside Amsterdam, visit Keukenhof Garden, share a picnic together, and even trek through some private hyacinth and daffodil fields where she knew the owners are what traveling is all about. We, of course, swapped photos of each other and they are some of my favorite photos from this year.
This next photo a friend took while we were at Dry Tortugas. Sometimes it is just as simple as asking them, giving a little direction, or letting them work their own magical perspective.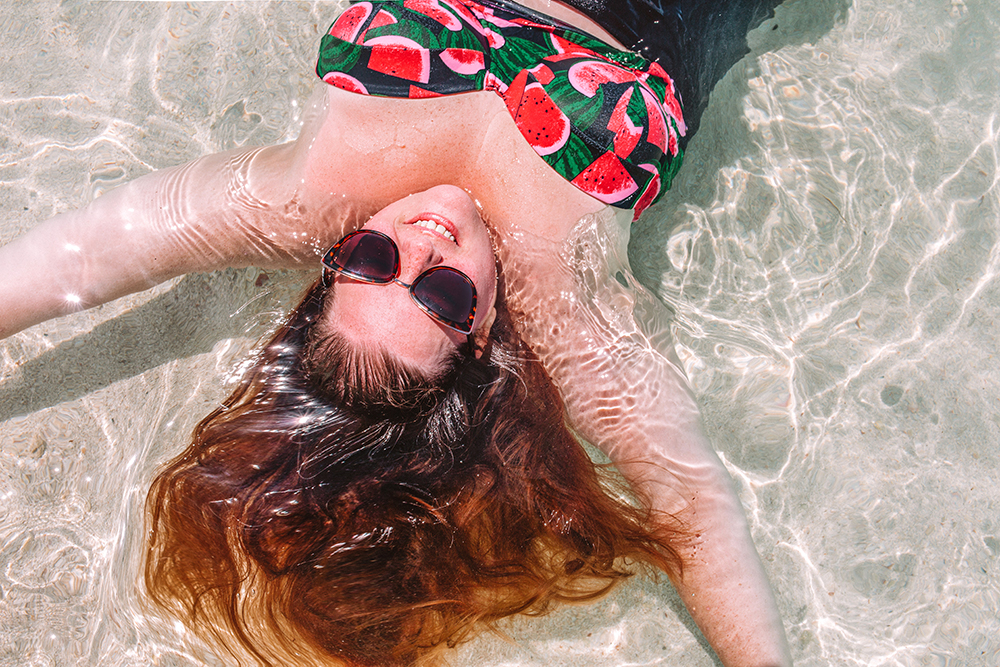 ---
How to get incredible photos of yourself while traveling?
Hire a professional!
If all of this sounds like a lot of work, well just know that is because it is. It's such a commitment schlepping the equipment everywhere, finding epic locations, taking what feels like a million photos of yourself where everyone awkwardly stares on, and doing the post-processing editing.
And sometimes when I travel, I want to be lazy. I kind of loved the idea of letting someone else do the work and I decided to hire a professional while in Santorini, Greece! Yuliya took me to some pretty stunning locations in Thira and I got some of those cliche blue-domed photos that I was DYING to have ever since I saw them in a calendar my Moma gave me for Christmas 10+ years ago.

I wrote a detailed post on my tips and tricks to finding a professional photographer that suits your purposes wherever you travel! Check out my post below!
---
And now you see just how to get incredible photos of yourself while traveling solo. It is so easy, especially with a little practice!
No matter where you are, just because you are alone solo traveling does not mean that you don't deserve to have incredible pictures. The photos I take become some of my most treasured souvenirs and they are printed and hung on throughout my house because I don't want to ever forget the memories attached to each image.
xx,
Sami
Loved this post? Share it or pin it for later!