It seems everyone and their grandmama wants to visit New York City at least once in their lifetime. It's almost like a travel right of passage or something. Maybe it is the sheer size of the city, the diversity, it's ever-presence in television and film, the historical relevance for turn-of-the-century immigration, or perhaps it is the inherent magic of the city of a million dreams. I mean, I have been twice and it is such an incredibly vibrant city. And it truly is a city that never sleeps!
If you are aiming to be the true definition of a tourist on your trip, this is a perfect guide for 4 days in New York City! This is not a local guide and it definitely includes some of those overrated, touristy NYC attractions! I spent 4 full days (with two additional travel days) and have my itinerary below! I went with three family friends and two who have never been to New York City and I think this itinerary was a perfect introduction! No matter the length of your trip, you will never be able to see everything.
My moma always said that you need to leave a reason to return!
Check out this 4 days in New York City guide from this super tourist extraordinaire. It's a perfect family itinerary to New York City or even a solo traveler itinerary to New York City! and trust me – it is packed with goodies!
---
– Day 1 –
For your first foray into the city, there is perhaps nothing more iconic than a quick jaunt to the top of the Empire State Building. It's not cheap and definitely not for the budget-conscious but in my opinion, it is well worth the extra ca$$$h to purchase the express tickets so you can skip the long lines! You literally breeze through all the entrances and it made me feel like a VIP that I am not! But don't waste your money on the top deck observatory because the money shot is on the 86th floor. Trust me on that!
Visit Time: As long as you want! I think we were there for about 20 minutes on the deck, but I imagine if you get a standard pass, line-waiting can take anywhere from 20 minutes to 1 hour depending on the number of people, so you may want to factor that in to visit time.
Cost: $37 for 86th floor standard pass, $65 for 86th floor express pass
After getting that must-have photo of the New York City skyline complete with the new One World Trade Center in the distance, head over to the Macy's flagship store on Macy's Herald Square to see another NY landmark. This store is not much different than your average mall Macy's except for its gigantic size totaling 10 floors! I mean, you could easily get lost navigating through all of the Dior, Louis Vuitton, and Prada sections, just to name a few. There are so many designer goods that I cannot even afford to look at, much less buy, but apparently, sometimes shoppers are able to score a deal. But even if shopping is not your thing, this store is best known for the Christmas displays during the holiday season so if you happen to be in the city around then, it is a MUST go kinda place!
Visit Time: As long as you want! If you try to walk the whole store, that would just take HOURS. Find the store map to be more efficient in your shopping. You can also grab some food here at one of the many restaurants.
Cost: Free to visit but hurts the wallet for purchases unless you are a savvy shopper!
After your shopping excursion, time to visit Times Square, the very epicenter of New York City tourism. So many nationalities and languages visiting at any given time. Times Square's draw is not the stores or restaurants. Honestly, there is nothing special about those. There are tons of money traps on Times Square such as M&Ms World, Disney, and Hershey's as well as a slew of other stores that can be found at a mall. What you need to experience is the vibrancy at night with the many bright, colorful lights, the millions of advertisements, and the weird and crazy street performers. You also get treated to taxis honking and dodging tourists with selfie sticks almost like it is a pinball game.
Visit Time: As long as you want but I cannot imagine more than 10-15 minutes.
Cost: Free
---
If you are looking to edit your photos without blowing out the color saturation, become a best friend of the blog and get my FREE Lightroom preset!
It's my GO-TO one-click trick!
---
– Day 2 –
Get out bright and early and hit up Top of the Rock which is the top observatory deck of famous 30 Rockefeller Plaza. In my humble opinion, this is the better view (as opposed to the Empire State Building) because you get to see the New York City skyline with the Empire State Building in it. Also on the plus side, the crowds were pretty much non-existent when I visited around 9 am.
Visit Time: As long as you want but I cannot imagine more than 30 minutes.
Cost: $36.00 plus tax for an adult, $30.00 plus tax for a kiddo
While at 30 Rock, visit the NBC studios and take a tour and get to see some of the most iconic sound stages. We were so lucky and got to see the set of Saturday Night Live, Late Night with Seth Meyers, and even the Tonight Show with Jimmy Fallon. The holy trinity of sound stages. It was so crazy to see just how small the spaces were, especially SNL's set area. There is also a behind-the-scenes sound and video booth viewing hallway where you can see everyone doing their jobs while the shows are going on. Perhaps the coolest thing we did was create our own fake talk show with each tour member. I looked like such a goober but it was fun!
Visit Time: ~1 hour long guided tour
Cost: $33.00 plus tax for an adult, $29.00 plus tax for a kiddo
Just a hop and skip outside of 30 Rock is St. Patrick's Cathedral which is this gorgeous, gothic church. It's impressively grand and is just stunning in detail. If church architecture is your thing, you don't want to miss this iconic landmark. I didn't want to intrude too much when I visited because the mass was going on, but if you can walk around when it's not, it is worth it. It reminded me so much of the European churches I visited!
Visit Time: If you take a public tour at 10:00 am, it is about an hour long. Or you can go at your own pace.
Cost: Free but it is recommended you make a small donation to the church.
Another quick nearby jaunt is 5th Avenue, the premier destination for luxury shopping in New York City. This is where the über rich go shopping (or as I imagine, send their personal shoppers) or tourists like me go to get a small glimpse of how the top 2% live. Even if you don't have a few thousand dollars laying around to pop down on that Louis V purse or that gorgeous diamond Tiffany ring, walking 5th Avenue is just a must of the window-shopping experience. Saks Fifth Avenue, literally with the street in its name, was pretty cool but I only popped in this store for a bit. It reminded me more of Macy's so I didn't stay too long, especially after seeing a cute dress for $3200.
Another 5th Avenue locale that one cannot skip is Tiffany & Co. The iconic blue boxes are coveted by many and I honestly could not leave without getting one of my own. I was in awe of all the sparklers in the cases. I was severely tempted to buy a diamond skinny band but unfortunately, my wallet laughed at me. I did get a bitty, diamond necklace and now I have a little piece of New York with me whenever I want to wear it!
Visit Time: As long as you want
Cost: Free unless you laying down some ca$h for your own little blue box gift or other designer goodies. If you have $30 + tax burning a hole in your pocket and you wanted to have literal Breakfast at Tiffany's, on the 4th floor of their 5th avenue location is the Blue Box Cafe.
End your day with one of the coolest tours in the town known as "The Ride." This interactive New York sightseeing experience was truly entertaining and informative! Essentially you are riding on a bus with the seats facing a wall of windows out the side and you have these incredible tour guides who are charming and funny and they tell you about the sights you pass while also having entertainers on the street that are part of the performance! I thought it would be geared more for kids and teens but I found myself laughing out loud so many times! It's loud and colorful and just a different experience than any other tour I have ever been on! It is very pricey but it is a show and tour in one and so fun!
Visit Time: 75 minute tour
Cost: $69-$79 per person
---
Traveling solo and want to still get incredible photos of yourself so you can remember the places you visit? Check out my tried and true options! I have personally done ALL of these options and I have gotten amazing results! Trust me, I am a photographer. ?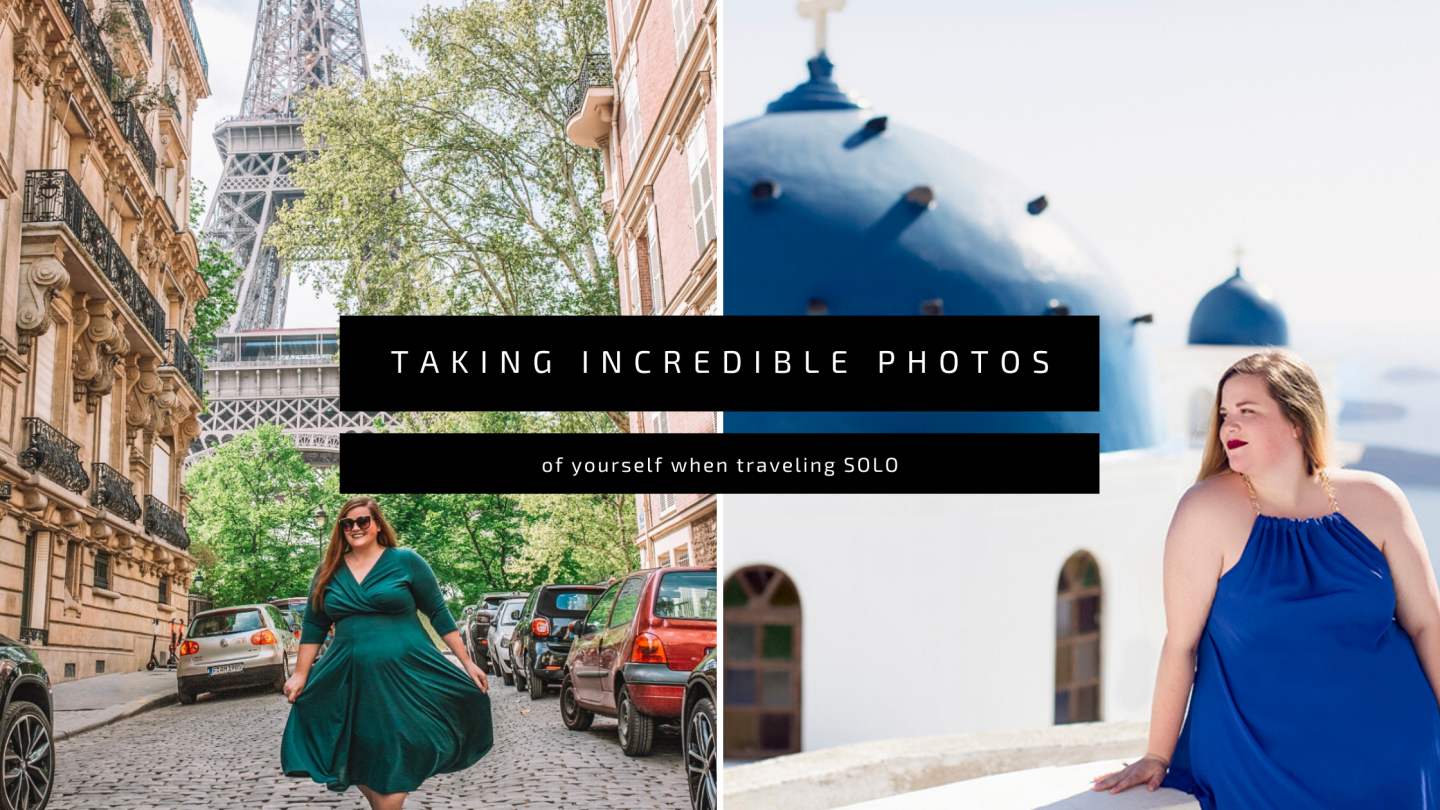 ---
– Day 3
Perhaps the most well-known park in the US, Central Park is a vast oasis in the middle of the city. And it was pretty incredible even though I didn't even cover half of it! Full of so much activity with kiddos playing organized games, people jogging like in the movies, carriages carrying tourists (i.e. ME), and even boat rentals on the pond. I love how New York the whole park felt. I have seen so many scenes and movies and I wish I had the time or energy to see some of those prominent spots. I was determined if anything to see Bethesda fountain but it was closed off for a tented event! So bummed but I will visit again one day!
Visit Time: As long as you want! You can easily spend a few hours soaking up the sights and sounds, enjoying a picnic, and taking a carriage ride!
Cost: Prices vary for a carriage ride. Bargain with the operators to get a decent deal.
Just on the edge of Central Park is the iconic Tavern on the Green. I opted to eat here instead of a picnic just because it's such an infamous location. I have heard that it had a downward turn a few years ago but now that it is under new ownership and management, I have zero complaints! The food was DELICIOUS and the prices were pretty on par with the rest of NYC meal prices I had encountered. The decadent architecture, the lavish furniture, and the sunny dining room just made it such a lovely experience.
Visit Time: plan a leisurely 1-2 hours just to soak up the atmosphere!
Cost: Most lunchtime entrees are ~$30.
Last but definitely not least for the day is to spend your evening watching a Broadway show. This was perhaps one of my favorite things I did on the trip. I got to go see the play adaptation of Mean Girls by Tina Fey. I am not usually a huge play person but give me a musical, I am down. And boy did this play blow me away! The singing was superb, the acting was next level, and I don't think I have ever laughed so hard at a show before. I was fascinated with the stage props changing out. I honestly wish I had time and funds to fit in another play while in NYC because I enjoyed it that much! One day, I am going to have to come back and see Hamilton! Please note that Mean Girls is oriented more for a mature audience. Please read up on parental guidance before taking your kiddos!
Visit Time: 2 hours and 30 minutes
Cost: ~$80-180.00. Seating, dates, and times make pricing vary. There are so many routes to get cheaper tickets but I am a total noob and don't know or trust those sources.
---
– Day 4 –
Start your day off bright and early with a quick ride down the island to the World Trade Center Memorial and the 9/11 Museum. This somber monument is chilling and sad and patriotic at the same time. The two memorial fountains where the buildings used to stand etched with names of the victims and public safety heroes are haunting. The new One World Trade Center is almost like a phoenix rising from the ashes – strong and resolute. The 9/11 museum, although very crowded when I visited, is full of so many displays of America's resilience despite the horrendous attacks that happened on 9/11/01.
Visit Time: An average visit can take 2 hours.
Cost: It is free to visit the fountain memorials outside but the museum costs $24.00/adult and $15-20 for kids and teens. There are free admissions on Tuesdays from 5 pm to closing time (these tickets are a first-come, first-served basis).
Not too far from the memorial is a New York Water Taxi hop-on/hop-off location. This was another favorite activity that took me by surprise. It was such a lovely day and the views of the harbor, Lady Liberty, the skyline, and the Brooklyn Bridge were worth the price alone. I found this alternative better than the Staten Island ferry because the boat was much smaller and way less crowded. The sheer amount of people on the passing ferry was crazy! It was also narrated with some local recommendations by a nice guide! I love how the loop takes you from Midtown to Downtown and even to Brooklyn. It's a better alternative than fighting traffic through the city in my opinion.
Visit Time: A complete loop on the route is 1 hour 10 minutes. But since the pass is an all-day-pass, visit as much as you want throughout the day!
Cost: daily passes are $37.00/adults and $31.00/kids
Since it was near my hotel, I popped into Grand Central Station quickly for a look about it. It was truly as busy as you see in the movies! People were hustling to-and-fro to catch their rides wherever they were headed. The main hall is truly magnificent with it's large, arched windows and painted ceiling!
Visit Time: As long as you want!
Cost: Free to visit.
Last but not least, I spent the final night of my whirlwind trip taking advantage of one of New York's coolest things – the reclining seat theater. I am a true small-town girl and this was a novelty for me. It had been an exhausting, non-stop 4 days in the city and I was more than ready to prop my feet up (literally) and Ocean's 8 was being released so I had to take advantage! AMC Lowes location was where I went and I now want to have a reclining chair with every theater experience. If only south Georgia had them nearby.
Visit Time: Movie Length
Cost: $16.50/adult, $13.50/kid
---
Last-minute tips for your 4 days in New York City Trip
NYC is expensive! Meals and the attractions cost $$$. Don't be shocked when you see the prices.
Surprisingly, everyone I encountered in the city was so incredibly nice. You hear all of these stereotypes that people are rude but that was not my experience whatsoever! I think if you are respectful and not a rude tourist, most people are going to be nice.
Wear your walking shoes because there is just SO.MUCH.WALKING!
Just a heads up- hotel rooms in the city are notoriously small in comparison to what you may be used to at other locations. Just plan on spending your time soaking up the city instead of your room!
I know I only covered a very small portion of what the city has to offer. What are some of your favorite New York spots that you recommend for first-time visitors??
---
Loved this post? Share it or pin it for later!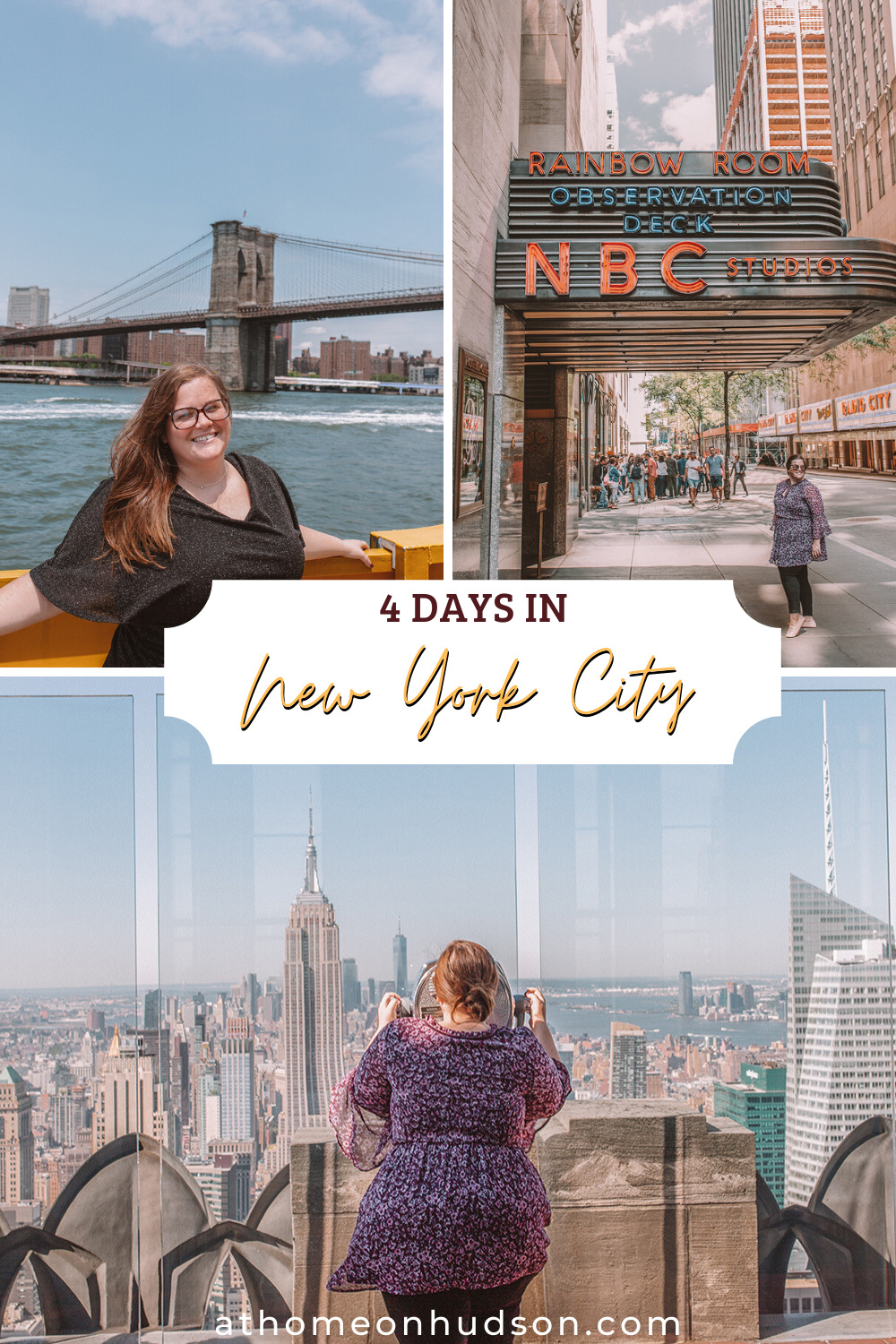 ---
Click here to purchase a travel print!