Synopsis from Authors
January, 1946: London is emerging from the shadow of the Second World War, and writer Juliet Ashton is looking for her next book subject. Who could imagine that she would find it in a letter from a man she's never met, Dawsey Adams, a native of the island of Guernsey, who has come across her name in a book?
As Juliet and her new correspondent exchange letters, Juliet is drawn into the world of Dawsey and his friends—and what a wonderfully eccentric world it is. The Guernsey Literary and Potato Peel Pie Society—a book club born as a spur-of-the-moment alibi when its members were discovered breaking curfew by the Germans occupying their island—boasts an outstanding cast of characters, from pig farmers to phrenologists, literature lovers all.
Juliet begins a remarkable conversation in letters with the Society's members, learning about their lives, their island, their taste in books, and the impact the recent German occupation has had on all of them. Over time, and despite a demanding and dramatic life in London, she finds herself drawn to the self-contained Dawsey Adams, and to the story of Elizabeth, a young woman whose bright spirit and strength live on in the daughter she left behind when she was sent to a concentration camp. Juliet knows she has found the subject of her book, and possibly much more, and sets sail for Guernsey, changing the course of her life forever.
In-depth Review
"Reading good books ruins you for enjoying bad books."
― Isola Pribby

The Guernsey Literary and Potato Peel Society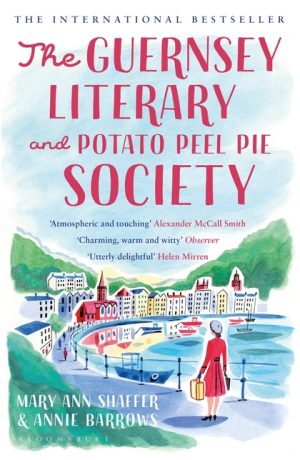 Let me start this review off with some honesty. When I first started The Guernsey Literary and Potato Peel Society, I hated it. It had nothing to do with the content but everything to do with the epistolary format. I think it just made me uncomfortable because it pushed me out of my normal reading format.
But after the first twenty pages, I actually loved the letter format. I loved hearing the different perspective/voices without all of the superfluous details that I normally skim through quickly when I normally read. And the beauty of the letters is that they are dated and as a history major (NERD alert), you get a historical time reference as well as an idea on the passing of time. One of my biggest fiction pet peeves is that writers make their content feel rushed and unrealistic.
Mary Ann Shaffer and Annie Barrows truly demonstrate how to develop characters realistically and brilliantly. I could relate so easily with Juliet Ashton's plight in navigating her path as a young adult and the quagmire that is finding one's life partner.
"I don't want to be married just to be married. I can't think of anything lonelier than spending the rest of my life with someone I can't talk to, or worse, someone I can't be silent with."
― Juliet Ashton

The Guernsey Literary and Potato Peel Society
The relationships between the characters are well-developed and astoundingly beautiful: Juliet and her publisher best friend Sidney, the society members and Kit, and even the correspondence relationship between Dawsey Adams and Juliet Adams.
But perhaps my favorite take-away from this book is the ever-present theme of the love of reading and how books cannot only be a saving grace for some, they can also be a catalyst in creating an ever-lasting family.
The Guernsey Literary and Potato Peel Society is an easy read for all ages and I cannot recommend it enough! If you are looking for a HEA, this book fits the bill.
Bonus: Review of the Netflix Adaptation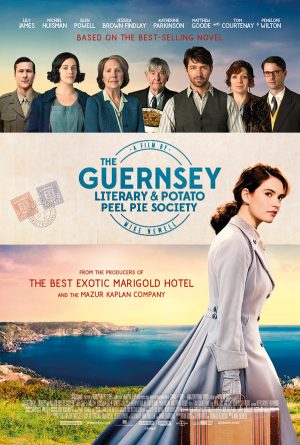 As one could imagine, the movie is not a faithful adaptation of the book. I am assuming that is because in movie format, more detail is needed to flush out the storyline as opposed to the epistolary time-hopping in the book. However, there are some plot points such as missing characters, which is the norm for book adaptations, that have also been altered but it didn't ruin the movie and I still quite enjoyed the story.
Even though not filmed on the actual Guernsey Island due to the modernization of the island, I have an intense desire to visit England now more than ever. The natural landscapes, the hub-bub of the capital city London, the beautiful coastal town, and the English spirit are all seen in the movie.
The ever-gorgeous Lily James, best known for her roles in Downton Abbey and the live-action remake of Cinderella, truly encapsulates the character of writer Juliet Ashton. She superbly brings her vivacity and inquisitive personality to life. And to continue with my honesty, they have some verrrrry attractive men in this film: Matthew Huisman, better know for his character of Daario in Game of Thrones, was the perfect self-contained character of Dawsey. He made the character feel rugged and sensitive which in my book makes a perfect hero. He is like 1940s Fitzwilliam Darcy from Pride and Prejudice. No complaints from me. Glen Powell, known for his character in the Netflix movie Set It Up and in Hidden Figures, was the brash and flashy American $$ man. He was perfect for his character. Perfect. And lastly, Matthew Goode, who first caught my eye in Chasing Liberty but probably better known for his role in Downton Abbey and The Good Wife played the character of Sidney Stark, Juliet's publisher and best friend. He was dashing in the role and I felt the love between the two friends. The other supporting actors, such as Jessica Brown Findlay and Penelope Wilton (both also of Downton Abbey fame), filled out some of the supporting characters and fleshed out this superb casting.
What should I read next?
xx,
Sami
Please note that some of the links above are affiliate links, and at no additional cost to you, I earn a small commission if you make a purchase. That income goes to supporting this website and keeping it free for you and everyone else!
As always, ideas and opinions expressed in this post are entirely my own.