It's hard to deny the power of a good rug for a room. Whether it is an attempt to cover terrible flooring or to add a little color and texture in a space, rugs truly make a room. After removing the bright green carpet from my room and getting my hardwood floors refinished, I knew finding a perfect rug was my next step.
If you have followed me on Instagram for any period of time, you know I have a long process for finding the perfect rug for my rooms. When I lived in my apartment, it was so tiny and it was carpeted with an industrial carpet that was just terrible. So I covered up that carpet with any kind of rugs I could find but usually on a small scale since the space was so limited.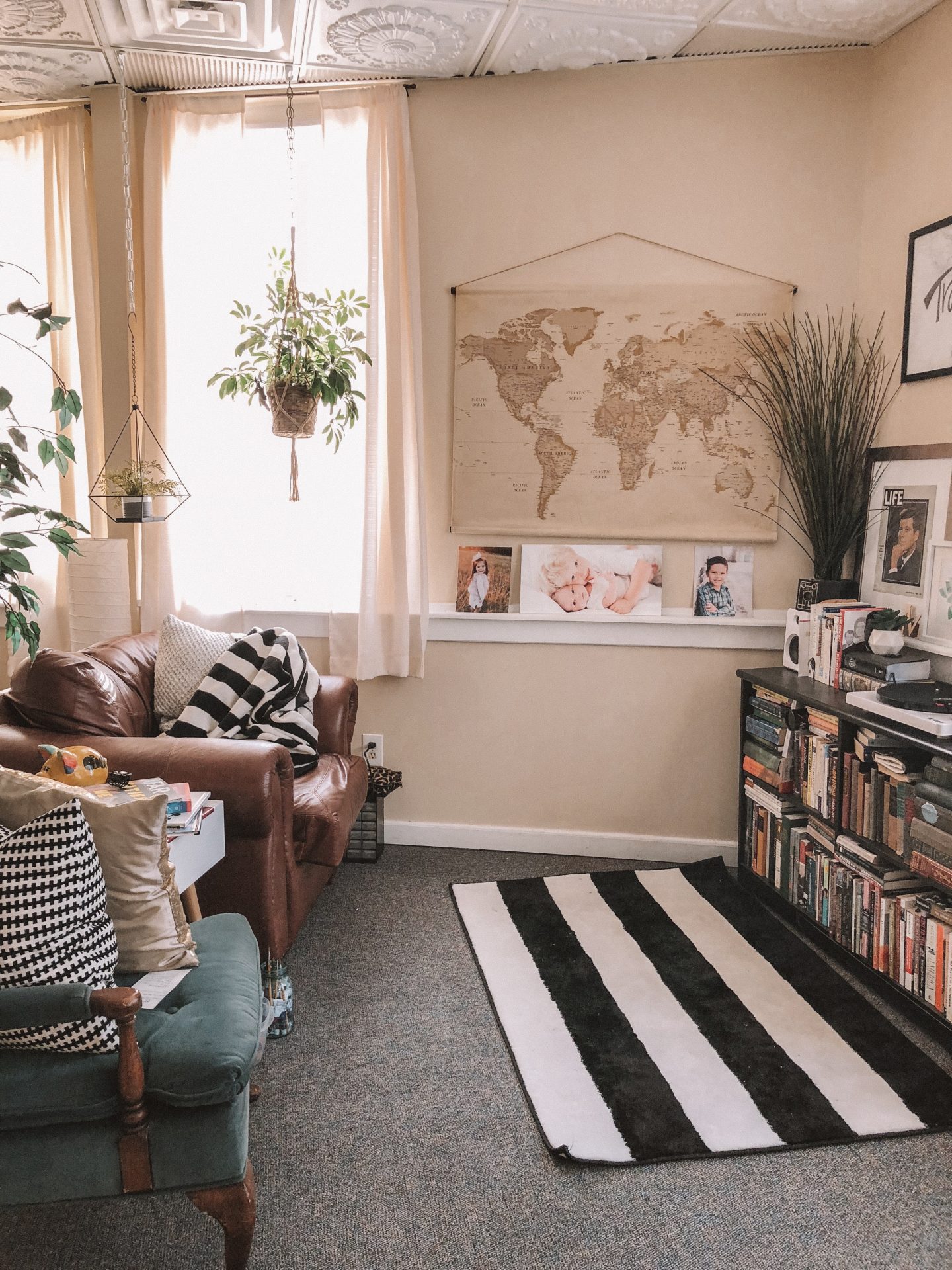 The exception to that small scale rule was my large pink medallion rug under by bed. That baby is a beaut and pretty substantial in size.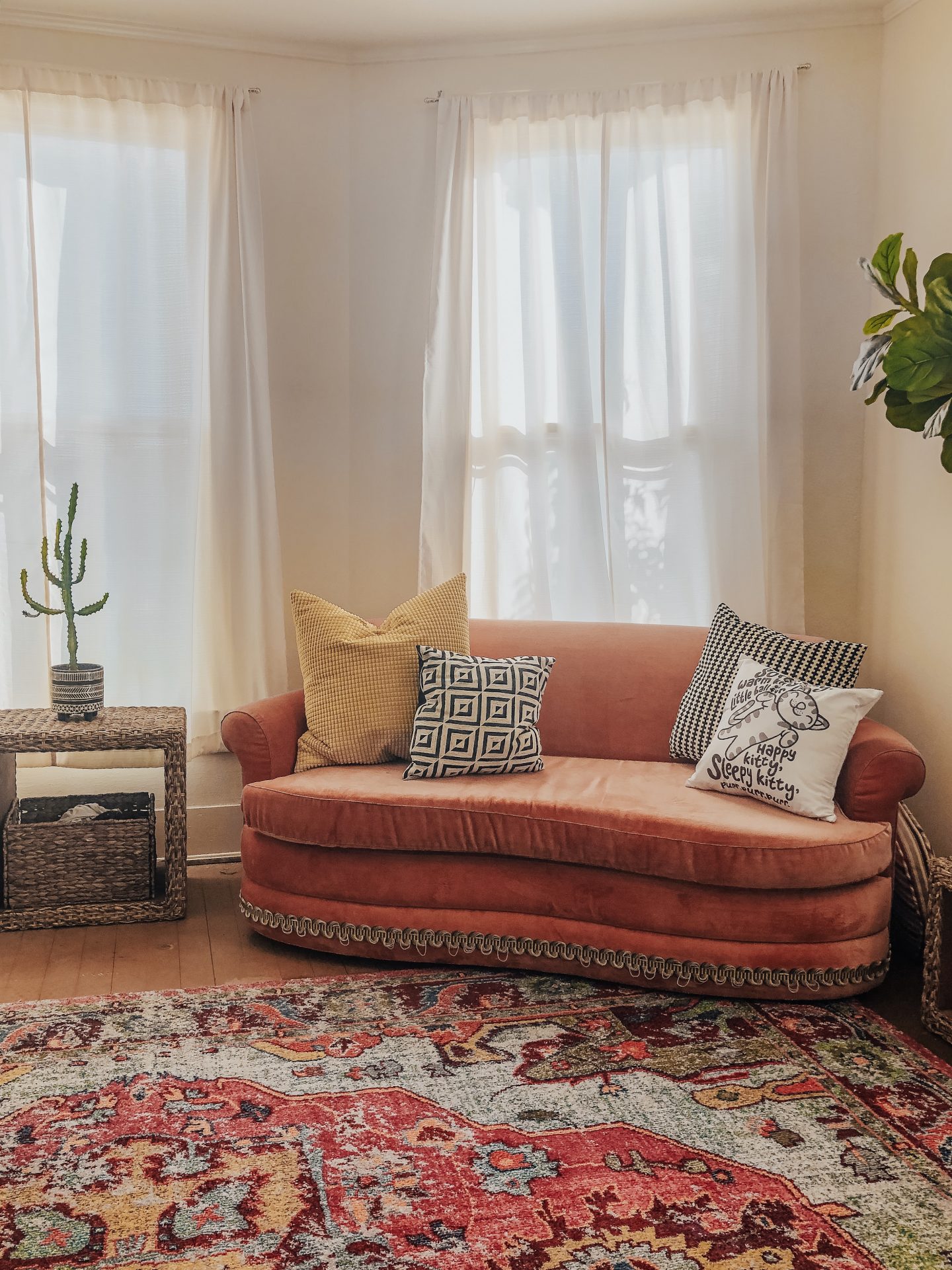 She is still currently under my bed in the Hudson House. She blends really well with my orange velvet curvy couch!
So when I moved into my house, I had a bunch small and differently patterned rugs that weren't really cohesive and didn't really fill up the spaces that I needed them too! So began my hunt.
The first rug that I knew I needed was living room because it was really the first room I put together and I knew I was going to plan my whole room around it: color, room configuration, etc. Since I knew I was going to have to purchase a couch and other furniture to fill the space, I knew I needed to get an appropriate size rug for the area and figure out the color scheme.
Let me take you through my process:
1. Measure out the room and make note of the doorways and windows.
I even sketched out the space on graph paper. Made visualizing a little easier.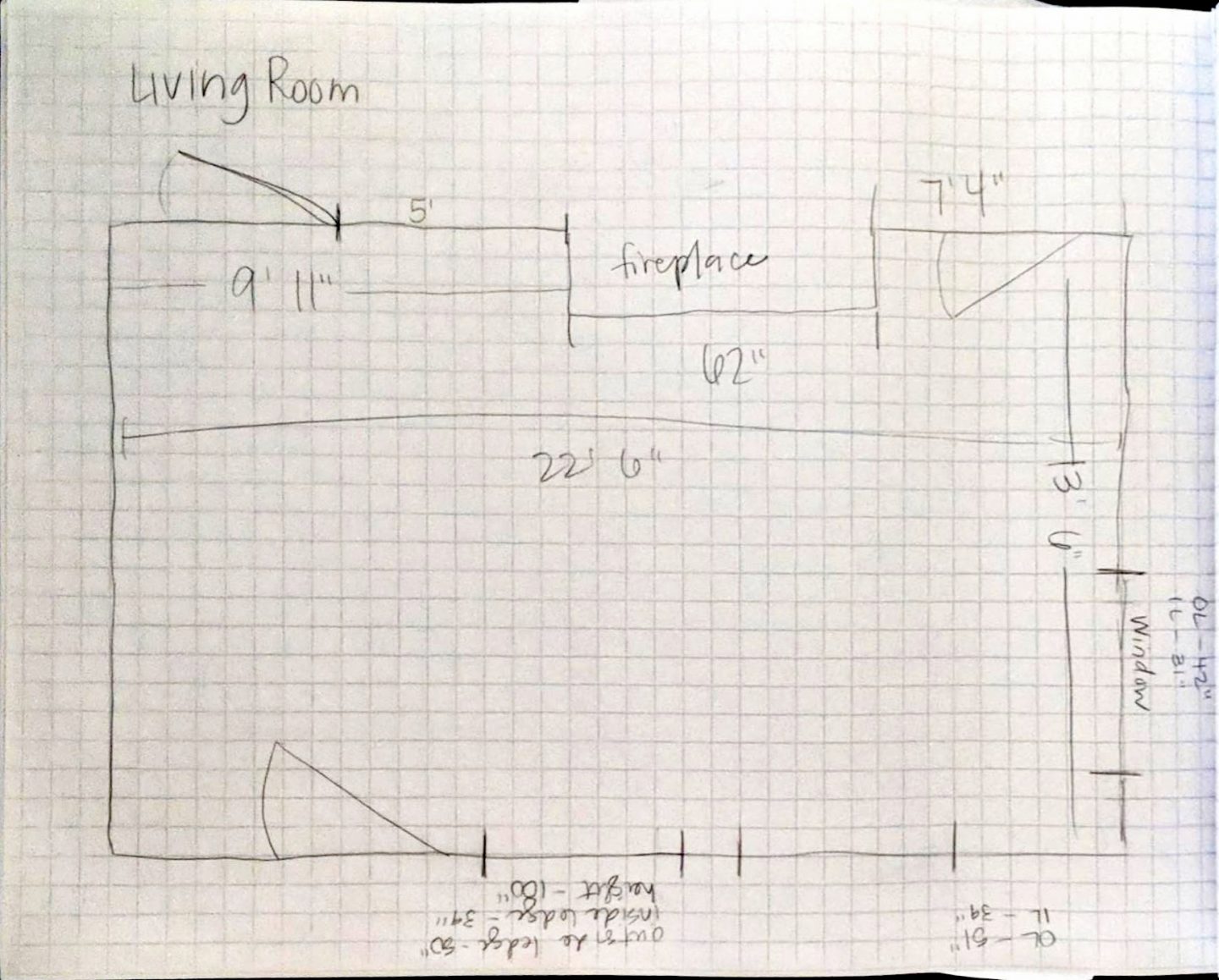 2. Create a mock design to figure out room layout and rug size
After measuring and drawing out the space, I had to figure out the best furniture configuration. With so many doors, windows, and a fireplace to work around, pretty much the only logical couch placement was in front of the fireplace. At first I thought I would be working around where to best put my tv (i.e. on my fireplace mantel) but I ultimately decided to just put it in the bedroom so that became a nonissue. But I still think the couch placement was best in front of the fireplace for room balance.
But oh the fireplace makes my eye twitch. As with a lot of the features of my house, nothing is symmetrical in the rooms and this one is no different. The fireplace is not perfectly centered with the windows which makes the couch placement enough to drive me a tiny bit crazy. I posted about my woes on Instagram: to center my couch/rug with my fireplace or to center with the windows? I choose to center with the windows because it just looked terrible otherwise.
After figuring out the couch placement, room design was next on the agenda and this part is always my favorite! I found a handy online tool that really helped me plan out my room design easily. I used the free trial. Not an ad. I literally found it via google. Here is what I designed after inputting all the room measurements. This was SO beneficial because it told me the rug size that best fit the area I designed was around 8'x10′ in size.
(NOTE: My living room is very long and I wanted to create not a separation of space so much but a designated spot for the furniture and create a pathway from the front door to the hallway. I am still looking for a runner for there.)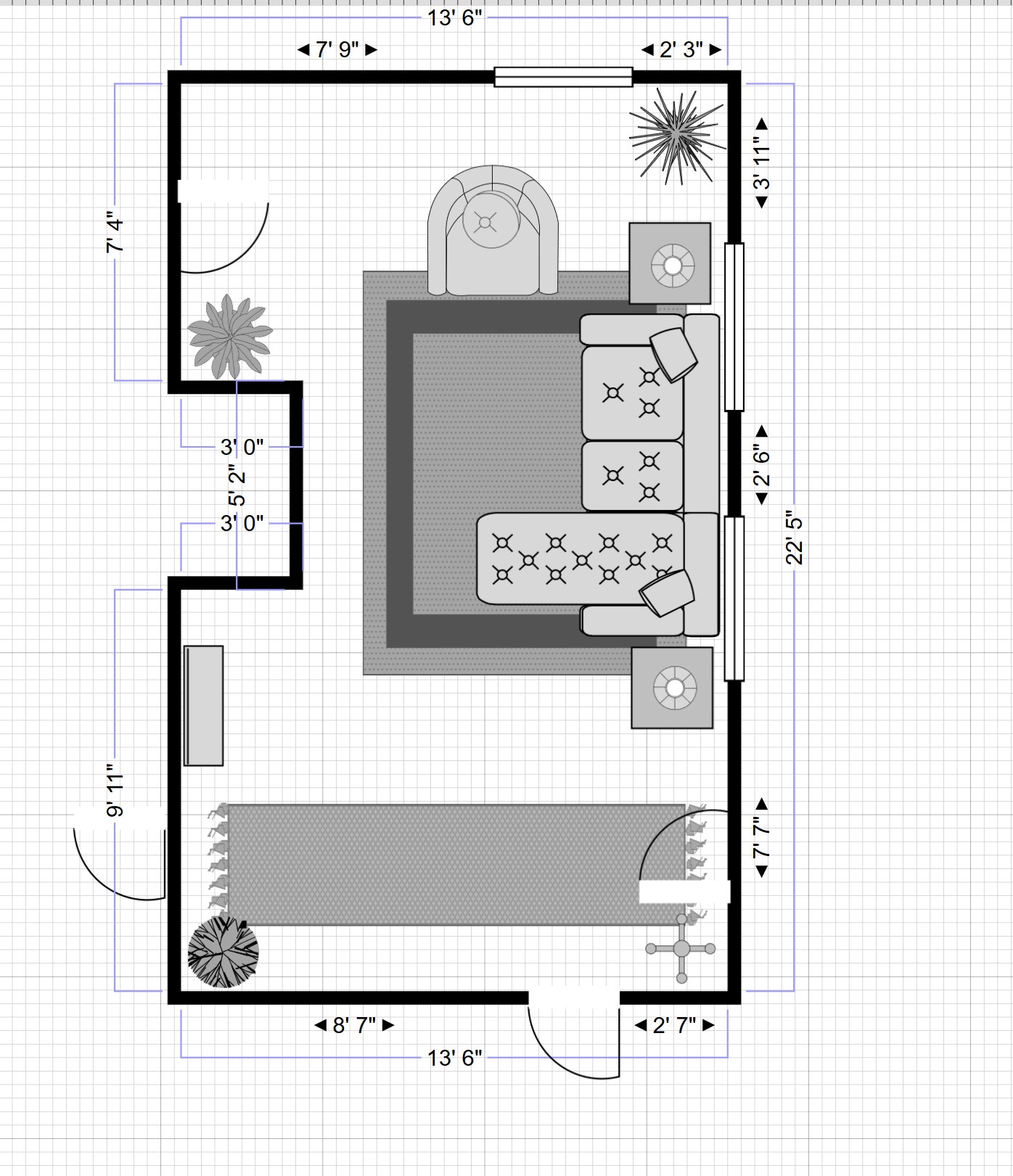 So began my search.
3. Scour all of the internet.
I apparently have expensive taste (this doesn't surprise me really- everything I like is über expensive) or maybe rugs are just expensive as a rule but finding the perfect rug within my budget was hard and a long process of elimination. I knew I was going to be making an investment monetarily but you would have thought I was trying to find the Holy Grail. In my mind I wanted something bright, fun, vintage, Moroccan, and large. So I searched.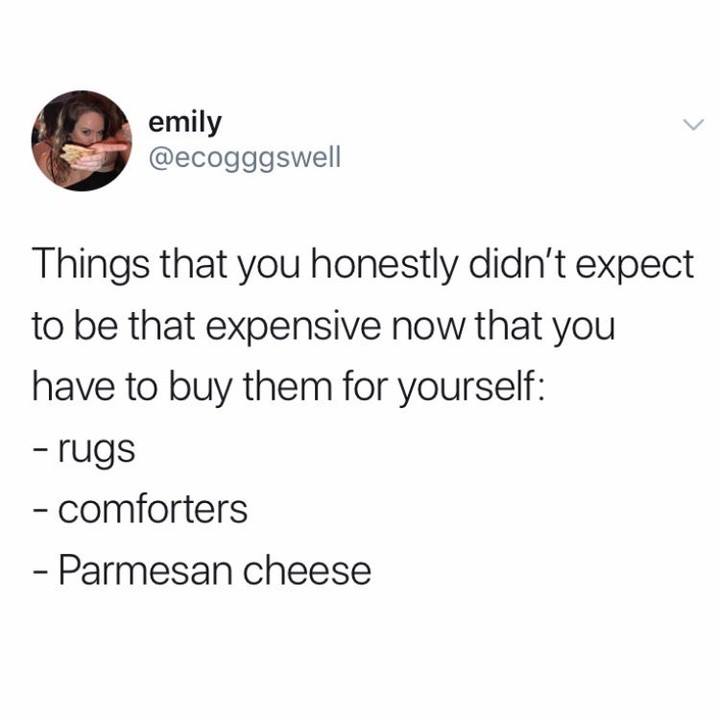 And searched. I did a million different Google searches. I searched Instagram. I plundered Etsy. I deep dived some of my Insta follows home renos. Luckily that proved to be the trick. I follow a photographer who is loves Moroccan rugs and her whole house is just GOALS. She recommended a shop on Etsy, (similar), and I found not one, but two beauties. More on the second one in another post. She is in my dining room!
Although I was looking for around 8'x10′ rug, sometimes you find gems that are kind of out the parameters – especially when you are dealing with one-of-a-kind vintage Moroccan rugs. Luckily I knew my room could accommodate this bluesy 12'5″ x 6'5″ one. And once my rug came in, I scored a sweet deal on the yellow velvet couch off of Facebook Marketplace. Everything literally fell into place.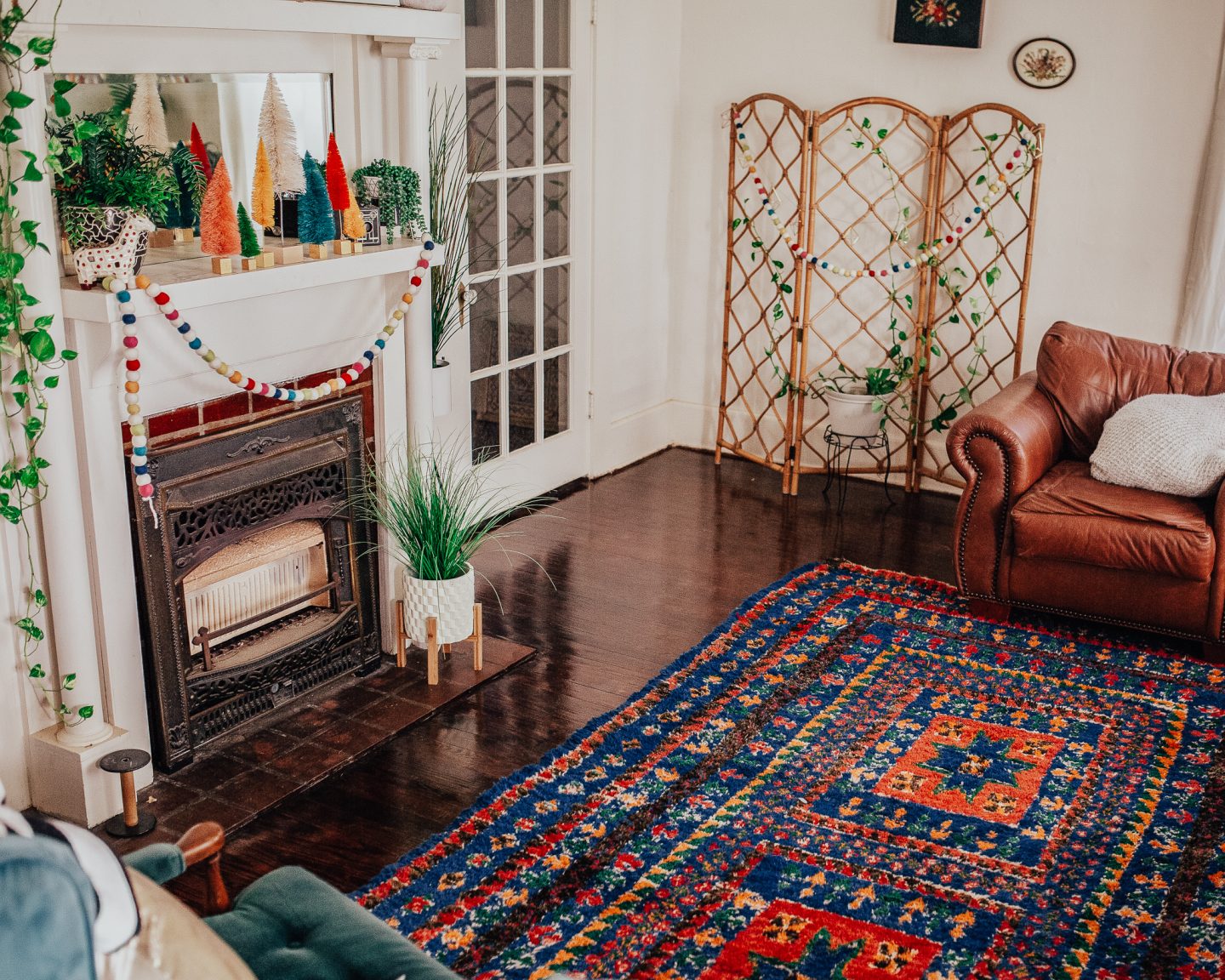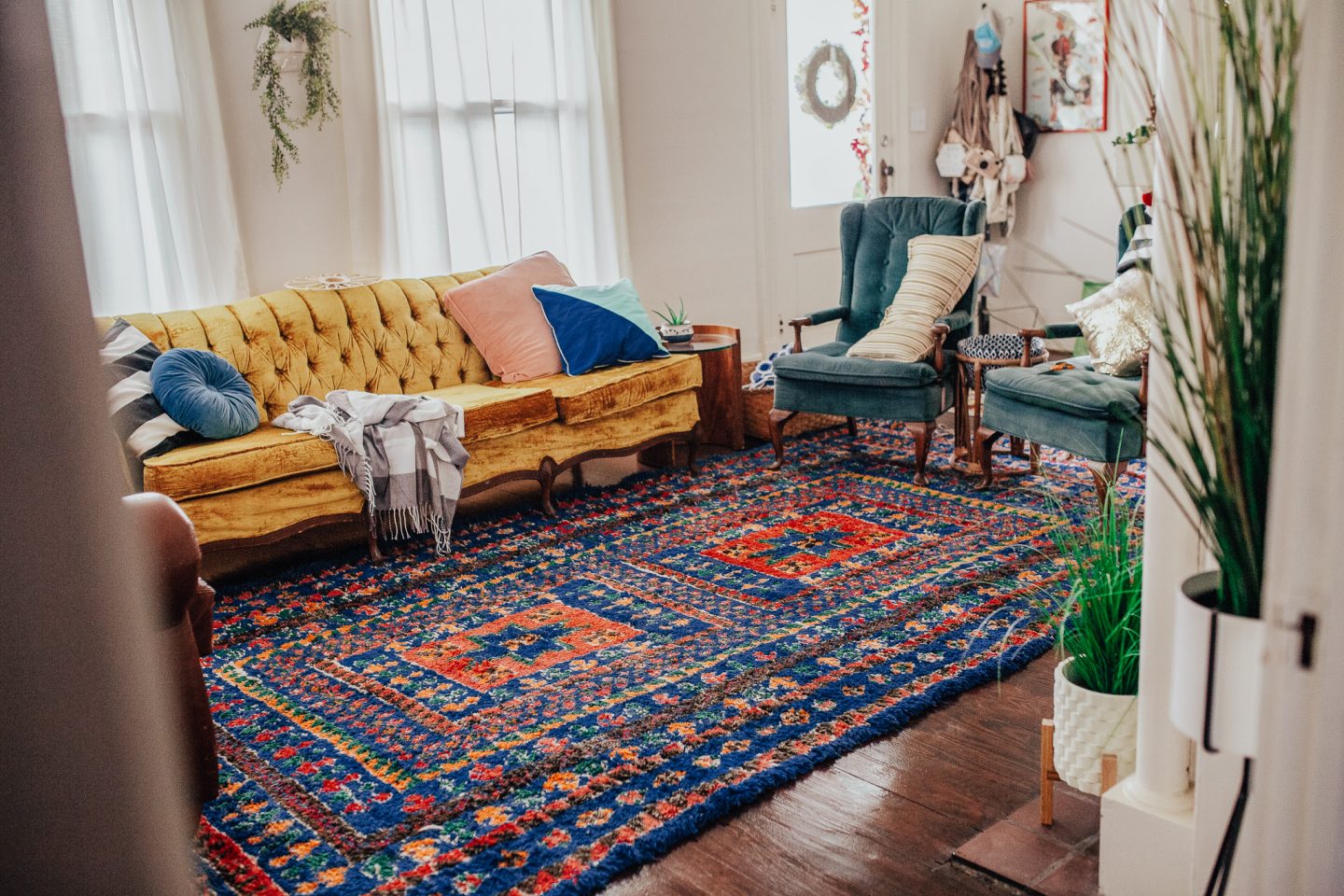 The whole space has truly transformed with the colorful addition. And can I tell you how crazy soft and thick it is? 1000 times worth the investment! Sometimes I have pinch me moments where I cannot believe that this living room is mine.
Before I sign off, I wanted to share some stores I stumbled upon in my search for *the one* that you have to check out if you are in the market for your own one-of-a-kind rug!
Let me know what ya think of my new space! Also, I am always on the lookout for new rug shops so send me any you stumble upon.
xx,
Sami